– Page initiated Nov. 3, 2021
The 2022 General Election is Nov. 8. Links to additional Election 2022 materials can be found by clicking underlined names.

Nov. 8 General Election candidates
LOCAL OFFICIALS
District Attorney
Democrat: Spencer Merriweather
Clerk of Superior Court
Democrat: Elisa Chinn-Gary
Sheriff
Democrat: Garry L. McFadden
Commissioners At-Large
Democrats: Leigh Altman; Pat Cotham; Arthur Griffin Jr.
Republican: Tatyana Thulien
Commissioners District 1
Democrat: Elaine Powell
Republican: Ross Monks
Commissioners District 2
Democrat: Vilma Leake
Commissioners District 3
Democrat: George Dunlap
Republican: Dianna Benson
Commissioners District 4
Democrat: Mark Jarrell
Republican: Ray Fuentes
Commissioners District 5
Democrat: Laura Meier
Republican: Matthew Ridenhour
Commissioners District 6
Democrat: Susan Rodriguez-McDowell
Republican: Jeremy Brasch
CMS BOARD OF EDUCATION
Filing closes Aug. 12 for nonpartisan District seats on the CMS Board.
District 1
Rhonda Cheek
Melissa Easley
Hamani R. Fisher
Bill Fountain
Ro Lawsin
District 2
Thelma Byers-Bailey
Juanrique Hall
Monty Witherspoon
District 3
Gregory (Dee) Rankin
Steven Rushing

District 4
Carol Sawyer
Stephanie Sneed
Clara Kennedy Witherspoon
District 5
Lisa Cline
Trent Merchant
District 6
Summer Nunn
Sean Strain
Michael Watson
STATE OFFICIALS
NC Senate District 38
Democrat: Mujtaba A. Mohammed
NC Senate District 39
Democrat: DeAndrea Salvador
Republican: Mark Robeson
NC Senate District 40
Democrat: Joyce Waddell
Republican: Bobbie Shields
NC Senate District 41
Democrat: Natasha Marcus
Republican: Bonnie Leone
NC Senate District 42
Democrat: Rachel Hunt
Republican: Cheryl Russo
NC House District 88
Democrat: Mary Belk
Republican: Anne Marie Peacock
NC House District 92
Democrat: Terry Brown
Republican: Mario J. Robinson Sr.
NC House District 98
Democrat: Christy Clark
Republican: John R. Bradford III
NC House District 99
Democrat: Nasif Majeed
Republican: Elsa Karman
NC House District 100
Democrat: John Autry

NC House District 101
Democrat: Carolyn Logan
Republican: Steve Mauney
NC House District 102
Democrat: Becky Carney
Republican: Cynthia Eleanor Clementi
NC House District 103
Democrat: Laura Budd
Republican: Bill Brawley

NC House District 104
Democrat: Brandon Lofton
Republican: Don Pomeroy
NC House District 105
Democrat: Wesley Harris
Republican: Joshua Niday
NC House District 106
Democrat: Carla Cunningham
Republican: Karen Henning
NC House District 107
Democrat: Kelly Alexander
Republican: Mark Alan Cook
NC House District 112
Democrat: Tricia Cotham
Republican: Tony Long
NC Supreme Court Seat 3
Democrat: Lucy Inman
Republican: Richard Dietz
NC Supreme Court Seat 5
Democrat: Sam J. Ervin IV
Republican: Tray Allen
NC Court of Appeals Seat 8
Democrat: Carolyn Jennings Thompson
Republican: Julee Tate Flood
NC Court of Appeals Seat 9
Democrat: Brad A. Salmon
Republican: Donna Stroud
NC Court of Appeals Seat 10
Democrat: Gale Murray Adams
Republican: John M. Tyson
NC Court of Appeals Seat 11
Democrat: Daren Jackson
Republican: Michael J. Stading
NC Superior Court 26B Seat 1
(Incumbent: Kimberly Best-D)
Democrat: Kimberly Best
Republican: Matt Osman
NC Superior Court 26D Seat 1
(Incumbent: Lisa Bell-R)
Democrat: David H. Strickland
NC Superior Court 26E Seat 1
(Incumbent: Reggie McKnight-D)
Democrat: Reggie McKnight
NC Superior Court 26G Seat 1
(Incumbent: Carla Archie-D)
Democrat: Carla N. Archie
NC District Court 26 Seat 01
(Vacant since Kimberly Best-D was appointed to Superior Court)
Democrat: Shante' Burke-Hayer
NC District Court 26 Seat 13
(Incumbent: Michael Stading-R running for Court of Appeals)
Democrat: Roderick G. Davis
NC District Court 26 Seat 14
(Incumbent: Paulina Havelka-R)
Democrat: Alyssa M. Levine
Republican: Paulina Havelka
NC District Court 26 Seat 15
(Incumbent: Sean Smith-R)
Democrat: Jennifer Fleet
NC District Court 26 Seat 16
(Incumbent: Matt Osman-R, running for Superior Court)
Democrat: Matt Newton
NC District Court 26 Seat 17
(Incumbent: Paige McThenia-D)
Democrat: Paige McThenia

NC District Court 26 Seat 18
(Vacant since Reggie McKnight was appointed to Superior Court)
Democrat: Cecilia Oseguera
NC District Court 26 Seat 19
(Incumbent: Tracy Hewett-D, not running for re-election)
Democrat: Samantha C. Mobley
NC District Court 26 Seat 20
(Incumbent: Karen McCallum-D)
Democrat: Karen McCallum
NC District Court 26 Seat 21
(Incumbent: Rickye McCoy-Mitchell-D, to retire Sept. 1)
Democrat: Rhonda Patterson
FEDERAL OFFICIALS
US Senate
Democrat: Cheri Beasley
Libertarian: Shannon W. Bray
Republican: Ted Budd
US House D12
Democrat: Alma S. Adams
Republican: Tyler Lee
US House D14
Democrat: Jeff Jackson
Republican: Pat Harrigan
Click here to view July 26 City General Election Official Notice of Contests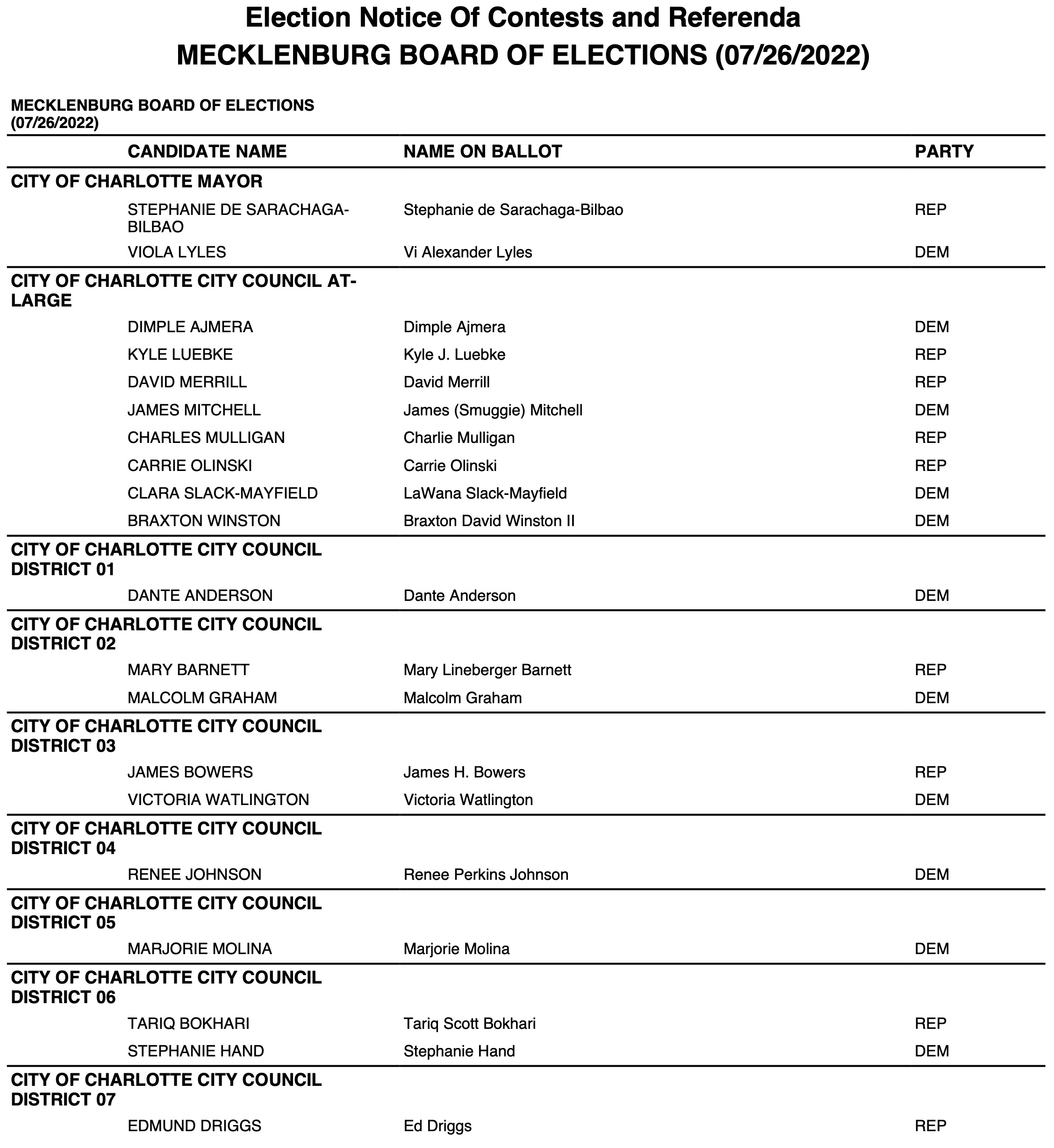 – – – – –
---
Click here to view July 26 City General Election candidate listings
---
Click here to view May 17 Primary Election list
---