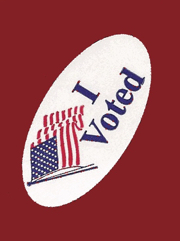 Page initiated June 21, 2016
The candidates in the November 2016 general election come and go at the Forum. They or their surrogates often use the Announcements time at the end of the Forum to speak up about their candidacies. Occasionally, candidates on the ballot will be at the Forum and will comment on other matters without directly referencing their candidacies.
Later in the election, the Forum held sessions to hear presentations from candidates, and to listen to their answers to questions.
Videos made of all those comments are posted as they become available. This page will serve as an index to the separate pages where the videos appear. The Forum does not endorse candidates.
District Court
Strickland Seat: Ben Thalheimer
Williams (Retiring) Seat: Aretha Blake   Tracy Hewett
N.C. Court of Appeals
Seat:
Seat:
Seat: Republican Bob Hunter Democrat Abe Jones
Seat: Democrat Vince Rozier
Seat: Democrat Rickye McKoy-Mitchell
N.C. Supreme Court
Seat: Michael Morgan
Mecklenburg Board of County Commissioners
District 5: Democrat Marc Friedland
At-large (3 seats): Democrat Pat Cotham; Democrat Trevor Fuller; Democrat Ella Scarborough
Soil & Water Conservation District Supervisor
Von Brown    Eric Erickson    Lisa Rudisill
N.C. House
District 92: Democrat Chaz Beasley
District 98: Unaffiliated Jane Campbell
District 99: Democrat Rodney Moore
District 101: Democrat Beverly Earle
District 102: Democrat Becky Carney
District 104: Democrat Peter Noris
District 105: Democrat Connie Green-Johnson
District 106: Democrat Carla Cunningham
N.C. Senate
District 38: Democrat Joel Ford   Republican Richard Rivette
District 40: Democrat Joyce Waddell
District 41: Democrat Jonathan Hudson
U.S. House
District 12: Republican Leon Threatt   Democrat Alma Adams
N.C. Council of State
Lt. Governor: Democrat Linda Coleman
State Auditor: Republican Chuck Stuber
State Treasurer: Democrat Dan Blue III