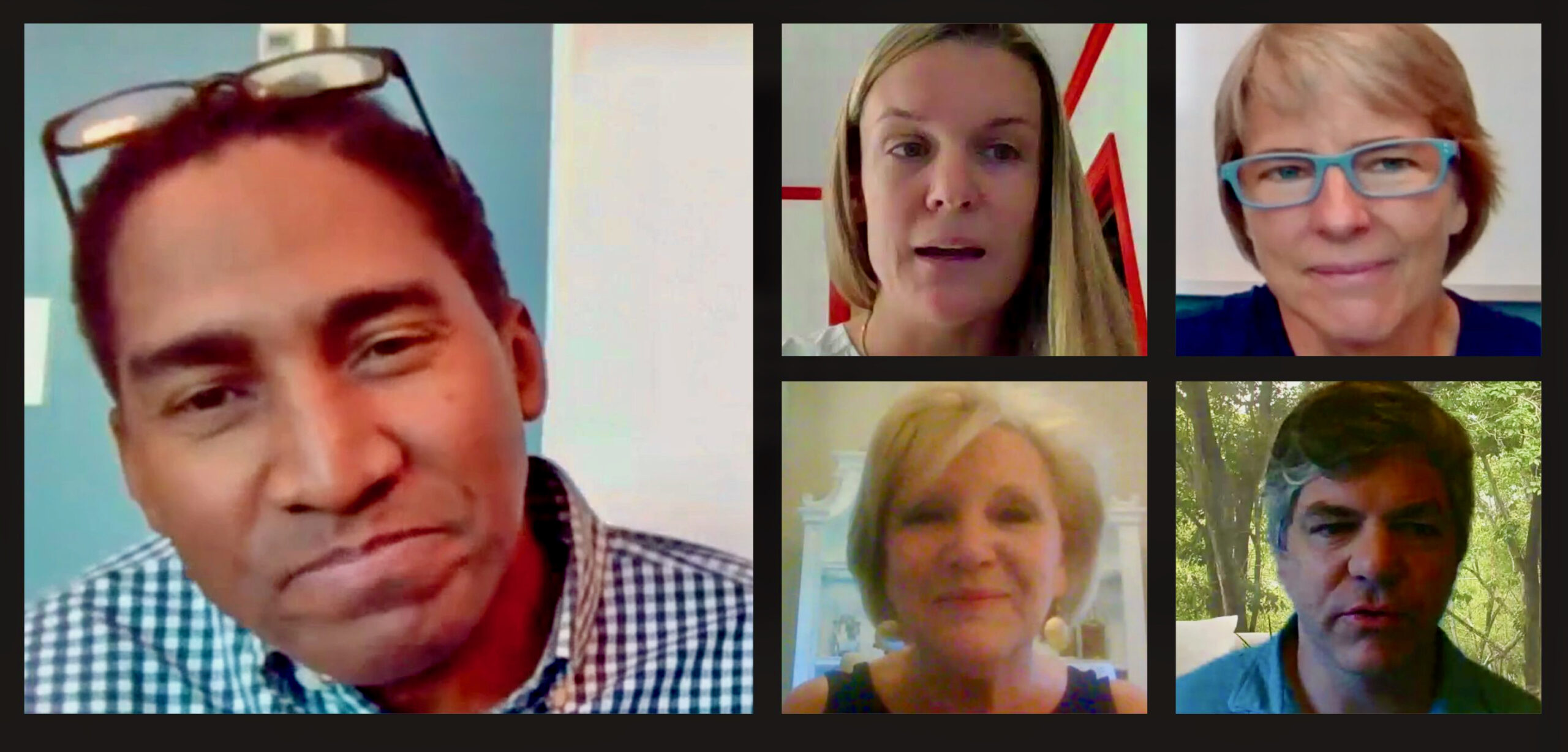 Aug. 24, 2021
Anxieties and excitement were both on display this morning as development officials outlined plans for an Innovation Zone that in a decade may surround the Wake Forest School of Medicine-Charlotte.
Excitement came mostly from the presenters, who had plans to lay out: $300 million in initial construction; hundreds of jobs; an opportunity to link better-paying opportunities to existing Charlotte-area training programs that could boost upward mobility.
Anxieties revolved around, as former school board chairperson Arthur Griffin put it, "The Charlotte-Mecklenburg community has a long history of programs that, after 10 years, or five years, we really missed the mark…. This is a unique community with enormous resources. We have all the ingredients of a wonderful world. But sometimes the cook in the kitchen doesn't get those ingredients right, and we end up back where we started."
Presenting for Baltimore-based real estate design firm Wexford Science & Technology were Caroline Moore, senior vice president for the Southeast, and Dennis Miller, vice president for development. Commenting for Atrium were Lois Ingland, vice president for community engagement and corporate responsibility; Hillary Crittendon, head of commercial development; and Bennett Thompson, vice president for real estate.
Sarafina Wright's report about the meeting for QCityMetro focused on the laboratory jobs expected in the Innovation Zone that will not require a college degree. The report noted that when asked whether Charlotte residents displaced from the neighborhood by urban renewal would receive compensation, "Miller said the developer is committed to listening to residents, 'so that this project is respectful and authentic to the history of Brooklyn and surrounding neighborhoods.'"
The Charlotte Business Journal on Tuesday afteernoon reported the content of the discussion here without mentioning the Forum.
The Wake Forest School of Medicine – Charlotte was announced in March. The medical school will bring together Winston-Salem's Wake Forest Baptist Hospital and Charlotte's Atrium Health. A medical school has long been sought by those who have steered Charlotte's growth from its cotton trading and railroad hub roots. The land chosen for the medical school was part of the 1960s Brooklyn urban renewal area.
The rezoning for the first 14 acres of the Innovation Zone is pending. Details are here. Public hearings have not been set, but could occur in September with a October City Council vote.
As Thompson confirmed this morning, the rezoning petition involves only parcels that the petitioner controls – 14 acres in an much larger area between Morehead and I-277 that Miller estimated to include 35-40 acres. Miller, referring to the larger area marked in orange on presentation maps, called it "aspirational." Maps in the rezoning petition confirm that petitioners do control the office building and dialysis center on Baxter across from the proposed research building, as well as a number of Morehead Street office buildings across from Covenant Presbyterian Church.

If approved as submitted, the rezoning would allow buildings nearest I-277 to be 325 feet. At 320 feet is 23-story First Citizens Plaza, built in 1987 at 128 S. Tryon St. Miller said that, as announced in March, the medical school tower would 16 stories and 260-280 feet.
Miller said building height would scale back as buildings approached Morehead. The rezoning proposal would allow 120 feet near Morehead. The tip of the 1951 Covenant Prebyterian spire is at 171 feet.
A community meeting was held virtually  by the Planning Commission on June 8; about 30 attended, in addition to the panelists. These other issues were discussed then but one note: A rezoning that allows something does not mean that it will be built:
The first-phase cost, involving research building, parking deck behind it closest to I-277 and the med school tower, may be about $300 million, Miller said.
Construction jobs of 500-600 would be followed by about 600 employees in the completed buildings.
The zoning in the 14-acre area would allow 1.3 million square feet of floor area in multiple buildings. The SouthPark mall is about 1.7 million.
Multifamily units – condos, apartments, etc. – would be capped at 1,000 units.
Hotel rooms would be capped at 600.
Site maps anticipate a new street connecting Baxter to Morehead in front of Covenant Prebyterian. The full rezoning petition begins on page 14 of the June 8 document.
All of the slides shown at Tuesday's presentation, except the first one, were shown during the June 8 community meeting. The June 8 slides are in a PDF file here.
Atrium continues to grow elsewhere. Earlier this year it successfully petitioned to rezone a parking lot near its Medical Center Drive connection to South Kings Drive for construction of a building for office use.
And in April, Atrium opened Kenilworth Medical Plaza I and II at Harding Place. The $228 million, 400,000-square-foot facility developed by Pappas Properties is just blocks and a couple of property lines away from the eastern edge of the Wexford rezoning area. Pappas broke ground earlier this month on 328 apartments on Harding Place, between Kenilwirth Medical Plaza and the Innovation Zone.
Below the video are the questions raised in the chat box.
Questions raised during the session
The chat box today was busy with questions. Officials made stabs at answering many of the questions; some might not have been addressed. An Atrium official asked for a copy of the questions raised. Here they are:
Q: What did you build in Durham?
Q: What types of jobs that you offer without a college degree? What type of pay?
Q: What is Wexford's role? Designing the med school towers? Constructing them? Managing them?
Q: Healthcare is 2nd largest talent cluster (context)?
Q: Please elaborate on the different types of research expected to be conducted.
Q: The orange color went all the way to Morehead. Are you expecting to repurpose all those owners?
Q: In your company's view, is an innovation district a contiguous place, or merely a shared idea or ownership? Could parts of this Innovation District rise wherever Atrium already has brick-and-mortar investments?
Q: Do you envision a future dental school being added just like Broadie did in Greenville?
Q: Levine museum has a new virtual tour of Brooklyn neighborhood. If you haven't had a chance you should take it. I'm sure the museum historians would be glad to give a guided virtual tour.
Q: Have you contacted Inlivian (Charlotte Housing Authority) regarding the newly renovated Charlottetown Terrace?
Q: Will the district extend across McDowell to absorb the land under one-story buildings adjoining I-277 now there?
Q: If you want green space, will you prioritize the protection of Baxter Street Park directly across the street, which is the only remaining undeveloped remnant of lower Brooklyn?
Q: Will people move from the Baxter campus to Atrium's Blythe Boulevard campus by foot, shuttle buses, gondola, or underground people-mover?
Q: How many stories are contemplated for the School of Medicine and the Research buildings?
Q: African-Americans listening today were, or had family or friends who were, forced off this proposed med school property without just compensation under a locally run but federally financed urban renewal program. What compensation is planned for these people? What ownership stake in this medical school and this Innovation District will be delivered to them as compensation for a wrong that has festered for 60 years?
Q: The plans you share about community involvement and benefits sounds good. But it all depends on implementation and measuring outcomes. Too often those designing and running these programs often are not reflective of the community and fail to meet their goals. Will the local community have an ongoing voice and input?
Q: Have you made contact with CMS's CTE program?
A: from Hillary Crittendon: Yes Jackie we have! We are working with CMS CTE and are really excited about the opportunity to develop pathway programs with CMS. I'll let Caroline and Dennis speak to the First Hand Philadelphia program as an example but there are a lot of areas where we think we can lean in.
Q: Will there be any collaboration with area HBCUs?
Q: What plans do you have for infrastructure to handle increased traffic and population flow?
Q: There have been other plans (on hold?) for historic Brooklyn in redeveloping Marshall Park. Do these plans work together?
Q: (1) You mentioned Darrel Williams by name. Can you name the persons that you spoke to at Central Piedmont Community College and with Charlotte-Mecklenburg Schools' CTE program? And can you speak to the basic skills set for the lab techs. (2) Will you commit to placing a plaque in the buildings acknowledging either the history of Brooklyn and Cherry?
Q: Your rezoning request will cover land to Morehead for land neither Wexford nor Atrium own?
Q: One of the great mistakes is to judge programs by their intentions rather than their results. Is there data available to show the impact on upward mobility in the other areas? Also, how will the public be made aware of actual results?
Q: Connectivity to updown might be sidewalks, but what is the connectivity between med school and Blythe Blvd to help people move between them rain or shine?