"Incredible Black Women You Should Know About" – The Series
Wilma Rudolph: "The Fastest in the World"
(June 23, 1940 – Nov. 12, 1994)
By DonnaMarie Woodson
This article, from the March 2022 edition of the Charmeck Chronicle, is published here with permission of the author.
The story of Wilma Rudolph is a testimony to the miracles of faith, determination, and bravery. Afflicted with polio as a young child, Wilma rose to shine the light of possibility, walking in the truth of what Faith can accomplish.
I grew up learning about Wilma Rudolph as a once-in-a-lifetime Olympian. And in researching her story, I concer. Wilma was undeniable and earned her gold medals by going beyond the limit with heart, body, and soul. A Black woman striving in the '60s to be all that she can be in a world where that's not supposed to happen.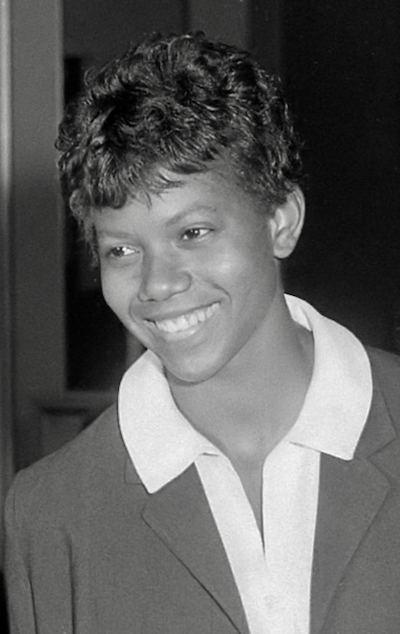 Following Wilma's successes as a sprinter in the 1956 and 1960 Summer Olympics in Rome, Italy, she became a world-record-holding Olympic champion and international sports icon in track and field; Wilma became the first American woman to win three gold medals in track and field at the same Olympic Games.
She was inducted into the US Olympic Hall of Fame and started an organization to help amateur track and field stars. In 1990, Rudolph became the first woman to receive the National Collegiate Athletic Association's Silver Anniversary Award.
Despite being told as a child she would never walk again, Wilma Rudolph relentlessly pursued her dreams of becoming an international track and field star. As one of 22 children, she was constantly surrounded by support and care, which she needed given her poor health. Rudolph survived bouts of Polio and scarlet fever. Her illness forced her to wear a brace on her leg.
Rudolph's diagnosis was very bleak: "My doctor told me I would never walk again. My mother
told me I would. I believed my mother."
Wilma was born prematurely to Blanche Rudolph at 4.5 pounds (2.0 kg) on June 23, 1940, in Saint
Bethlehem, Tennessee (now part of Clarksville). She was the twentieth of 22 children from her father Ed Rudolph's two marriages. Shortly after Wilma's birth, her family moved to Clarksville, Tennessee, where she grew up and attended elementary and high school.
Ed, who worked as a railway porter and did odd jobs in Clarksville, died in 1961; her mother, Blanche, worked as a maid in Clarksville homes and died in 1994.
Wilma suffered from several early childhood illnesses, including pneumonia and scarlet fever, and she
contracted infantile paralysis (caused by the poliovirus) at the age of five. She recovered from Polio but lost strength in her left leg and foot. Physically disabled for much of her early life, Rudolph wore a leg brace until she was 12 years old.
Because there was little medical care available to African American residents of Clarksville in the 1940s, Rudolph's parents sought treatment at the historically black Meharry Medical College (now Nashville General Hospital at Meharry) in Nashville, Tennessee 50 miles from Clarksville. Because of the treatments she received at Meharry, and the daily massages from her family members, Rudolph was able to overcome the debilitating effects of Polio and learned to walk without a leg brace or orthopedic shoe for support by the time she was 12 years old.
Rudolph was initially homeschooled due to the frequent illnesses that caused her to miss kindergarten and first grade. She began attending second grade at Cobb Elementary School in Clarksville in 1947 when she was 7 years old. Rudolph attended Clarksville's all-black Burt High School, where she excelled in basketball and track.
While still in high school, Rudolph competed on the collegiate level. She competed in the 1956 Olympic games and won a bronze medal in the 4×100 relay. Rudolph headed to the 1960 summer Olympics four years later, determined to get gold. Her performance in Rome cemented her as one of the greatest athletes of the 20th century. She won three gold medals and broke at least three world records. She would ultimately be inducted into the US Olympic Hall of Fame.
Wilma attended Tennessee State University in Nashville on a Track Scholarship. In college, she continued to compete in track. She also became a sister – "ooo oop!!" of Delta Sigma Theta sorority. (I'm a Delta, University of Michigan.) In 1963, Rudolph graduated from Tennessee State with a bachelor's degree in Education, becoming an educator and coach.
As an Olympic champion in the early 1960s, Ms. Rudolph was a highly visible Black woman in America and abroad. She became a role model for Black and female athletes, and her Olympic successes helped elevate women's track and field in the United States.
Ms. Rudolph also championed civil rights. On Oct. 4, 1960, her hometown of Clarksville decided to celebrate with "Welcome Wilma Day," a full day of festivities. At first, Wilma refused to attend but, because she adamantly insisted, her homecoming parade and banquet became the first fully integrated municipal event in the city's history. An estimated 1,100 attended the banquet in her honor and thousands lined the city streets to watch the parade.
In 1962, at the age of 22, Wilma retired from competition at the peak of her athletic career. As Rudolph explained, she retired when she did because she wanted to leave the sport while still at her best. Bear in mind that when she flourished as an athlete, neither the media nor any big agencies endorsed athletes, like the way they do nowadays. Therefore, even after setting records at the Olympic Games, Rudolph's livelihood was quite modest.
She did not earn significant money as an amateur athlete and shifted to a career in teaching and coaching after her retirement from track competition. She began as a second-grade teacher at Cobb Elementary School, where she had attended as a child, and coached track at Burt High School, where she had once been a student-athlete herself.
In 1973 she was inducted into the Black Athletes Hall of Fame, and the following year in 1974, Wilma was named into the National Track and Field Hall of Fame.
In July 1994, shortly after her mother's death, Wilma was diagnosed with brain and throat cancer. Her condition deteriorated rapidly, and she died on Nov. 12, 1994, at the age of 54, at her home in Brentwood, a suburb of Nashville, Tennessee.
Works Cited:
Wikipedia
Women's History
My Hero
National Women's Hall of Fame
Works Cited: