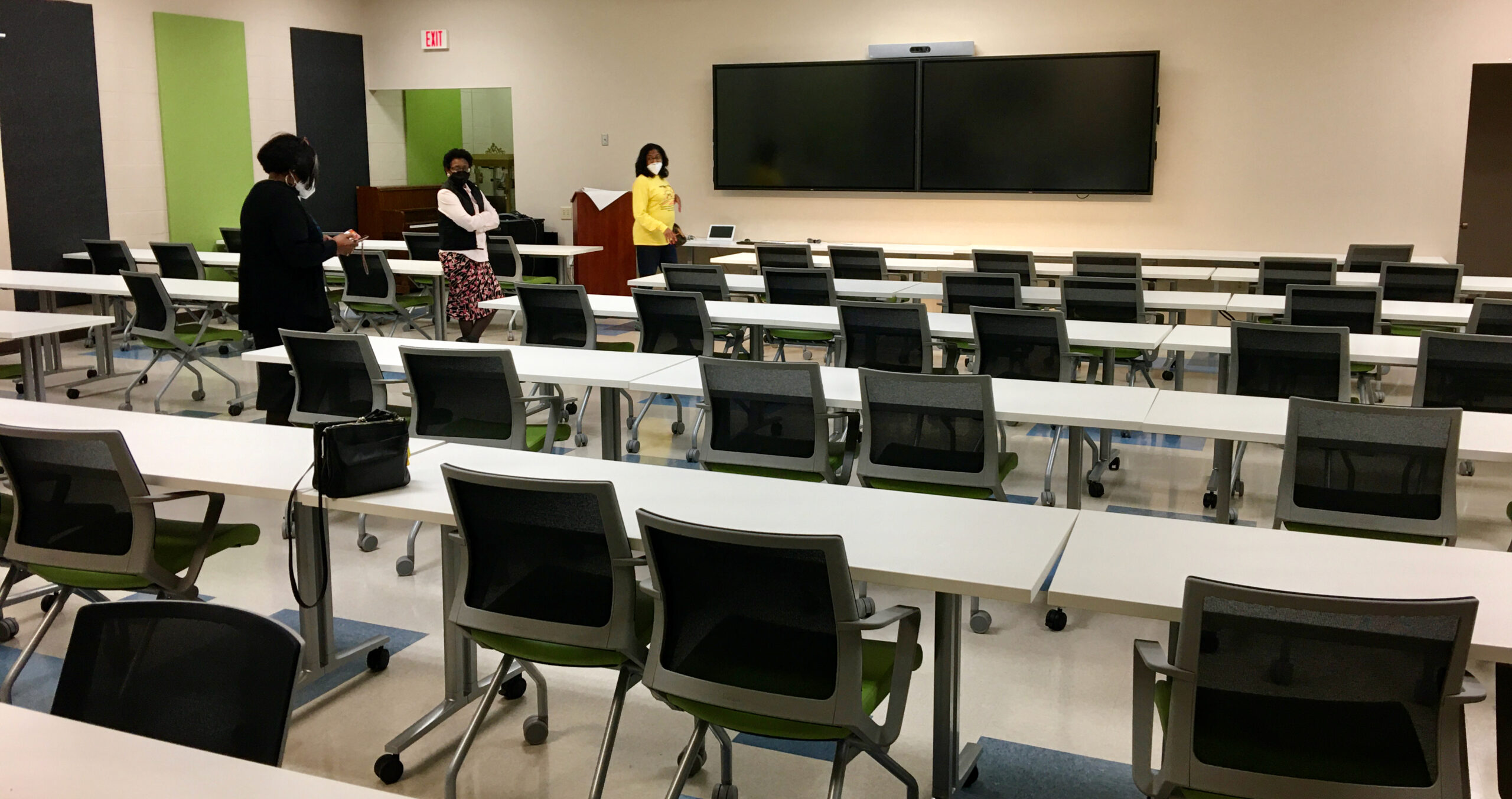 March 22, 2022
Forum facilitators masked up and met this afternoon at Belmont Center, to examine room upgrades and map out plans for return to the building. A decision was made to resume in-person meetings at 700 Parkwood Ave. sometime after the May 17 primary election. With a new COVID variant spreading nationwide and in Charlotte this week, they decided that a specific date for return to in-person meetings  would likely be set in mid-May, after reviewing health issues at that time.
Since the last Forum meeting at Belmont Center, the City of Charlotte, which owns the building, undertook a number of projects to use the room for its socially-distanced employee training sessions. New equipment includes tables that allow one chair per table for social distancing, or two chairs. Chairs are all new. All the furnishings are on wheels. The piano remains.
The light green vertical panel on the wall, shown in the picture above, and similar panels throughout the room, are not bulletin boards. The sound-absorbing panels were designed to enhance the audio quality of livestreamed meetings. Large screens can be used for a variety of purposes, or not at all.
A picture below shows a so-called PTZ, or pan-tilt-zoom video camera, installed high on a wall. The camera is part of a Cisco hardware-and-software package that automatically moves the camera to focus on the speaker, wherever the speaker is located in the room. Cisco created Webex, the meeting software used by the Forum since it began virtual meetings in March 2021.
The design of the audio and video systems in the room will allow people to attend and participate virtually after in-person meetings resume, but decisions about that have not been made. The screens on the wall would allow in-person participants to both see and hear from a presenter in a far-away city, as has happened since the lockdown.  Finally, the equipment would support continued livestreaming of meetings, in which people can watch, but not speak, from a number of Internet sites.
More information will be posted on this website as it becomes available.