"Incredible Black Women You Should Know About" – The Series
First African American Female White House Correspondent
(April 27, 1906 – May 6, 1983)
By DonnaMarie Woodson
This article, from the February 2022 edition of the Charmeck Chronicle, is published here with permission of the author.
Alice Allison Dunnigan was the first African American female correspondent at the White House and the first Black female member of the Senate and House of Representatives press galleries. During her time as a reporter, she became the first Black journalist to accompany a president while traveling, covering Harry S. Truman's 1948 campaign trip.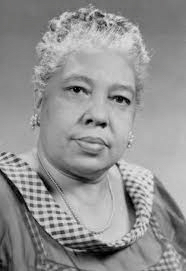 Alice was born April 27, 1906, near Russellville, Ky., to Willie and Lena Pittman Allison. Ms. Dunnigan was of Black, Native American, and White descent, with connections to both slave and slave-owning families. Though her father was a sharecropper, and her mother took in laundry for a living, Dunnigan's family was unusually "well-off" compared to other Black families in the area; they owned their own land and had a larger home they expanded on over the years.
She and her older half-brother, Russell, were raised in a strict household with an emphasis on and an expectation for a strong work ethic. She had few friends as a child, and as a teenager was prohibited from having boyfriends. She started attending school one day a week when she was 4 years old and learned to read before entering the first grade.
At the age of 13, Allison began writing for the Owensboro Enterprise, a Black newspaper. Her dream was to experience the world through the life of a newspaper reporter.
Although her parents saw no benefit in allowing their daughter to continue her education, a Sunday school teacher intervened, and Dunnigan was allowed to attend college. By the time she had reached college, Alice had set her sights on becoming a teacher, and completed the teaching course at what is now Kentucky State University.
Ms. Dunnigan was a teacher in Kentucky public schools from 1924 to 1942. A four-year marriage to Walter Dickenson of Mount Pisgeh ended in divorce in 1930. She married Charles Dunnigan, a childhood friend, on Jan. 8, 1932. The couple had one child, Robert William, and separated in 1953.
As a young teacher in the segregated Todd County School System in Russellville, she began taking courses in journalism at Tennessee A&I University. She quickly realized that her students were almost completely unaware of the historical contributions that African Americans had made to the state of Kentucky, so she began preparing Kentucky fact sheets to supplement the required texts.
The sheets were later collected and turned into a manuscript in 1939, but no publisher was willing to take them to press. Associated Publishers Inc. finally published the articles in 1982 as "The Fascinating Story of Black Kentuckians: Their Heritage and Tradition."
When a call for government workers went out in 1942, Ms. Dunnigan moved to Washington, D.C., during World War II seeking better pay and a government job. She worked as a federal government employee from 1942 to 1946 and took a year of night courses at Howard University.
In 1936, at the onset of World War II in Europe, Dunnigan juggled a freelance writer position for the Chicago, Illinois branch of the American Negro Press (ANP) and night courses at Howard University in statistics and economics.
In 1946 she was offered a job writing for The Chicago Defender as a Washington correspondent. The Defender was a Black-owned weekly that did not use the words "Negro" or "Black" in its pages. Instead, African Americans were referred to as "the Race" and Black men and women as "Race men and Race women."
Unsure of Dunnigan's abilities, the editor of The Defender paid her much less than her male counterparts until she could prove her worth. She supplemented her income with other writing jobs.
Dunnigan started working full-time at the American Negro Press and eventually secured a Capitol Press Pass. With it, she was able to cover news events of the Congress, which was generally kept off limits to most reporters, the public, and especially women and African Americans.
In 1947 she was named bureau chief of the Associated Negro Press, a position she held for 14 years.
During her years covering the White House, Dunnigan suffered many of the racial indignities of the time, but also earned a reputation as a hard-hitting reporter. She was barred from entering certain establishments to cover President Eisenhower and had to sit with the servants to cover Senator Taft's funeral. When she attended formal White House functions, she was mistaken for the wife of a visiting dignitary; no one could imagine a Black woman attending such an event on her own.
President Eisenhower refused to talk to Ms. Dunnigan for 2 1⁄2 years. The White House asked for her questions beforehand because she was known to ask such difficult questions, often about race. No other member of the press corps was required to submit their questions before a press conference, and Dunnigan refused.
When President Kennedy took office, he welcomed her tough questions and answered them frankly.
In January 1961, 8 minutes into his press conference, President Kennedy became the first to call on Ms. Dunnigan, making her the first woman reporter and the first Black reporter to be recognized.
After her White House days, Dunnigan returned to writing, this time about herself. Her autobiography, "A Black Woman's Experience: From Schoolhouse to White House," was published in 1974.
As its title indicates, the book is an exploration of Dunnigan's life from her childhood in rural Kentucky to her pioneering work both covering the White House and inside it. A new annotated edition of her 1974 autobiography was edited by Carol McCabe Booker and released in February 2015. This version is entitled "Alone Atop of the Hill: The Autobiography of Alice Dunnigan, Pioneer of the National Black Press."
During her retirement, Dunningan also penned "The Fascinating Story of Black Kentuckians" in 1982.
Awards
Despite her extensive work in government and politics, Ms. Dunnigan was most proud of her work in journalism, and received more than 50 journalism awards. She was inducted into the Black Journalist Hall of Fame in 1985, two years after her death. Ms. Dunnigan died on May 6, 1983, in Washington, D.C.
Tribute
A life-size bronze portrait statue was created by artist Amanda Matthews and cast at Prometheus Foundry, LLC. The statue was unveiled at the Newseum on Sept. 21, 2018. After a period being honored there for much of the fall of 2018, the statue was relocated to Dunnigan's native Kentucky.
It spent several months at the University of Kentucky, then was relocated again, featured in the Truman Presidential Library in Independence, Missouri.
Dunnigan Family
In August 2019, the Dunnigan monument made its way home to her native Russellville where it resides in a park named for her. It was unveiled during a celebration that included the descendants of Alice Allison Dunnigan.
The Alice Dunnigan Memorial Park is located in the Russellville Historic District and is part of the West Kentucky African American Heritage Center.
Works Cited:
Black Past
Wikipedia
On White House correspondents
On Dunnigan autobiography