Page initiated Aug. 28, 2021
President George Washington told his diary that Charlottetown was "a trifling place." Residents have often had another view, which has inspired them to remake their 19th century cotton trading town into a banking center and transit point for international travel; to transform a poor Catawba backwater to one of North Carolina's wealthiest metropolitan areas.
The friction between provincialism and aspiration, between poverty and ever-rising economic expectations, plays out in virtually all of Charlotte's public policy debates. The Vanishing Blue Heaven Park is another such episode. It's one that begins in the late 1950s, and hasn't ended at this writing. It pits human needs against business ambitions; human hopes against unbendable federal regulations. Many long-term residents, accustomed to the Charlotte way, may assume they know how it will end. But who knows? Charlotte has been re-inventing itself constantly since George Washington stayed overnight in 1791.

– – –
Charlotte filed to initiate urban renewal in 1958. The first planning funds were approved in October. The city's Redevelopment Commission set up shop in January 1959.
Lawyers
seeking more courtroom space may have been a key spark. Shame over unhealthy neighborhood conditions within site of City Hall played a role. Oh, and pride: Greensboro and other cities nationwide started earlier than Charlotte in tapping into this 1949 federal pot of money. N.C. cities were delayed by mistakes made in N.C. legislation, and even Greensboro did not begin work until 1958. One of the leaders in implementation of urban  renewal was Norfolk.
The Second Ward African-American neighborhood of Brooklyn would go first. Dilworth, First Ward, Greenville, Downtown, West Morehead and others would come later. This is not the place to recap the benefits, and losses, from the program.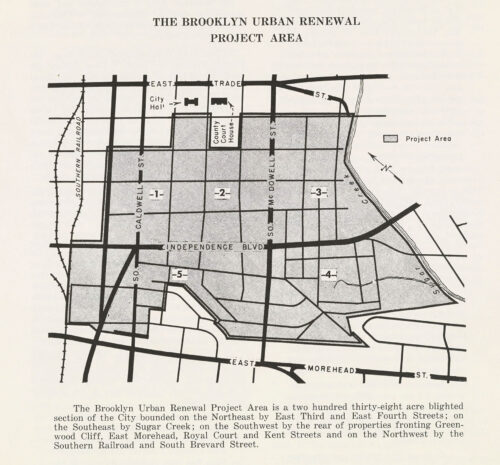 Rather, it is an exploration of how the razing of one of the five Brooklyn project areas, Area 4 on the map at right, south of the 1950 Independence Boulevard and east of McDowell Street, opened a debate over reuse of the land that pitted competing interests against one another.
The African-American tradesmen and maids and beauticians and retirees who were forced off the land, renters all in the case of Area 4, played little role in the debate. Indeed, most records and media coverage from the time never mention them.
– – –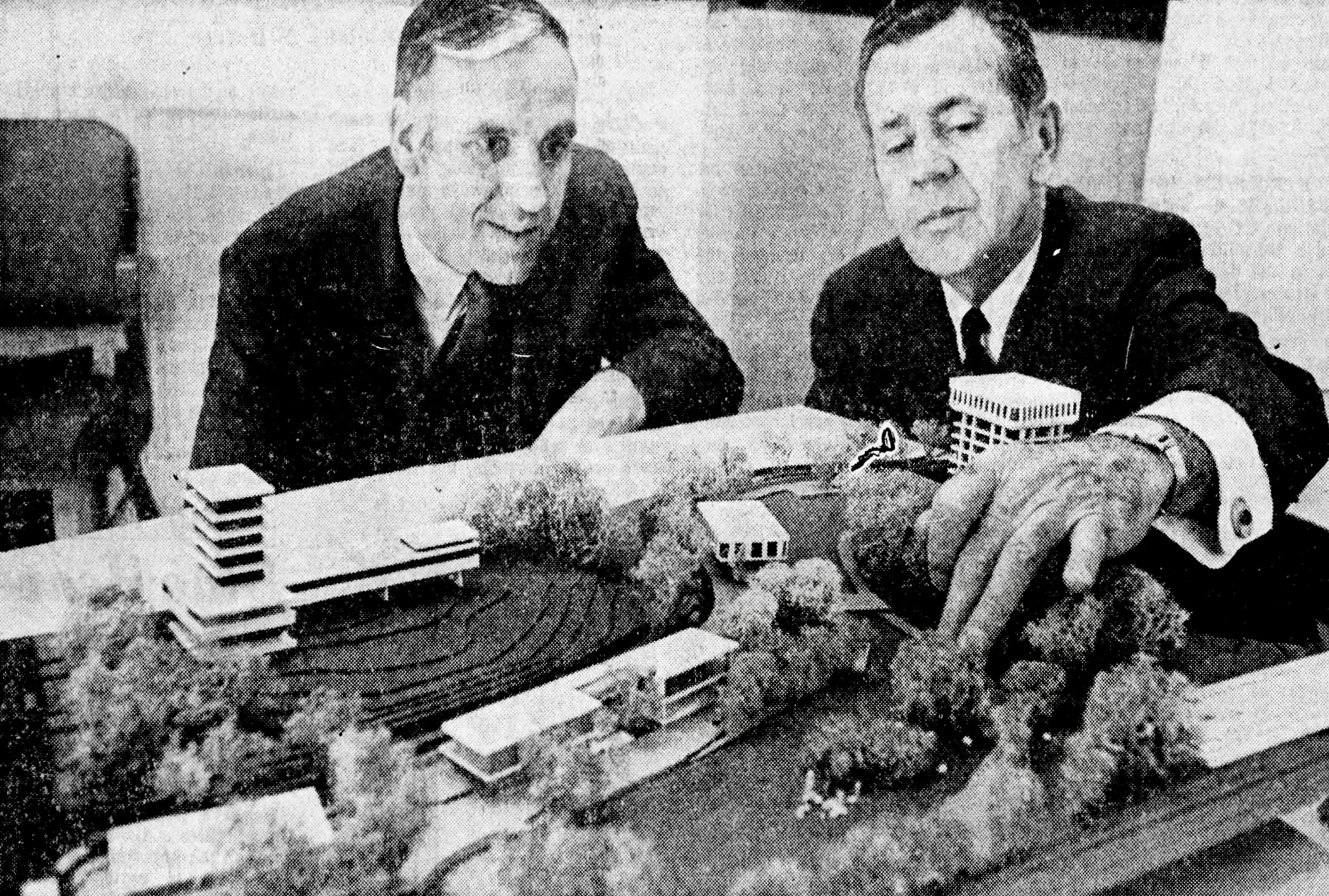 The "Cake and Eat It Too" plan: In January 1969, an Observer photo showed architect Crutcher Ross, left, with City Council member Jerry Tuttle, looking at a model of Ross's Blue Heaven development plan that combined commercial and park elements. Nearest Ross is what became I-277. Under Tuttle's hand is a lake and dam. Tuttle's elbow points to what is now Midtown. McDowell Street is at far left. The tall building at left was a hotel; the one at right an office building. Shorter commercial buildings follow the realigned Baxter Street. The plan put 9 acres into parkland. While approved by Council, the Council later abandoned it after its Redevelopment Commission, to stay under a Council-mandated budget cap, boosted commercial use and cut parkland acreage, which eliminated federal reimbursement for parking spaces to serve park visitors.
Tax dollars versus the human spirit
Excerpts from comments about a proposal to commit 40 acres of the Brooklyn urban renewal area to park use, made at a July 21, 1969 City Council public hearing, as recorded in Council minutes. The full text is here.
"Mr. Vernon Sawyer, Executive Director of Redevelopment Commission, stated this project contains the area that has become known locally as "Blue Heaven"….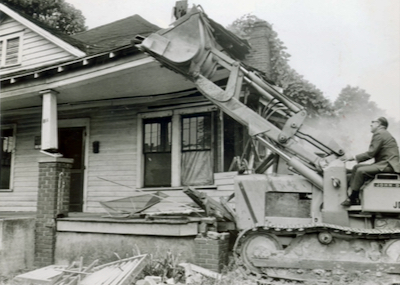 The land uses that were already listed in the plan permit parks, commercial uses, office buildings and several other uses which have already been approved. In order to develop this plan to any other particular scheme, it was not necessary to change the land uses. The other change recommended is change in the budget and in order to accomplish the scheme which is illustrated on the preliminary site plan, a combination of commercial land and park laud – the park land being dedicated for public use, all costs that are necessary to improve it to create a lake, to grade and landscape the area would be creditable towards the city's 1/3 share of the project cost. The present budget for this project is $900,539.00; to accomplish this scheme, it would cost the city $883,469.00, that is below the original budget and would give the city a "pooling credit", a credit which would go over to another project, of some $145,340.00.
Mr. W. Crutcher Ross, a local architect, reviewed his involvement with the Blue Heaven Project. He stated some years ago, as Chairman of Charlotte Chamber of Commerce Beautification Committee, he worked very diligently to see that this area of approximately 40 acres was converted as a park for the people of Charlotte, That his committee and the Chamber Board felt this was a worthy project and a chance for a green finger parkland to extend into the future Downtown Charlotte development. He stated a resolution was passed unanimously by the Chamber Board backing this project for a total park for the people.
It was found the Independence Expressway System would eat up approximately 22 acres of public development; this being so, there were two strong factions pushing for development of this area, one being all park and the other being all commercial; since he was involved with the Sugar Creek development with Alvin Groves and Associates, they were asked to see how the development of Blue Heaven could relate to the Sugar Creek Concept and to suggest a workable concept. That they developed a concept to try to develop a plan whereby they could accomplish two things. One, create a park atmosphere with open spaces and people places with aesthetic values and two, establish a plan which would be attractive to commercial developers that would help to defray cost of the land. If this design was approved by the Council and the Redevelopment Commission, they were directed to prepare a plan with this basic concept in mind, staying within a budget of approximately $900,000.00.
At the time, they were told the Redevelopment Commission proposed to place the creek flowing through the property into a concrete culvert, at a cost of approximately $500,000. Their approach then was to develop this park-like lake, dam, sidewalk paving, etc., staying within the $500,000.00 limits. Their estimates for the lake area included: (a) Excavation and Site Grading; (b) Concrete Lining of the Lake; (c) Dam and Watetfall; (d) Pedestrian Bridges and Walks, and Plazas. Their estimated cost was approximately $400,000.00; this being so, they felt if the Redevelopment Commission had already budgeted $500,000 for this stream to be put into a concrete box, then we were $100,000 under their budgeted estimate and they recommended the concept which is before Council today.
Mr. Ross pointed out the Independence Expressway as it comes through the property, taking up the land by the Post Office; there will be a ramp off Independence Expressway coming across the road and back down by the Post Office. That since Pearl Street Park is already located as a park, they would extend the finger of parkland through the Blue Heaven area over to McDowell Street. He stated their concept at all times was a compromise to give the people of Charlotte as much park and open land as possible. They proposed to place the lake, and at the same time place a dam with approximately 20 feet of fall so there would be a dam and waterfall to take the water back down to the existing Sugar Creek.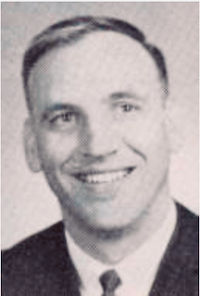 Mr. Ross stated their concept was to take the whole area which was not commercial sites – No. 4, No. 1 and No. 2 – would be envisioned as parkland, with the lake being a part of the parkland; they felt to get interest in a park you have to have activity. They proposed small shop type arrangements within the concept and within the lake area; some kind of shop interest had to be introduced into this area so there was stopping around the lake. That to make the area accessible to the people, there should be parking. So they put parking off McDowell Street in such a manner to get it out of the main park area with only 3.5 minutes walking into the center of the whole project. They propose that each of the commercial developments have its parking at this point; and also at this point more parking would be for the public, so that the citizens could drive into the area and be able to shop in the area, to be able to mill through, and just give the whole area a lot of excitement.
Mr. Ross stated their first concern was for a total park in this area which started with his Committee in the Chamber of Commerce; the compromise solution presented was exactly that – the compromise for park, land and commercial development. The Commission has now proposed a solution based not on the original concept of a completely open park but based on the compromise that he has outlined; this compromise of a compromise disregards the original idea, which was to provide a badly needed open park for the people of Charlotte. From what he can see, the open spaces are not readily accessible for people who are not connected with the commercial development; elimination of public parking deprives the public of easy access. He stated if this plan by the Redevelopment Commission is our only alternative then we need to restudy the whole area, and evaluate its use for more open spaces and also for people places.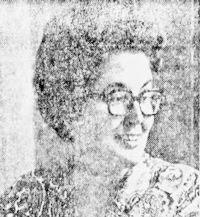 Mrs. Marie Wonsey, President of League of Women Voters, stated the League urges the Mayor and Council, as leaders of Charlotte, to do anything possible to see that we have park areas downtown; that we are fortunate to have downtown acreage vacant and waiting to be developed into something vital, exciting and stimulating to the downtown economy – a place residents and visitors will want to visit. She stated we lost the Rose Garden to highways; we lost the proposed zoo and the stadium area off Irwin Creek and West Trade to highways. This area was designated as a Park in the Master Plan presented as part of the last bond issue. Now will we lose this area too and face the danger of the people losing faith in future plans presented to them? That State Legislator Art Jones said: "We urge you to reject the idea that our citizens are slavishly materialistic and insensitive to the deeper realities of better living. Charlotte is adding hourly to its fundamental tax base. But if we are not to build a tax-based Frankenstein that will eventually destroy us, then let us give balance to our lives by providing for soul food, for beauty, for culture, for delight of open space that can give us renewed faith in our destiny and in ourselves." Mrs. Wonsey stated parks cost too much only for cities that think small. That parks are an investment, the very best investment Charlotte can make. They will pay unlimited dividends to us and to our children for years and years to come.
Mr. Hugh Casey, Attorney and former Assistant Solicitor of the Mecklenburg County Superior Court, stated his remarks will be aimed at two points – (1) the cost of having a park and (2) the cost of not having a park.
He stated some may say to dedicate the land to parks will cost a loss of tax base. But it is not acreage that determines tax revenue but the use of land; it is hard to imagine that subtracting 22 acres of vacant land from hundreds of acres of vacant land, which lie in the center area of the City of Charlotte, will have any effect on the tax base. If the land is not used for a park, will it be used commercially? Why do not the investors use the hundreds of vacant acres which surround this little 22-acre tract; if the area is suitable for a motel, why do not the investors buy and finish the eyesore of a motel which lies between the creek and Kings Drive, along the border of this 22-acre tract. Is it logical when there is literally hundreds of acres, all privately owned in the inner city of Charlotte, that suddenly 22 acres will be developed commercially?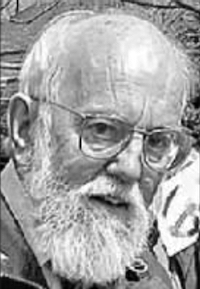 Is it not more logical that this 22 acres will remain vacant land, and if we are lucky, may have a motel one day; or is it more likely that it will be carved up into bits and pieces and perhaps used as another car sales lot? Mr. Casey stated thousands of people use Freedom Park every day; and these people do not all come by car; you can see scores and scores of children coming – some on foot, some on bicycles – coming from quite a distance if you judge by the ragged clothes many of them wear. That these children should be considered.
Some will ask how much the park will be used. He asked of what use is a park and what are its possibilities in the years and generations to come? That he can counter with question of Old Ben Franklin – "Of what use is a new born baby?" Mr. Casey stated if this land is used only as a park, it will cost the City approximately $2.0 million; if it is used as a park and water side development, it will cost the City about $900,000 or $1.0 million. These figures represent 1/3 of the actual cost; the other two-thirds being borne by the federal government. That these figures are all estimates but to use this principally as park will cost the city approximately $1.0 to $2.0 million.
Mr. Casey stated turn the coin over and examine the other side – what will it cost the City of Charlotte if there is not a park in the Blue Heaven area? What type of human environment will we choose in Charlotte? All of us in Charlotte want to live in a clean, safe and pleasant environmental neighborhood with a feeling of community and security; but is this the kind of city we are to have? Will our city be one where a handful of air conditioned buildings rise like dead slabs, surrounded by thousands of acres of squalored residential areas, become chief commercial districts, used car lots with the only green living plant life to be found in weed- choked vacant lots filled with refuse and all this sprinkled over with empty beer cans, broken bottles, and abandoned cars. In this city a maze of highways which crosscross and breakups what neighborhoods once existed so that the whine and roar of traffic deadens the air while a fog of pollution chokes the lungs. That this cannot be Charlotte, but Charlotte is already approaching this picture.
What of those people who are trapped in the City by lack of education or by the lack of money with the misery of their existence being made more horrible by the knowledge there is a better life; and this life is kept ever out of reach. In this tale of the cities, society breaks down; social disorganization is the order of the day, and crime increases at a fantastic rate. Crime is increasing at four times the population growth. In Charlotte, the areas with the high crime rate are to the west side, First Ward and beyond as the slums spread out ever further. Mr. Casey stated he speaks from being a prosecutor in Superior Court; and you can talk to any Detective and he can tell you the same. Last year, according to the budget, $4,294,990 was spent for the Police Department; according to Superior Court Judge Allen Quinn, in 1960 the expense of keeping one prisoner in jail was $1,400 a year, and the cost of crime in North Carolina was $500 million.
Mr. Casey stated if Charlotte is allowed to become like Chicago or Los Angeles, we may likely have a riot – what does a riot cost. Just the question alone evokes a scene of hundreds of thousands in a frenzy of violence – killing, burning, looting; and all this is inflicted upon those who can least protect themselves; those who have been condemned to live in the city. He stated when the environment of the City becomes so inhuman that the city becomes abandoned with block after block of decaying buildings, what happens? The entire tax base of the city crumbles – not just a mere 22 acres but millions upon millions of dollars of once fine real estate rots away. This is the cost of not having a park. Does the park seem so expensive now; just a fraction of the cost of one year's operation of the Police Department….
Mrs. Irene Hairs presented the following four points in favor of turning Blue Heaven into a park:
(1) An excerpt from a speech of Governor Luther Hodges at a C&D Board Meeting in Charlotte some years ago: "Too often ugliness is a byproduct of mushroom growth; don't let this happen to Charlotte." He stressed the importance of planning to make Charlotte one of the most beautiful cities in America as well as the largest in the Piedmont Crescent. She stated a Blue Heaven park could be a step in this direction.
(2) Mr. R. W. Gamble, another important visitor to Charlotte some years ago, commented very highly on the beauty of Charlotte and its surrounding area; that he was particularly impressed with the wealth of beautiful trees and Charlotte's preservation of them; that of all the cities he had visited in the southeast none could overshadow Charlotte's beauty; from a business standpoint, that Charlotte's growth was responsible in a large degree for its amazing industrial and residential growth since location desirability from a living standpoint carries a lot of weight in selecting sites for expanding enterprises in both business and manufacturing.
(3) Charlotte's lack of outward response to the Blue Heaven redevelopment project today has left the impression of disinterested public. She stated they have made a poll which proves this is a false impression; it also proves that Charlotteans almost 100% favor a Blue Heaven park. The poll, although brief, represents a cross section of Charlotte and they did not poll teenagers.
(4) Tax-wise. This beautiful area converted into a downtown park could be a far greater long range asset than the limited number of small non-governmental businesses that this area would accommodate.
Mrs. Haire stated if Charlotte cannot afford to develop the area right now, then why not earmark it for development at a later date; there is not another available site in downtown Charlotte that comes close to Blue Heaven as a beautiful and desirable site for a public park.
Mrs. Mary Gillett stated you come away from Mexico City thinking what a beautiful city it is; and you think that because there are two parks beginning at the 400-year old City Hall and going up the beautiful street to the end of the city; that they do not worry about parking as they do not have cars, and they get to these parks by the thousands every Sunday and holidays; they come on public transportation and bring their families; students come, tourists come and old people come just to sit out their days – they enjoy the park. That Salt Lake City, Utah has the most beautiful trees she has ever seen, and it is because they care; they brought water down from the mountains and irrigated it and along the streets have a greater variety of hardwoods than any city in America has.
Mrs. Gillett stated Abbott Park which was given to Charlotte as a gift is suddenly gone and is going under concrete. That a year or so ago the papers had an article about our leaders going to San Antonio, Texas; that she was delighted as she thought there is a river no bigger than Sugar Creek, and think what we could do for Charlotte with that; but something happened, they got the two trips, but we did not get the park.
That she thinks the City owes the people something for taking the roses and trees and turning them into highways. She stated they are also owed compensation for Earle Village – that drab, treeless area that sticks out like a sore thumb right in the middle of Downtown. That she does not know why housing must always end as blight.
She stated the Council works hard; it gives a good government, an honest government and spends long hours, and it is appreciated, but she asked that one more thing be given: "Give us a little space, a little beauty downtown."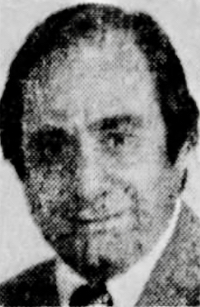 Mr. Peter Gerns, Attorney, stated he does not think there should be a need to debate this subject of a park; that many people think Charlotte is a city without soul; he asked that this not be proven right; our standard of living is not a high standard of living; it depends on what you count – whether you count television sets, bath tubs or automobiles or whether you count the mode of living in the way of life. That we in Charlotte have not that much to be proud of.
He mentioned Tivoli Park in Copenhagan, English Park in Munich, and the parks of Canton, Ohio and stated they were built by far-sighted men who knew that someday the citizens of those cities needed those few spaces of recreation, which we do not have in Charlotte. He stated Council has this burden to provide this city with this park regardless of cost, and. he joins with Mr. Pentes in saying this matter should be re-submitted to a committee of Council's creation to be re-studied to where it can become a useful park.
Also speaking for the park was Mr. George Cole, a designer and Mr. Tommy Robinson, representative of the Inter-City Residents Committee.
Councilman Tuttle stated back in 1965 he discovered Blue Heaven; it was a shamble of run-down houses, old cans and filth; but with the filth there was potential beauty for there were trees, greenery, rolling land and a little stream winding its way through weeds, old tires, garbage and debris of every description; it was worthless looking land, and now four years later it is apparently still worthless, considering the lack of interest in it.
Back in 1965 there were those who joined him in thinking it was extremely valuable land if put to its best use – a park, a place for people, a place of beauty, a preservation of open space too swiftly disappearing in the metropolitan area; it was argued by opponents to a park that promises had been made to place the land back on the tax books by turning it over to commercial development. Now years keep rolling by with little interest being shown by these developers.
Further, the picture has changed dramatically in the years since urban renewal came along; Charlotte is ready to burst at its seams and make the necessary concrete plans for the preservation of some open space before we wake up to asphalt and grime
In October, 1965, he proposed that some 44 acres of Blue Heaven area be converted to a park; Blue Heaven had dwindled to 22 acres, and now it is down to 18; its value has been put from many millions of dollars down to some three hundred odd thousand dollars – apparently it is not worth very much.
Councilman Tuttle stated on last January 27th, this Council approved a plan whereby we might have a little cake and eat it too. The plan was to allow nine acres to be converted into a park and the remaining land developed commercially. It was hoped that the park atmosphere would enhance the value of the commercial land to the extent that the increased value would partially, if not fully, offset the park project, and it was to be a real park. It included a parking area, lake, beautiful dam and waterfall; it contained walks, people-oriented shops and room for recreation. That was the compromise – from 44 acres down to nine.
But this plan before Council today proposes four things. One, reduce the park again, this time to 7 acres. Two, eliminate all public parking. Three, cut out the beautiful dam and waterfall. Four, wind up with a parklike atmosphere with little value to anyone except the commercial developers. It will not be park for the people as was the intent of this Council when it adopted the present concept.
The park would cost money, but not $1,386,000 as reported in the Charlotte Observer on July 17; nor $883,468 referred to the plan of the Redevelopment Commission, but $864,073 for the former and $361,542 for the latter. Someone keeps forgetting that based on the current valuations the city is going to have to pay approximately $521,927 as its 1/3 share of the loss in this project. In other words take $521,927 off park estimates – that is already gone, it is already spent.
The Redevelopment's excavation estimates for the seven acres of park are $55,000 higher than those furnished by our consulting engineer and given him by two different Charlotte construction firms; they are $20,000 higher on bridges; they have included $100,000 for water filtration system, said to be unnecessary by our engineer; and they have added $30,000 for culverts not called for by our engineer. The total questionable difference is $205,000 and entirely too much for either set of figures to be assumed correct at this time. That no one needs to tell him of the acuteness of the financial problems we face; and no one needs to tell him there are priorities to face; nor does anyone need to tell him that 20 years of no real action on the part of this city to provide substantial open land for the future is not too long.
Councilman Tuttle moved that the Mayor appoint a committee composed of an architect, and lawyer and of a character mentioned by Mr. Pentes and they be asked to work with the Redevelopment Commission and come back to Council in 60 days with a proposal for the use of all the Blue Heaven land; if in the meantime a private developer comes along with an offer that will give us some sort of cake and eat it too plan, then we can re-evaluate the whole situation. Councilman Alexander seconded the motion with the following amendment – "that this Committee be composed of representatives of the poor, both black and white." Councilman Tuttle accepted the amendment and the motion carried unanimously."
Accommodating another public purpose
There was a long debate over how to reuse Blue Heaven. City Council wanted corporate property that the city could tax in the short term; business interests and the public wanted a park like Tivoli in Copenhagen or Central in NYC – a long-term investment in the beauty and attractiveness of the city. Council won.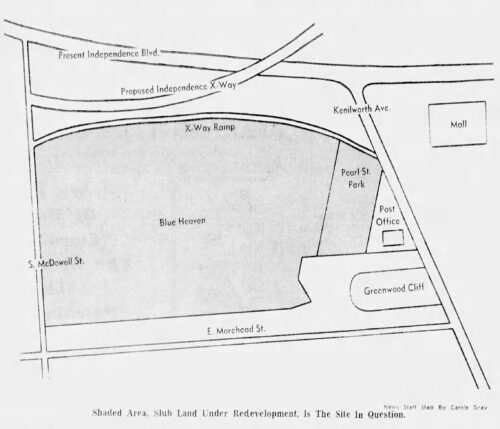 When it came time to decide how to reuse Charlotte's urban renewal areas, Brooklyn's Tract 4 first showed up on maps as a single piece of property, about 40 acres. But it got smaller over time: As engineers designed exit ramps from I-277, the expressway ate up 18 acres, not 13. By 1968, when a two-year public debate opened, the maps showed at most 24 acres.
The Redevelopment Commission proposed to put Blue Heaven's streams in culverts and prepare sites for distribution warehouses with taxable buildings and inventories. Park advocates wanted a lake and a 20-foot waterfall, open space, open streams, maybe a petting zoo, small shops scattered about, and parking. By December 1970, the commission said the park could only be 5 acres, in large part because Council had set a maximum budget and federal rules disallowed reimbursement for parking for such a small park. Blue Heaven Park, the 5-acre remnant now known as Baxter Street Park, was dedicated along with Charlottetown Terrace in 1977. The city's development cost at the park totaled $100,000, including a fountain that Mayor Belk turned on for the first time in May 1977.
The culverts ordered by the redevelopment commission still serve the area.
But since a residential tower for the elderly and disabled would not produce tax revenue the way a corporate land sale would have, how was Charlottetown Terrace cleared for construction? The answer may lie in private connections involving three men: Pat Hall, J.D. Lowman, and Redevelopment Commission member Thomas Rickenbaker.
All three men are dead. Hall died in 1978; Lowman died in 1974 after he resigned in 1973 amid a federal investigation of his purchasing practices while he was Authority director from 1969 to 1973; Rickenbaker died in 1984.
Pat Hall was the flamboyant real estate executive behind huge deals that shaped Metrolina (think Carowinds, Arrowood Industrial Park and the Cabarrus cigarette factory). His 1978 obituary quoted an unnamed friend as saying that Hall "always liked to keep things private."
The settlement of a 1970 lawsuit in U.S. District Court Judge McMillan's court had put pressure on the Housing Authority to stop concentrating its portfolio in west Charlotte. That court settlement led to the Authority's first scattered-site housing program, announced Feb. 19, 1975, that covered sites near SouthPark, on Florence Avenue, Archdale Drive – and the tower in Blue Heaven. The authority paid the Redevelopment Commission $118,000 for the land in July 1975 and spent $4.7 million to erect Charlottetown Terrace.
Hall resigned as Housing Authority vice chair in January 1972, but returned in March after death of longtime chair Earl Gluck. Hall succeeded Gluck as chair shortly thereafter. By September, the Charlottetown Terrace was a go.
In a Sept. 21, 1972 news story, reporter Susan Jetton reported that the Housing Authority had delayed action at their September meeting on a staff plan to locate the tower for the elderly in Blue Heaven. The 4-3 majority wanted more information, and wondered if the architect of record had a conflict of interest. Excerpts from the Observer report:
"The architect is Thomas Rickenbaker, a member of the Redevelopment Commission, which would have to approve the sale of the land to the Housing Authority.
"Hall discounted the objections Wednesday and predicted the proposal would be approved at the Oct. 17 meeting of the Housing Authority.
"Hall said he had instructed [Authority director J. D.] Lowman to 'be looking around the hospital areas for some sites for housing for the elderly."
"He said Rickenbaker, who had served as a consulting architect to the authority on one project, had suggested that the Blue Heaven land would 'be a great site because of its location….'
"Hall said, 'I told Lowman, "All right. Go ahead and draw something up."' He said any other architect could have 'come up with a suggestion, and we certainly would have given it serious consideration.'
"Before the proposal was revealed to authority members it was given preliminary approval by the U.S. Department of Housing and Urban Development in Greensboro and Washington, D.C.
"HUD also has given the authority a commitment to fund the estimated $3.25 million project, Lowman said.
"At least one private concern, Lincoln Properties, has asked the Redevelopment Commission for permission to buy the land for an office complex.
"Rickenbaker said Tuesday that if he were given the contract to design the housing complex he would immediately resign from the Redevelopment Commission.
"Hall said if the Housing Authority members did not like the choice of architects, "Okay. We can decide those things later. But if we can get the money from HUD for this, let's go ahead with it. We might not get the money for some other project."
The Charlottetown Terrace architect of record was Charlotte architect Tebee Hawkins, not Rickenbaker, so there was no conflict. In subsequent years, Rickenbaker designed commercial buildings. Rickenbaker died in 1984.
A colossus rumbles north
From its earliest days along Little Sugar Creek, the Little Hospital That Could has been on the make.
Charlotte Memorial Hospital opened in 1940, absorbing the patients from St. Peter's Hospital, located in Fourth Ward, that for more than 59 years had been run by the Church Aid Society of St. Peter's Episcopal Church. The 1940 building off Kings Drive still stands, but is now surrounded by layer after layer of more recent hospital construction.
For decades, the hospital's growth encroached on residential and commercial Dilworth. Hospital facilities then started showing up on the edges of Cherry. The hospital is now part of Atrium Health, which as consolidation occurred in the health care sector, began absorbing hospitals and physician practices. In 2021 it was serving 29 N.C. counties, five more in S.C, and controlled a hospital in Georgia.
The march north from Blythe Boulevard now includes a medical facility adjoining Pearl Park, north of Morehead.
Its recent tie-up with Wake Forest Baptist Hospital in Winston-Salem has led to the announcement of a medical school on Brooklyn urban renewal land off Baxter Street. And the people involved designing and building the med school, who have long been involved in Winston-Salem's downtown renewal, speak rapturously about Atrium's footprint growing throughout the hundred-mile corridor between the two cities.
In June 2021, Atrium and its consultants defended a proposed rezoning of 14 acres in the Blue Heaven-Morehead area. More on that meeting is here.
For now, the remnant of Blue Heaven Park is not in the rezoning petition because Atrium and its lawyers do not control it. That could change anytime, and the plan could be amended. The argument for expecting the parkland to become part of the medical school and research area hangs, at least in the public domain, on what Wexford Science & Health's Dennis Miller, the Wexford Science & Health vice president for development, said at the Forum Aug. 24.
Asked whether the project planners would protect Baxter Street Park, it being the "last remnant" of land opened up during urban renewal, Miller said:
"We're in discussions, and we'd like to figure out if there is a development opportunity… on that particular site. But we don't have anything at this particular time that is concrete.
"But hearing your comment about 'the last remnant,' our position is that … we want to create new locations to really celebrate the history. So one of the things we've discussed is… a purposeful walk that tells the history when persons are walking or biking along the pathway connections throughout the Innovation District…."

'Now or never'
"Col. J. Norman Pease, designer of the Governmental Plaza area behind City Hall which is developing most of the Brooklyn renewal area into governmental complex use, said the park would add to that development.

'It would be a very fine thing. Unless this is done at this time, the prospect will be lost from now on. It's now or never – and we won't have any more downtown land for parks,' Col. Pease said."
– Bill Noblitt in the Charlotte News, March 13, 1968
–
Second chances?
Pam Kelley's June 2019 article, "From Brooklyn to Ballantyne: The story behind Charlotte's affordable housing crisis," reprises the mistakes the city made in not replacing low-income housing as it was tearing down Blue Heaven and other areas. It was published in QCityMetro.
–
Blue What?
Reporter Bill Noblitt, Charlotte News, March 16, 1968 re Blue Heaven: "The name is a cruelty joke dreamed up years ago by the poverty-ridden residents who managed to find some glimmer of humor in their dire situation."
Reporter Paul Clancy, Charlotte Observer, Jan. 28, 1969: "Blue Heaven, which got its name from the color of the trim on slum houses that once stood there…."
Historian Tom Hanchett for ASC Charlotte, Jan. 29, 2016: "It was called 'Blue Heaven' because everybody had wood smoke pouring out of their chimneys and the air was blue with smoke."
J.C. Cousar for Levine Museum, Oct. 11, 2019: "Blue Heaven was the street that ran parallel to Hill Street where we lived, and that's where the chemicals went into the water in the creek, and the creek had blue water. So that's why the nickname: They called it Blue Heaven."
Sources of material consulted or used in this essay include: American Institute of Architects; Atrium Health; Charlotte News; Charlotte Observer; City of Charlotte; Google Earth; Hills City Directories; Johnson C. Smith University; NPR; QCityMetro; UNCC Library Special Collection's Digital Archives; Wexford Science & Health.