Wednesday, March 23, 2016 9:28 PM
From Justin Harlow, DDS, Vice Chair, Five Points Community Collaborative, Inc.; and Vice President, Biddleville-Smallwood Community Organization
The Five Points Community Collaborative, Inc. (5PCC) is coalition of neighborhoods in Charlotte's Historic West End that promotes the growth and maintains the integrity of the Five Points education and cultural arts district by putting neighborhoods in the lead. 
Greetings Charlotte community stakeholders and neighbors,
Spring is upon us! As spring break approaches for teachers/students in CMS and Easter celebrations occur, there are many updates to share around the West End/Five Points area.
Our Schools – CMS Pupil Assignment – Kudos to District 2 School Board Rep Thelma Byers-Bailey for hosting a successful public forum at West Charlotte on Monday evening where more input about the CMS guiding principles and CMS survey was gathered. There was also dialogue around how to help Bruns Academy (PreK-8) and West Charlotte High. A great turnout and many parents were present to share their opinions. There was even a history lesson given by Charlotte education advocate and integration pioneer, Ms. Dorothy Counts-Scoggins. Please send inquiries to Rep. Byers-Bailey.
District 2 Community Corners –  On March 12, District 2 City Councilman Al Austin organized a great community corners event with CMPD, CharMeck Health Department, Goodwill, and other services to help educated residents on resources available to them. 200+ neighbors along the Beatties Ford corridor. Always good to see our community come together in a positive way. See photos attached.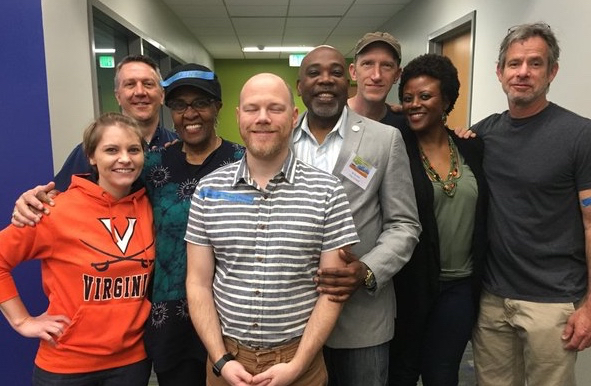 Wesley Heights – Wesley Heights Neighborhood Association participated in the this year's Neighborhood Board Retreat hosted by the City's Neighborhood and Business Services Department.

The retreat helps neighborhood and business associations assess the current state of their community, identify and prioritize strategic goals, create action plans, and improve the quality of life in Charlotte's neighborhoods.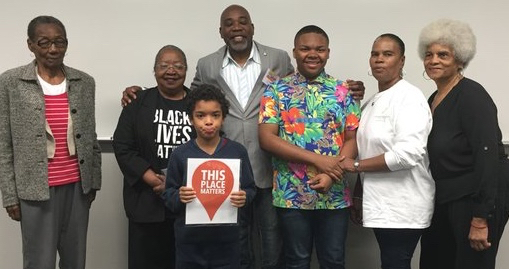 The retreat was also attended by board of Oaklawn Park and Washington Heights communities. See photos attached. Also check out this March 10 article in CharlotteFive blog on How Wesley Heights started to Change.
Biddleville-Smallwood – The Biddleville-Smallwood neighborhood was highlighted with front page coverage in the Sunday March 20th edition of The Charlotte Observer.
Pam Kelley had been developing a story on the history of Biddleville and its recent diversification over the past few months. While the headline certainly stands out, the article is a good read about preserving the history of Charlotte's oldest majority black neighborhood while having new families move in. Prepare yourself, it's a long one! The article is linked here – White People in Biddleville: the Story of a Changing Neighborhood.
The neighborhood association also had a packed house last Thursday evening, March 17 for its neighborhood meeting. Rev. Trevor Beauford advised on how neighborhoods can get involved in the ongoing student assignment debate and expectations of what is to come.
See photos attached from the meeting at Smallwood Presbyterian Church. City Council member Julie Eiselt was present and answered some questions with CMPD on public safety concerns.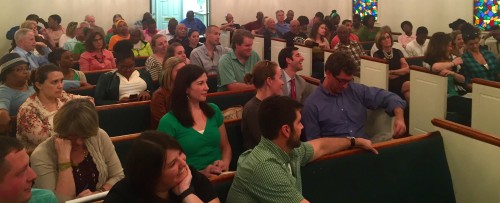 Former State Senator and current Candidate for US Congress (NC-12), Malcolm Graham was also in attendance.
Seversville – J'Tanya Adams, Seversville Community President and President of Historic West End Partners, organized a Affordable Housing Tour on March 12 that was well attended by board members of various neighborhoods, nonprofit executives and developers. The tour helped highlight areas in Charlotte where affordable housing had been developed or maintained in changing neighborhoods. See photos attached. As the West End and Five Points area continues to change and attract newer residents, the next steps HWEP and 5PCC are taking are to engage community leaders is developing creative place-making workshops to prospectively enhance public spaces around the West End and Five Point neighborhoods.  A great article on the coming brewery coming to Seversville this summer –  Serendipity brings Blue Blaze Brewery to Historic West End.
I'm sure other areas have news to share. 5PCC would love to highlight you in next month's update.  Please let us know and we'll be sure to include your neighborhood news. We can only change the narrative of our community by promoting our own narrative together.