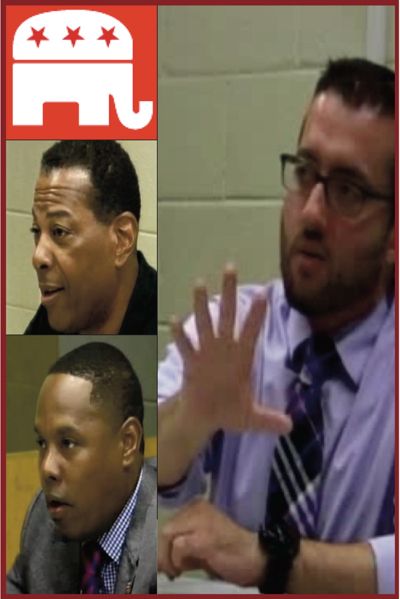 July 14, 2015
Curtis Watkins, chairman of the Mecklenburg County Republican Party, won a "40 Under 40" Business Journal award two years ago. Together with Derek Partee and Ty Turner, Watkins made a case at the Forum that the Republican Party's young members have a different world view than their elders, and are taking the party in a new direction.
Partee is in his 50s, Turner his 30s. Partee is a lifelong Republican who lived most of his life among black Republicans on Long Island, New York. Since moving to Charlotte, he said, he's been actively involved in pushing the local party to include blacks in a way that it hasn't in several generations. Turner is a Forum regular, ran as a Democrat for an N.C. Senate seat recently, but switched parties.
The session was full of skeptical questions, but also thanks to the Republicans for engaging in a discussion. When Watkins asked when a GOP chairman had addressed the group, Forum co-founder Sarah said, "Never." She closed the session by saying:
"I see that we have come a long way, but we still have a long way to go. And we have those folk on both sides that are trying to take us back…. It's going to take us a lifetime."
Below are five videos from the presentation and Q&A that followed.