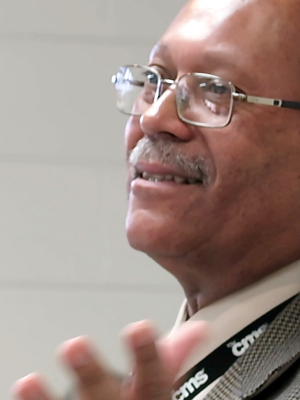 March 17, 2015
Driver's Education funding in North Carolina, put in jeopardy by last year's legislative budget, is again giving local school boards fits. Without relief from Raleigh, local boards will be mandated to provide driver's ed by the state, but will not be given any money to pay for it.
The issue came up March 10 as CMS Board of Education Chair Mary McCray outlined the major problems CMS faces during this budget-writing season. On Tuesday, CMS Driver's Education leader Connie Sessoms Jr. addressed the Forum on the details.
Sessoms said that driver's education teachers had failed in their lobbying efforts in the General Assembly because legislators thought parents didn't care that driver's ed might become unavailable to teens. Sessoms made a pitch for members of the community to join the lobbying effort.
A state fee placed on license tags and renewals has been the primary funding mechanism for driver's ed since the 1950s.
Observer reporter Andrew Dunn, who attended the presentation by Sessoms, later reported that Randolph County Republican Pat Hurley plans to file a bill next week to restore state funding. That story is here. A report from the March 19 meeting of the Driver Education Advisory Committee, meeting in Raleigh, is here.
Video from Sessoms' presentation and the Q&A that followed is in four pieces below.
Part 1: Presentation
 Part 2: Presentation
 Part 3: Q&A
Q: Could the $3 fee be collected by Dept. of Public Instruction, bypassing the Dept. of Transportation?
Q: Didn't the kids who died have driver's ed? And can't the auto industry fund driver's ed?
Q: Legislators aren't experts. Can you experts sway them about the value of driver's ed?
Q: I learned to drive, then taught my brother. This family model can replace driver's ed. Of course you'd be out of a job.
Q: Is there data on fatalities and accidents comparing teens who took driver's ed with those who did not?
Q: You've taught a way to look at how drivers lose focus. Could you share that?
Q: Is CMS responsible for driver's ed just for its students, or also for others?
Q: How much might the current $55 fee per student rise?
Part 4: Q&A
Q: In the worst case, what would the total local need be to continue driver's ed?
Q: What does the $3 fee generate statewide?
Q: How many teens die while texting?
Q: How did insurers respond when you asked them to support the program?
Q: Can you show that driver's ed is a benefit to both the teen driver and society?
Q: Do all teens have to take driver's ed?
Q: Politicians routinely divert money from its designated purpose to something else.
Q: What do we need to do so legislators listen to you experts and not the Koch brothers?
Q: Aren't there some other state agencies that can pick up the tab?