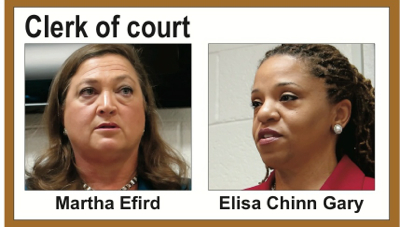 Both candidates in the Mecklenburg Clerk of Superior Court race on the Nov. 4 ballot addressed the Forum this morning.
Republican Martha Efird and Democrat Elisa Chinn Gary discussed their preparation and the ways in which they had already served in court administration. The last question from the audience asked them both to explain the office's tasks and to outline the challenges that the office faces.
Below are two videos. In the first, the two candidates make their opening statements. The remainder of the first video and all of the second capture the portion of the day's Q&A that was directed to these two candidates.
Also presenting today were Mecklenburg Sheriff candidates Irwin Carmichael and Chris Hailey, and U.S. House District 12 candidate Alma Adams.