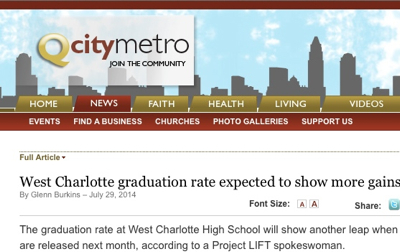 Glenn Burkins reported this story for QCityMetro from the Forum today. Read it here.
The graduation rate at West Charlotte High School will show another leap when state figures are released next month, according to a Project LIFT spokeswoman.
Speaking at the Tuesday Morning Breakfast Forum, Denada Jackson, a community engagement coordinator for Project LIFT, did not disclose the anticipated numbers but said the public should expect "another big jump" for West Charlotte High.
"I think everybody in the building will be happy with the number they jumped to this year," she said.

For several years now, West Charlotte has been the focus of an intense effort to increase the graduation rate in some of the city's poorest communities. Project LIFT, a five-year initiative that has raised $55 million in corporate pledges to assist West Charlotte and its feeder schools, has been the most visible.
LIFT efforts have focused on a range of educational issues affecting the schools, from parent and community engagement to getting laptops, Internet access and other technology into schools and homes. Four LIFT schools adopted year-round calendars to give students more class time.
After the first full year of implementation of Project LIFT, West Charlotte's graduation rate last year jumped 15 percentage points to 71 percent. The goal is to achieve a 90 percent graduation rate 2016. The graduation rate at the west Charlotte school had once been as low as 54 percent.
"I think we are making great strides in getting our students on the right path," Jackson said Tuesday.
At the same event, Jackson also outlined plans for West Fest, an annual festival this year planned for August 23 at West Charlotte High. According to the event's website, the festival is designed to "showcases the best of Charlotte's Westside" and build community spirit.
In addition to performers, food, and games, the event also will have table where parents and resident can find resources on topics ranging from education to health care.
Jackson said about 2,000 people attended the event in 2013. This year, she said, organizers are expecting at least 3,000. She also noted that this year's event will include gospel music in its mix of performances.