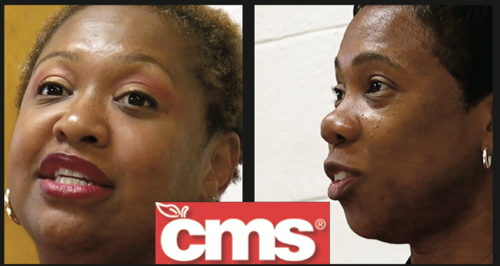 Very high numbers of student suspensions last year, along with evidence that the same student behavior can be met with widely different disciplinary measures from school to  school, appears to have launched a major effort within Charlotte-Mecklenburg Schools on discipline.
One piece is already in place: changes in the Code of Student Conduct to give school officials more incentive to address any issues that may be behind student misbehavior.
Another piece has begun: bringing more people to the table to discern how best to bring a student who is misbehaving into the mainstream.
Presenting Tuesday: LaTarzja Henry (above left), CMS assistant superintendent for community partnerships and parent involvement; and Dr. Lisa Barnes, CMS executive director of student discipline & behavior support.
In the first video below, Barnes makes reference to a two-page  "Summary of Changes in CMS Code of Student Conduct." A PDF copy is here.
During the Q&A, Henry said she would share several links to material. Those links will be posted here if they arrive.