By Claire Williams | The Charlotte Observer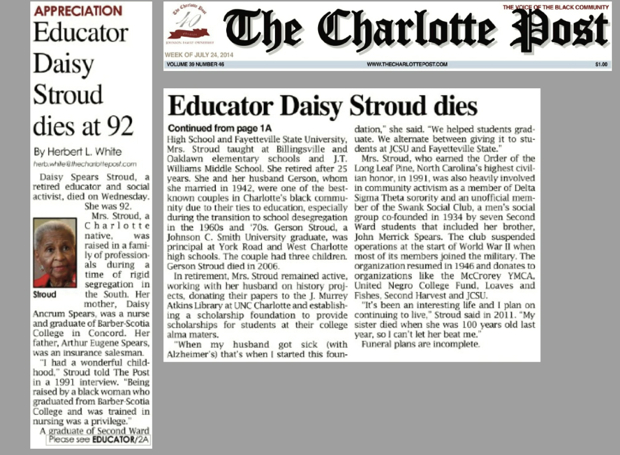 A community activist who saw race relations in the country change from inside the Charlotte-Mecklenburg County school system died Wednesday.
Daisy Spears Stroud, known as Miss Daisy, was 92.
Stroud was born in the middle of the deeply segregated South. The native Charlottean taught in the city's elementary schools through the end of segregation and through the height of the city's controversial busing program.
Stroud was handpicked in the 1950s to work in a tightly knit, white community at Oakdale Elementary with two other black teachers.
"And then the students came too," Stroud said during a 2001 interview for a UNC Charlotte oral history project. "It was their first year too. They came in with us."
Stroud came from an education-minded family. Her mother, a teacher and nurse, and her father, a successful salesman, earned a good living on Seventh Street.
She said her family was the only household on the block with a telephone. "So everybody in the community used our telephone, so our door was open. We didn't lock doors," she said in the interview.
After she retired in the late 1980s, Stroud, a graduate of Fayetteville State University, became active in several charities through her church and the Delta Sigma Theta Charlotte alumnae chapter. In 2011, Stroud was awarded the Order of the Long Leaf Pine, the state's highest civilian honor.
Stroud's daughter, Karita Stroud Evans, said one of her mother's great loves was being a member of Delta Sigma Theta.
"When people needed things done, they called on Miss Daisy," she said. "The room would light up when Miss Daisy would show up."
Sandra Johnson, a member of the Delta Sigma Theta branch, said Stroud remained active in the sorority during her last years.
"She was a lover of people, she wanted to help people and help people to improve their lives," Johnson said.
Stroud told oral historians that she remembers riding in the back seats of Charlotte's streetcars.
"I knew I could not sit at the front," she said. "And I just knew that, and then I went into the back. I think that really determined the kind of person I am today."
Instead of hitting the streets to protest, Stroud fought for civil rights in the classroom and on paper.
"I've never had the desire to go out and hold a sign up and march," she said. "But I have a feeling that there is power in the pen. And that's what I believe. I think there's power in the pen, so I prefer to write."
Stroud married Gerson Stroud, a Johnson C. Smith University graduate, in 1942. Gerson Stroud worked as a principal and administrator at CMS. The couple had three children. He died in 2006.
The couple created a scholarship for students to attend Johnson C. Smith and Fayetteville State University.
Evans said her mother remained an educator, to students, her family and the community, all her life.
"I think that's what I loved more than anything else," Stroud said.
CHARLOTTE—On Wednesday, July 23, 2014, Daisy Spears Stroud of Charlotte, NC departed this life and entered into eternal rest. Mrs. Stroud was the wife of the late Dr. Gerson L. Stroud, Sr. She is survived by her son, Khalid Abdul Salaam (Yvonne); her daughter, Karita Stroud Evans (Clinton); and her son, Julius Merrick Stroud. In addition, she is survived by seven (7) grandchildren. Visitation will be held on Friday, August 1, 2014, from 11:00 AM to the time of service at 12:15 PM at St. Luke Missionary Baptist Church, 1600 Norris Avenue, Charlotte, NC 28206. In lieu of flowers donations may be made to the Daisy Spears and Gerson L. Stroud Foundation, Inc., 8470 Highland Glen Drive Charlotte, NC 28269. Arrangements by Long & Son Mortuary Service.
Published in Charlotte Observer on July 31, 2014