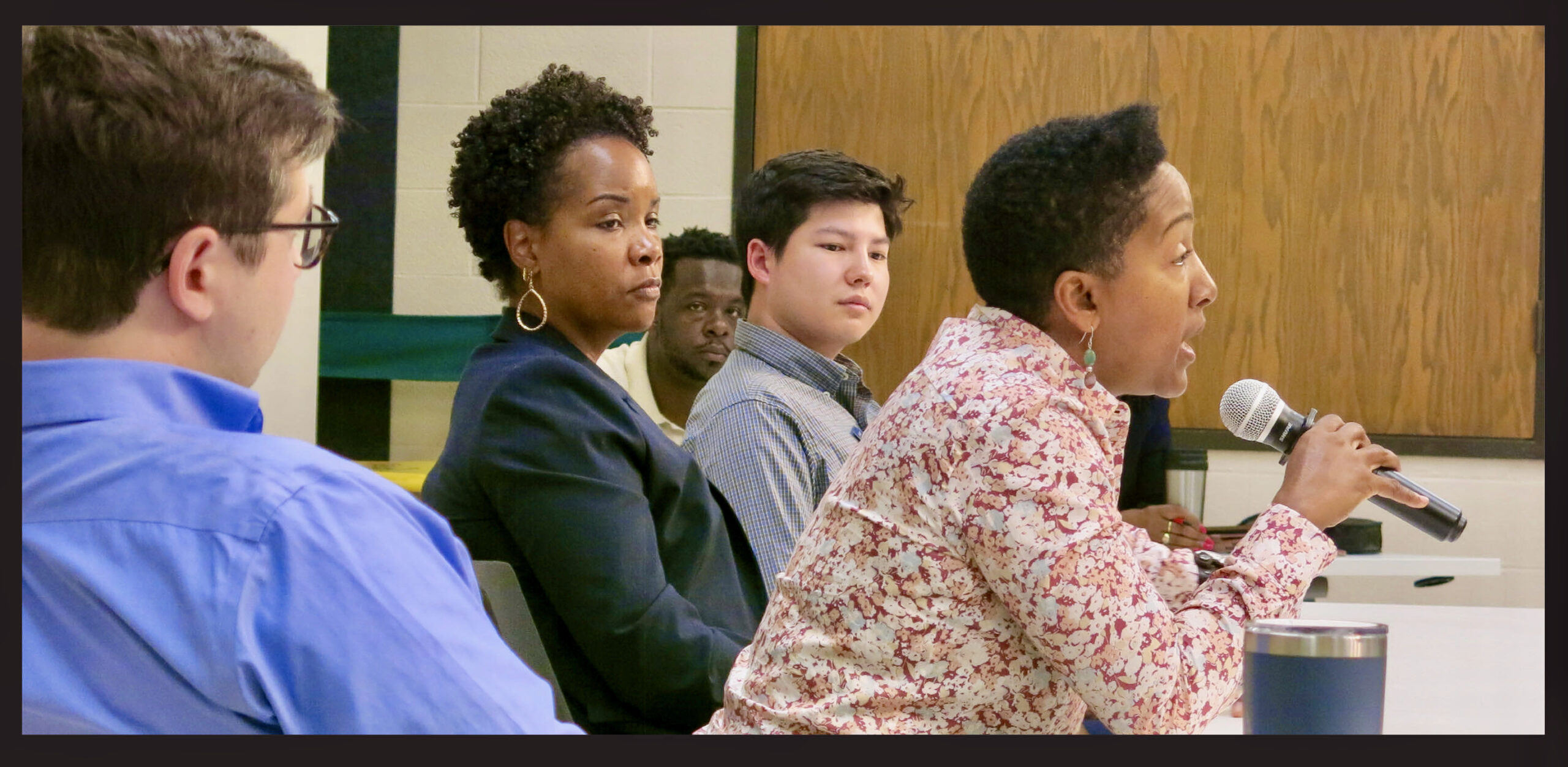 May 9, 2023
Sherri Chisholm returned this morning with a new staff backed by a refreshed "council" of community and business advisers, and gave an update on an earlier visit on  behalf of Leading on Opportunity.
Charlotte leaders were embarrassed when a 2014 Harvard study led by Raj Chetty labeled their city as being 50th among 50 top cities in social mobility. After an Opportunity Task Force met and issued a report, those same leaders created Leading on Opportunity to make change happen.
Chisholm is the second person at the helm of Leading on Opportunity, and arrived in September 2020. On her last visit to the Forum in November 2021, she said her first task was to raise enough funds to keep the shop open. Then, she said, she had to achieve the original promise that the project would be led by a half-corporate, half-community group of advisers. (Forum facilitator Winston Robinson is a new member of the advisory group.) With the advisory board and staff in place, work has begun on making change happen.
The group's favored levers of change appear to be sharing information that already existed but is not readily accessible; and embedding themselves into existing nonprofits and other community silos that are already at work on community issues, but not always in coordination with others, to encourage more effective action. Chisholm emphasized that her group is not setting the community's agenda for change, nor providing grants. She said she expected to be doing the work for the rest of her life. Old folk may admire Chisholm's dedication; young folk stuck in schools not meeting their needs may be crestfallen by her timeline for change.
One example of how Leading on Opportunity is already  supporting collaboration among existing groups was mentioned by Richmond Brautigan: Crescent Coalition, an effort that "connects community-based organizations serving under-resourced students along their journey from middle through college graduation and successful careers."
In the video below, Director of Research and Impact AJ Calhoun offered a tour of the group's Opportunity Compass, a data dashboard designed to illuminate where progress is and isn't being made in five components of economic mobility: early care and education, college & career readiness; child and family stability; social capital; and impact of segregation. Early discussion with community groups, Calhoun said, helped staff design a dashboard that gives greatest weight to the kinds of change that members of the community think is most important. Given the age of the data, the dashboard today possibly illustrates where the community was before the pandemic; future editions may well have some tough messages about damage to health, education and family well-being during the pandemic. Later, the dashboard will reflect the rebuilding taken on in the period beginning now.
Staff members are leading trainings in use of the Opportunity Compass between May 22 and June 9, at three locations in or near downtown. Signup form is here.
A follow-up to the 2014 Harvard study, released in 2022, focused on the home counties of large metro areas and found Charlotte to be in the middle of the pack, not at the bottom.
A QCityMetro report on Chisholm's last visit to the Forum is here.