May 10, 2022
This morning's Forum was put in the schedule to accommodate candidates who were unable to attend the Forum to which they had been invited during this primary election season. One such candidate was heard, then a number of candidates who had spoken at earlier Forums were invited to make final comments. The Forum does not meet on Election Day; the next Forum will be May 24 under a revised in-person format at the Belmont Center.
When all candidates had been heard, facilitator Laura McClettie returned to the discussion begun May 3 over what would encourage registered voters to go to the polls.
The question prompted a number of candidates to report that people they had met while campaigning did not seem even to know that there was an election. One reported that even a news reporter covering the election seemed unaware that the city's general election would be in July, not November.
COVID, and a Census delay that threw off the schedule for legislative redistricting, were also mentioned, with one speaker asserting that confusion was created over voting as a deliberate effort to depress turnout.
During a discussion of low participation among the community's youngest voters, Kyle Luebke encouraged candidates to address issues that young people in particular care about – including the high housing costs that prevent them from owning the home they want. Cedric Dean offered a compliment to the Forum for creating a dialogue between candidates/elected officials and people willing to listen and listen and learn.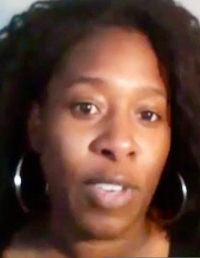 It was left to Saiona Caldwell, 39, a business owner and clinical social worker, to cut to the chase:
"I don't want to say this election may be a lost cause," she said. "But I believe that in the future the candidates need to come out into the community….
"I hardly ever see anyone in the community until it's time for the election and then they only come to church to give a spiel.
"So if you want my generation and younger to partake, then action needs to happen instead of just saying, you know, come vote or send out postcards. And I really don't think mass calls will work, either.
"You all have to start being present in the community if they want change to happen."