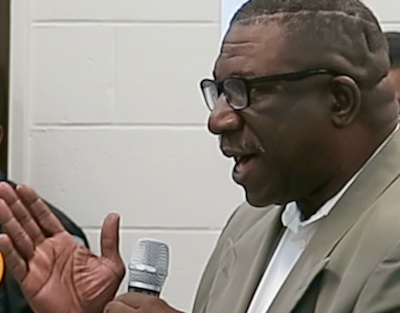 May 5, 2021
Services for Isaac Lee Applewhite of Charlotte will be Friday, May 7, with visitation at 11 a.m. and funeral at noon, at Oak Grove Baptist Church, 200 Sims Parkway, Harrisburg, NC.
Applewhite died April 30 following a stroke.
Applewhite, a longtime participant in the Tuesday Forum, served in many positions with the Mecklenburg Park and Recreation Department. He was a 1977 graduate of Johnson C. Smith University in Charlotte.
During a Celebration of Life at Oak Grove Baptist on May 7, longtime friend Carlenia Ivory offered the following appreciation. Ivory's remarks are excerpted from a Facebook Live recording of the service posted here.
The following obituary was posted by Robinson Funeral Service of Concord here.
Isaac Lee Applewhite, Jr. of Charlotte, NC, passed away peacefully at the age of 66 on Friday, April 30, 2021 at Presbyterian Hospital in Charlotte, NC with his family by his side.
He was born October 6, 1954 in Buffalo, NY to Isaac and Mildred Applewhite. He graduated from Kensington High School where he excelled at football as a star running back and to this day, still holds several records at the school.
In addition to his football prowess, he was a great all-around athlete and avid swimmer, who as a teenager worked multiple summers as a certified lifeguard at the local YMCA in his neighborhood. He received his bachelor's degree at Johnson C Smith University, where he majored in physical education and minored in biology and continued to play and excel in football. An affirmed life-long learner, Isaac continued his pursuit of higher education and enlighten by devoting many hours toward his master's degree from Ogleby School of Sports.
He is preceded in death by his father, Isaac Applewhite.
Isaac retired from Mecklenburg County Parks & Recreation after 35 years of service. He continued to be an advisor and a consultant for the continued development of the Parks and Recreation department, after retirement.
He served years with the NAACP, Legal Defense Fund, Black Political Caucus, and served as the treasurer of Mecklenburg County Democratic Party. Isaac was also instrumental in developing partnerships with schools, churches, community groups and neighborhood associations. He developed and implemented the Jazz in the Park Series. Isaac advocated for all citizens of Mecklenburg County, especially communities that lacked recreational resources and leisure time activities. He worked tirelessly as an advocate for his community and his family. Isaac has been mentioned in news articles and a book for his attributes to his community. He was a member of the Omega Psi Phi fraternity. His crowning joy was seeing both of his sons graduate from an HBCU, Clark University and NC A&T, respectively.
Isaac was all about uplifting the Black community and being a role model for the men in his family and community. He never met a stranger and helped a lot of people in his lifetime. He was also instrumental in a lot of the Park & Recreation development over the years.
Isaac is survived by his cherished wife and love, Jean; loving mother, Mildred Applewhite of Buffalo, NY; sons Isaac D. Applewhite, III of Atlanta, Ga, Angelo Maxamillion Tyler (Caitlyn) Applewhite and his heartbeat, grandson Caleb McKinley Tyler Applewhite of Charlotte, NC. He is also survived by uncles; Willie Johnson of Buffalo, NY and Robert Earl Boger of Concord, NC, Aunties, Annette Hill, Alma Nelson, Sandra Holiday of Grand Rapids, Mich., Betty Murchison of Concord, NC; sisters-in-law; Gail Boger, Debra Frazier and Suzette Allison, brother-in-law, Lee Allison all of Concord, NC. Special God Daughters; Car'rie Little and Mary Kelly. A host of nieces, nephews, and host of other relatives and friends.