Jan. 2, 2021
Tension is rising as America and the world await the inauguration of a president on Jan. 20. Some people will march. Some will hold their breath. Others will pray.
The top left of the Forum website during these waiting days began Jan. 2 by displaying variations of an obvious but reassuring message. Then on Jan. 6 a mob invaded the halls of democracy. Five people died from that day. After order was restored, a chastened but determined Congress returned to the tasks of the people, completing the certification of Joe Biden's election in the wee hours of Jan. 7. Only thereafter did Donald Trump promise "an orderly transition." Jan. 8 brought sustained calls for a second impeachment; countdowns to Jan. 20 began; the case for criminal prosecution for inciting Wednesday's attack on Congress hit the media. The president announced he would skip Joe Biden's inauguration. Then Twitter permanently removed Donald Trump's favorite stump.
In his Jan. 6 speech sending the crowd off to what became an attack on a Congress in session, the president could be heard saying he would join their march. Jan. 9 brought reporting that the president "knew for days there would be a march and wanted to participate himself, only to be thwarted for his own security, officials said." On Jan. 10, Sen. James Clyburn, D-SC, said the U.S. House would consider impeachment by Wednesday, but might sit on the articles until after President Biden's term is well under way. At that point, a conviction would not mean removal of President Trump, but would bar him from holding federal office in the future. Also on Jan. 10, former California Republican Gov. Arnold Schwarzenegger issued on Twitter a video in which he draws parallels from the Capitol violence back to Kristallnacht, the 1938 "night of broken glass," during which paramilitaries and civilians attacked Jews throughout Germany. On Jan. 12, on the day the Vice President ruled out use of the 25th Amendment, President Trump flew down to the border, was handed a Sharpie, and proceeded to sign his wall, denying on the way any responsibility for the mob attack on Congress. For his incitement of the rioters, Trump was impeached Jan. 13, with 10 Republicans joining 222 Democrats.
In the following days, authorities amassed social media clips from inside the Capitol, then arrested intruders; cordoned off much of downtown Washington; and gathered a National Guard and police presence of up to 20,000 to deter further violence. Jan. 17 passed quietly without an announced gathering of armed protesters. Donald Trump planned to ride Air Force One to Florida in the last hours of his presidency on Jan. 20. A locked-down seat of government prepared for Joe Biden's inauguration.

There is no way to know how this very long three weeks in American history will end. These notes will be adjusted based on events.
Jan. 2, 2021
Hang on please…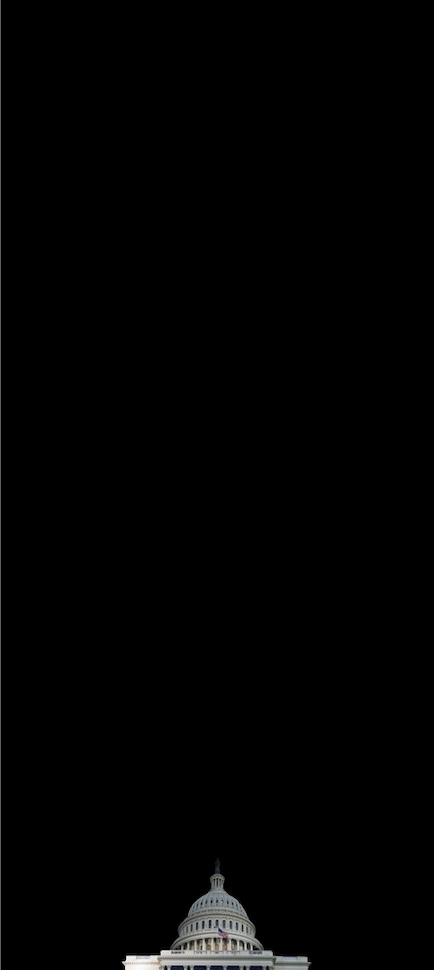 Jan. 3, 2021
One moment please…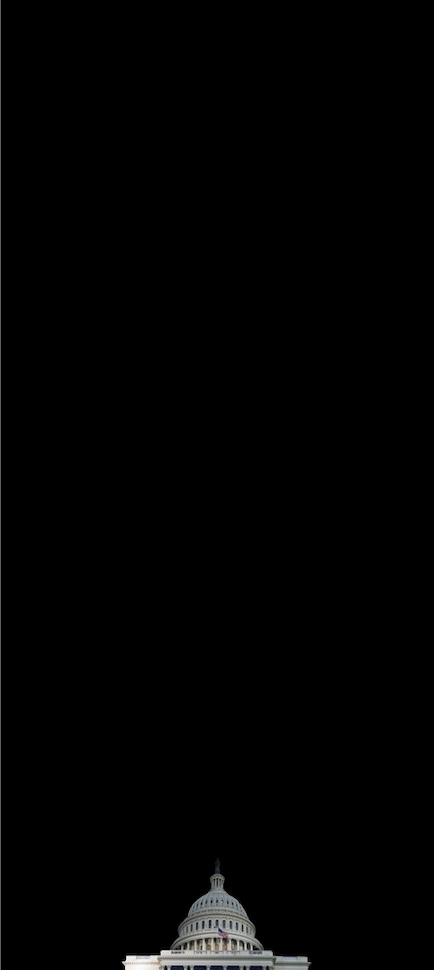 Jan. 4, 2021
We'll be right back…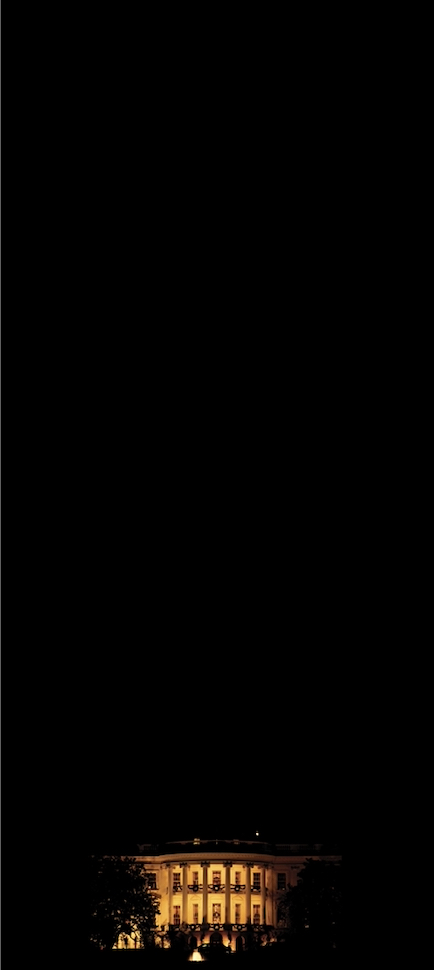 * – * – * – * – * – * – *
Jan. 5, 2021
Thanks for waiting…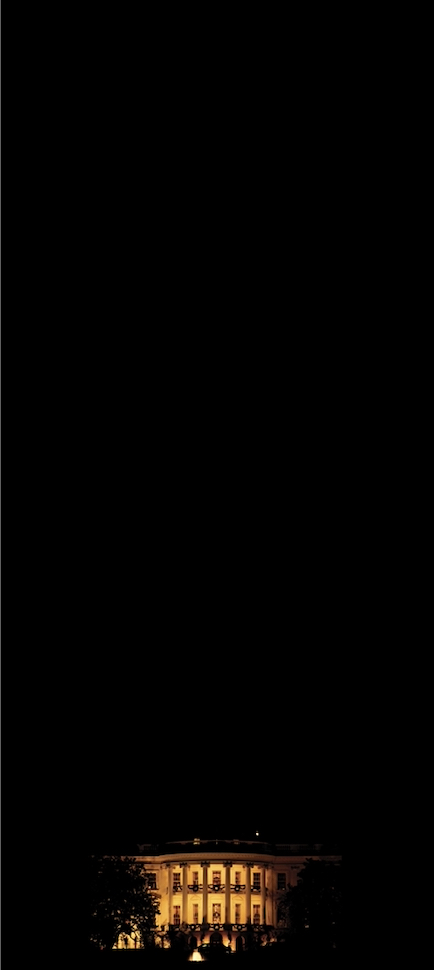 Jan. 6, 2021
Insurrection…
Jan. 7, 2021
Democracy…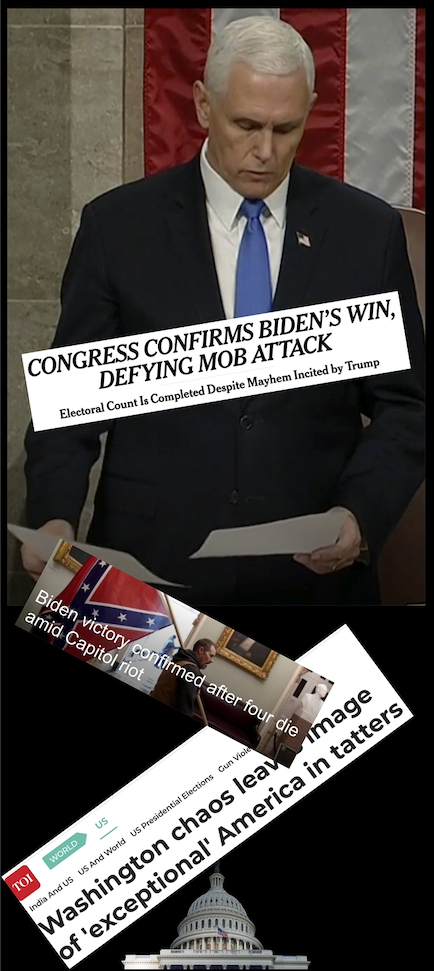 * – * – * – * – * – * – *
Jan. 7, 2021
Desecration…
Jan. 8, 2021
Fallout…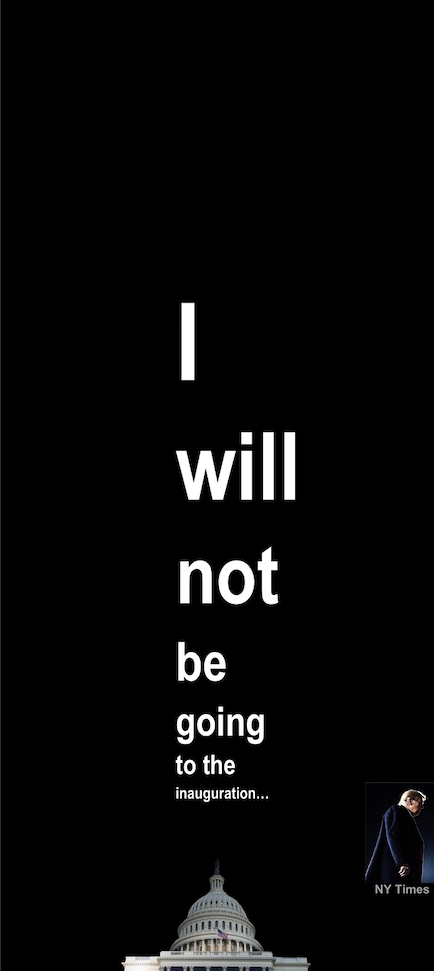 Jan. 8, 2021
Fallout…
* – * – * – * – * – * – *
Jan. 9, 2021
Oath broken…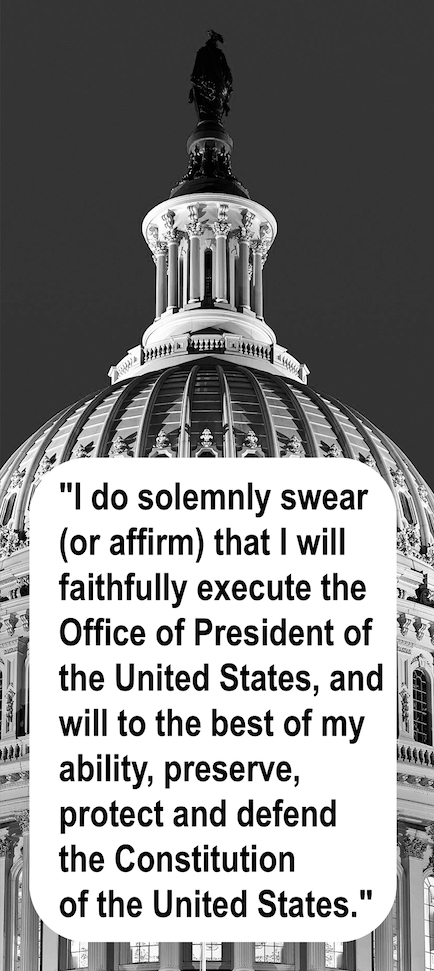 Jan. 9, 2021
Yet another what-if…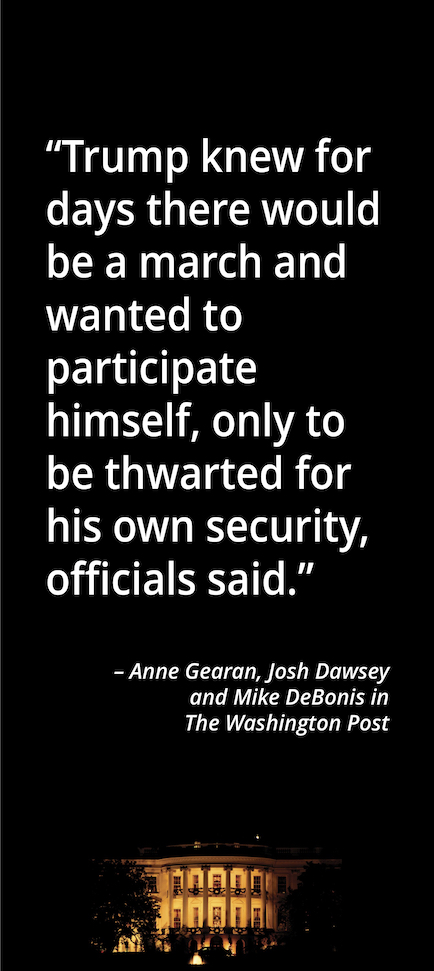 Jan. 10, 2021
Cause and effect…
* – * – * – * – * – * – *
Jan. 10, 2021
Ex-GOP Calif. governor recalls
earlier night of broken glass…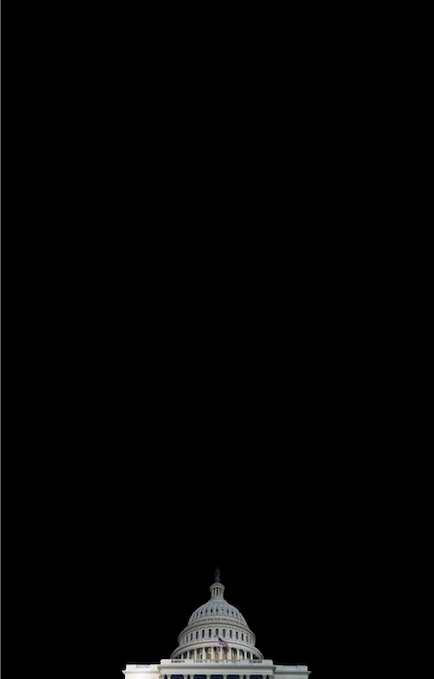 Jan. 11, 2021
Preparation…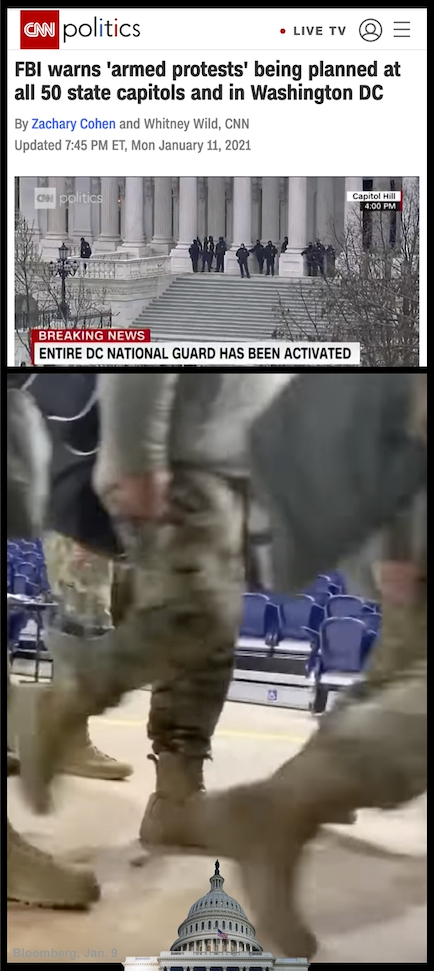 Jan. 12, 2021
Signing…
* – * – * – * – * – * – *
Jan. 13, 2021
Divided but determined…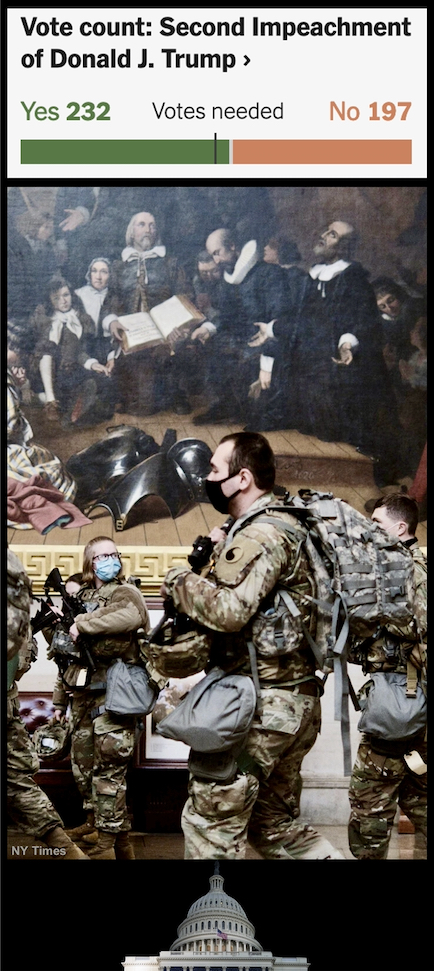 Jan. 14, 2021
Systemic breakdown…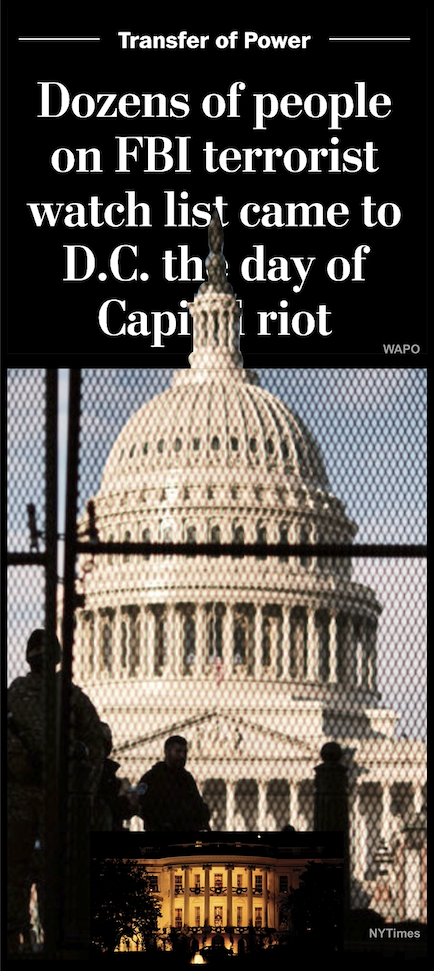 Jan. 15, 2021
Exit plan…
* – * – * – * – * – * – *
Jan. 16, 2021
Team Biden…
Jan. 17, 2021
No contest…
Jan. 18, 2021
Our better instincts…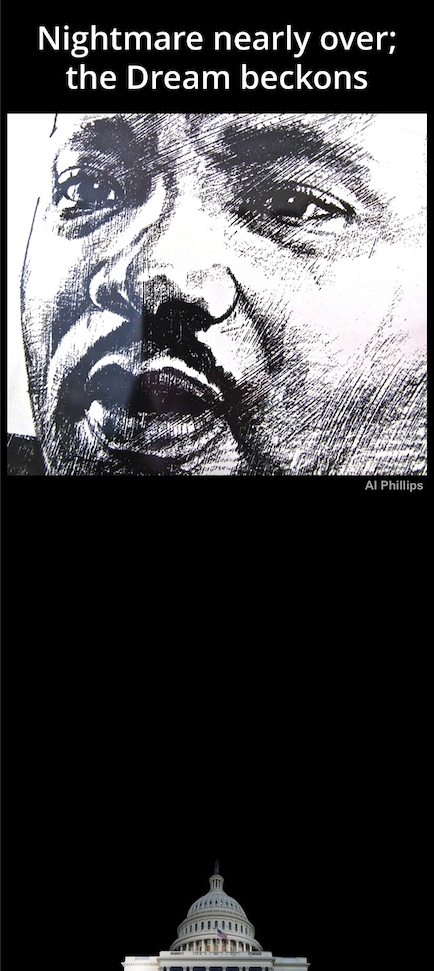 * – * – * – * – * – * – *
Jan. 19, 2021
Really close now…