This article, from the February 2018 edition of the Charmeck Chronicle, is published here with permission of the author.
By DonnaMarie Woodson
My memory of Lorraine Hansberry is as the author of the groundbreaking play, "A Raisin in the Sun" about the dynamics of a struggling black family, but I was unaware of the complexity of her life and the tenacity of her spirit.
Ms. Hansberry, who was the first black playwright and the youngest American to win a New York Critics' Circle award, was born on May 19,1930, in Chicago, Illinois. Throughout her life she was heavily involved in civil rights and died at the young age of 34 of pancreatic cancer.
The new documentary, "American Masters – Lorraine Hansberry: Sighted Eyes/Feeling Heart" launched the PBS American Masters Season 32. It is the first in-depth presentation of Hansberry's complex life, using her personal papers and archives, including home movies and rare photos, as source material. The film explores the influences that shaped Hansberry's childhood, future art and activism.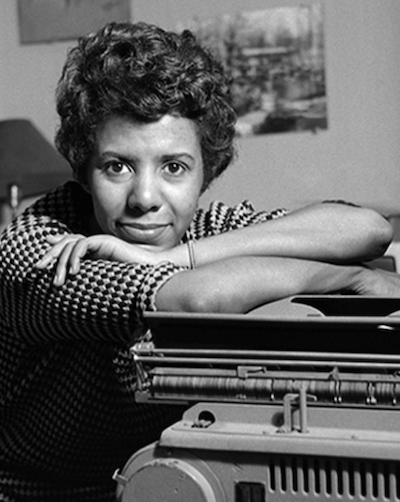 Hansberry wrote "The Crystal Stair", a play about a struggling black family in Chicago, which was later renamed "A Raisin in the Sun", a line from a Langston Hughes poem. The play opened at the Ethel Barrymore Theatre on March 11,1959 to standing ovations, having a run of 530 performances.
It was the first play produced on Broadway by an African-American woman, and at 29, she was the youngest American to win a New York Critics" Circle award. The film version of "A Raisin in the Sun" was completed in 1961, starring Sidney Poitier, and received an award at the Cannes Film Festival.
But, Hansberry was far more than just an artist, she was considered a left-wing radical, landing a place on J. Edgar Hoover's Communist list.
The granddaughter of a freed slave, and the youngest by seven years of four children, Lorraine Vivian Hansberry was born into her activism.
Hansberry's father, Carl Augustus, was a successful real estate broker, and her mother, Nannie Louise, was a schoolteacher. Her parents were active in both the NAACP and the Urban League; her father was also a director with the NAACP.
In 1938, Hansberry's family moved to a white neighborhood and was violently attacked by neighbors. They refused to move until a court ordered them to do so, and the case made it to the Supreme Court as Hansberry v. Lee, ruling restrictive covenants illegal.
Lorraine attended the University of Wisconsin, but after 2 years dropped out in 1951 to live in New York and learn a "different kind of lesson" as a writer. Her first job was at the Pan Africanist "Freedom Newspaper", edited by Louis E. Burnham and published by activist/actor/singer Paul Robeson. It was considered a radical publication, focusing on stories about the everyday Black man's experience.
In 1963, Hansberry became active in the Civil Rights Movement, meeting with then Attorney General Robert Kennedy. Lorraine, along with icons Harry Belafonte, Lena Horne and James Baldwin, convened with Kennedy to test his position on civil rights.
Hansberry was very outspoken and had no problem telling Robert Kennedy, "if a liberal white man like himself can't understand the struggle of Blacks, then there's no hope."
On June 20,1953, she married Robert Nemiroff, a Jewish publisher, songwriter and political activist. Hansberry and Nemiroff divorced in 1962, though they continued to work together. In 1964 Hansberry was diagnosed with pancreatic cancer. She died on January 12,1965.
After her death, Nemiroff adapted a collection of her writing and interviews in "To Be Young, Gifted and Black", which inspired the Nina Simone song of the same title.
Because of the times, it is believed that Hansberry was a closeted lesbian, a theory supported by her secret writings in letters and personal notebooks.
She was an activist for gay rights and wrote about feminism and homophobia, joining the Daughters of Bilitis and contributing two letters to their magazine. The Ladder, in 1957 under her initials "LHN."
Hansberry was a feminist before the term existed and in 1959 commented that women who are "twice oppressed" may become "twice militant".
She held out some hope for male allies of women, writing in an unpublished essay: "If by some miracle women should not ever utter a single protest against their condition there would still exist among men those who could not endure in peace until her liberation had been achieved."
Her biography, "American Masters – Lorraine Hansberry: Sighted Eyes/Feeling Heart" is a must-see and available online at PBS.org.
Works cited: