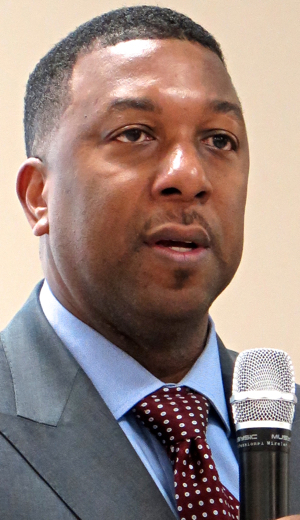 Feb. 7, 2017
Darrell Allison is as complicated a man as the school choice subject he espouses.
He advocates for state-funded vouchers that help parents send their children to private schools. His own children are enrolled in Wake County Public Schools.
He wants every parent to know their choice options. Yet his statewide organization counsels parents at an annual rate such that it would take decades to counsel all parents.
Confronted about how choice had been used historically by whites to deny African-Americans equal opportunity, Allison gave no ground, while emphasizing respect for all African-Americans who struggled to overcome bias and bigotry.
Darrell Allison is president of Raleigh-based Parents for Educational Freedom in North Carolina. Their website is here.
A number of first-time visitors to the Forum today are heads of Charlotte area charter and other nonpublic schools. Allison's presentation drew roughly twice the number of attendees as normal for a February Forum.
Below is the livestream of Allison's presentation from this morning. Allison's presentation begins at minute 14:39. The Q&A begins at minute 46:20. Below the video are the slides used by Allison during his presentation. They are published here with permission.