Sept 6, 2016
Supt. Ann Clark seemed cheered by recent good news from state reports about student achievement. But as she regularly does, the CMS superintendent made clear that public expectations for quality local schools had not been met. And she also continued to cajole Forum participants, those watching online, and all members of the community to take ownership of the improvements everyone wants to see.
At several points, Clark implored adults to help in the effort to improve results for children. She noted the statistic that there are more than four faith houses in Mecklenburg for every CMS school, and suggested that members find ways to get their faith houses involved.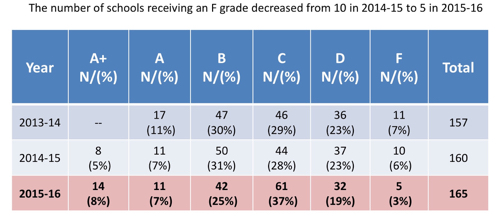 With five schools remaining in the "F" category in recently released state rankings, Clark said she would soon put principals on notice of her goals for the final year of her superintendency: to have 100% of schools meeting or exceeding goals for growth in student learning; to eliminate all "F" ratings; and to cut in half the number of "D" schools. She pointed out that with five "F" schools likely rising to "D," cuttng the number of "D" schools in half is a challenging goal.
"When we focus, we accomplish great things. But the 'we' is not CMS by itself. I'm fully accountable for our results and I stand responsible for those results. But I invite you to be part of joining us in an effort to have no "F" schools at the end of next year, 100% of our schools meeting or exceeding growth. I believe it will and can happen, but can happen faster if everybody in this room gives an hour a week, and finds 10 more people to join in, or pitches it if appropriate to your faith house."
Clark said that results from last year in the North Star literacy push would go to the board Sept. 13.
In the room, there were more former members of the Board of Education than current members. The current members faced a 4-8 p.m. meeting today on assignment that Clark characterized as likely to signal their responses to tough policy choices on the current student assignment review.
Clark handed out three documents. One was a two-page summary of the Comprehensive Student Assignment Review now under way. A second was a double-sided flier on Superintendent Search public forums and the Board of Education's upcoming meetings on the superintendent search. A third was a two-page excerpt from a PowerPoint listing high points from the state's school ratings. The full CMS document is here.
The video below includes presentations, the Q&A and audio from the remainder of the Forum. Clark spoke, then Lloyd. Those presentations begin at minute 4:05 and end at 22:20. The Q&A runs to 1:24:25.