Oct. 24, 2015
Observer reporter Ann Doss Helms and photographer John Simmons attended the Oct. 20 Forum, gathering material for this profile of Sarah Stevenson.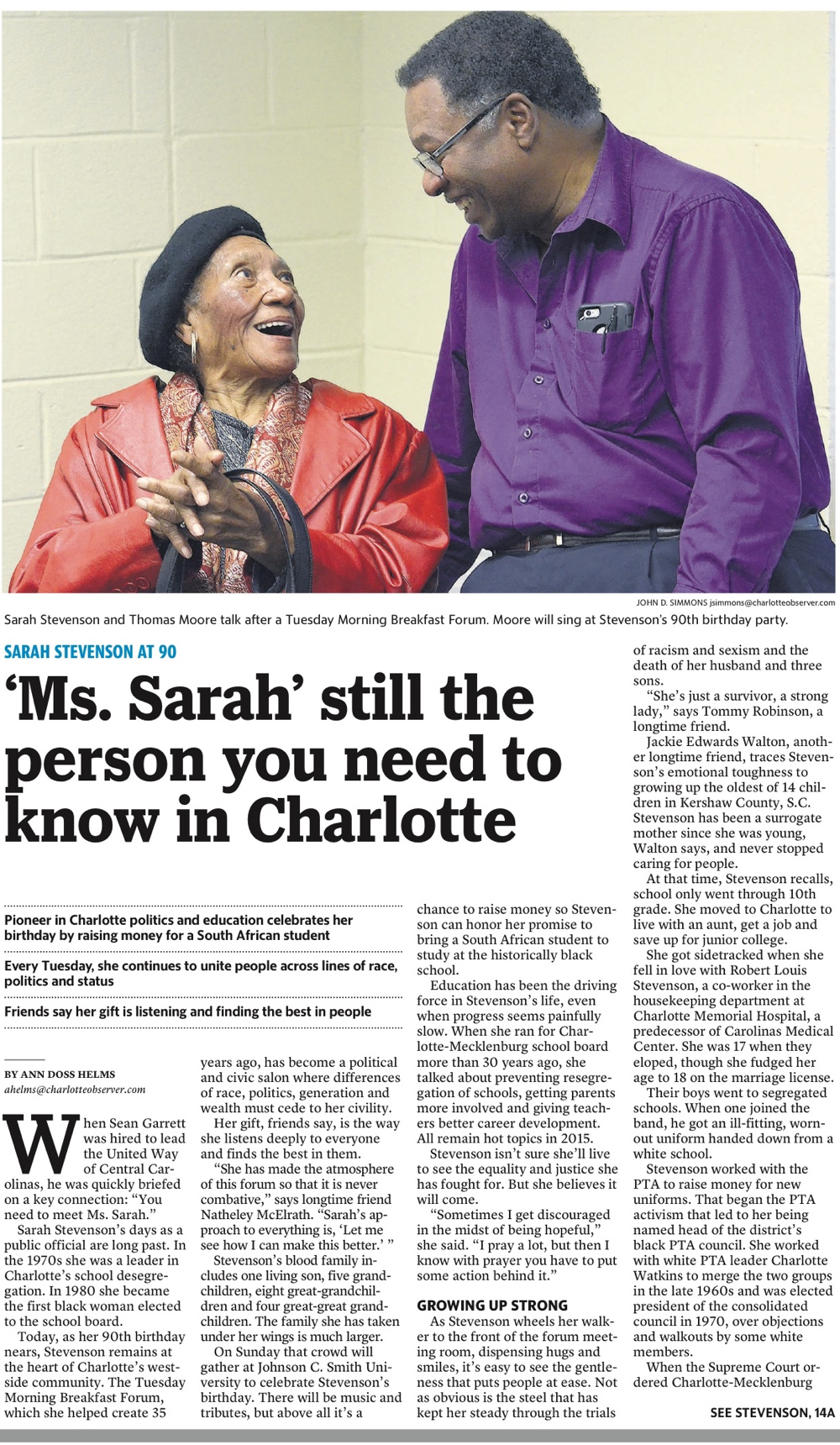 The online text:
BY ANN DOSS HELMS
When Sean Garrett was hired to lead the United Way of Central Carolinas, he was quickly briefed on a key connection: "You need to meet Ms. Sarah."
Sarah Stevenson's days as a public official are long past. In the 1970s she was a leader in Charlotte's school desegregation. In 1980 she became the first black woman elected to the school board.
Today, as her 90th birthday nears, Stevenson remains at the heart of Charlotte's westside community. The Tuesday Morning Breakfast Forum, which she helped create 35 years ago, has become a political and civic salon where differences of race, politics, generation and wealth must cede to her civility.
Her gift, friends say, is the way she listens deeply to everyone and finds the best in them.
"She has made the atmosphere of this forum so that it is never combative," says longtime friend Natheley McElrath. "Sarah's approach to everything is, 'Let me see how I can make this better.' "
TALK TOGETHER AND DEVELOP RELATIONSHIPS.
WHEN YOU GET TO KNOW EACH OTHER
THEN I THINK ATTITUDES WILL CHANGE.
Sarah Stevenson, on her hope for the future
Stevenson's blood family includes one living son, five grandchildren, eight great-grandchildren and four great-great grandchildren. The family she has taken under her wings is much larger.
On Sunday that crowd will gather at Johnson C. Smith University to celebrate Stevenson's birthday. There will be music and tributes, but above all it's a chance to raise money so Stevenson can honor her promise to bring a South African student to study at the historically black school.
Education has been the driving force in Stevenson's life, even when progress seems painfully slow. When she ran for Charlotte-Mecklenburg school board more than 30 years ago, she talked about preventing resegregation of schools, getting parents more involved and giving teachers better career development. All remain hot topics in 2015.
Stevenson isn't sure she'll live to see the equality and justice she has fought for. But she believes it will come.
"Sometimes I get discouraged in the midst of being hopeful," she said. "I pray a lot, but then I know with prayer you have to put some action behind it."
Growing up strong
As Stevenson wheels her walker to the front of the forum meeting room, dispensing hugs and smiles, it's easy to see the gentleness that puts people at ease. Not as obvious is the steel that has kept her steady through the trials of racism and sexism and the death of her husband and three sons.
"She's just a survivor, a strong lady," says Tommy Robinson, a longtime friend.
Jackie Edwards Walton, another longtime friend, traces Stevenson's emotional toughness to growing up the oldest of 14 children in Kershaw County, S.C. Stevenson has been a surrogate mother since she was young, Walton says, and never stopped caring for people.
At that time, Stevenson recalls, school only went through 10th grade. She moved to Charlotte to live with an aunt, get a job and save up for junior college.
She got sidetracked when she fell in love with Robert Louis Stevenson, a coworker in the housekeeping department at Charlotte Memorial Hospital, a predecessor of Carolinas Medical Center. She was 17 when they eloped, though she fudged her age to 18 on the marriage license.
Their boys went to segregated schools. When one joined the band, he got an ill-fitting, worn-out uniform handed down from a white school.
WE DID NOT HAVE THE POLITICAL WILL, OR EVEN
THE COMPASSION, TO TREAT EVERYBODY RIGHT
AND TO BE FAIR. THAT'S SORT OF WHAT
I'VE BEEN WORKING TOWARD AS LONG AS I CAN REMEMBER NOW.
Sarah Stevenson
Stevenson worked with the PTA to raise money for new uniforms. That began the PTA activism that led to her being named head of the district's black PTA council. She worked with white PTA leader Charlotte Watkins to merge the two groups in the late 1960s and was elected president of the consolidated council in 1970, over objections and walkouts by some white members.
When the Supreme Court ordered Charlotte-Mecklenburg Schools to bus students for desegregation, Stevenson served on a citizens advisory board to help the board create a plan. She was elected to the board in 1980 and 1984.
"It was always where the little black children seemed to be the underdog, and we did not have the political will, or even the compassion, to treat everybody right and to be fair," Stevenson said. "That's sort of what I've been working toward as long as I can remember now."
Creating the forum
In the 1970s and '80s, Stevenson faced snubs and insults from people who didn't accept an African-American or a woman in power. She also drew criticism from some blacks who thought she should be more aggressive in demanding change.
Ron Leeper, a Charlotte businessman who is almost 20 years younger than Stevenson, recalls that he was one of them. Now, he believes that "God picks the right person at the right time."
"To have her firm but controlled voice in rooms where some of us were yelling at the top of our voices was always good to have," he said. "She was able to absorb the blows and criticism and nasty words that some others might not have handled as well."
That tone prevailed when Stevenson and other members of the Black Political Caucus created the Tuesday Morning Breakfast Forum in 1980, at a time when most of the city's power brokers were white and lived in other parts of town. The forum, inspired by Andrew Young's Breakfast Club in Atlanta, became a place where black politicians and residents could meet in west Charlotte to discuss public affairs.
THE REPUBLICANS WILL COME. THEY KNOW
IF THEY COME HERE NO ONE IS GOING TO
ATTACK THEM. THIS IS A NO-ARGUMENT ZONE.
Natheley McElrath, on the forum Stevenson created and still leads
Stevenson and the other founders opted not to raise money, stake out political positions or endorse candidates, though most of the individuals involved were politically active. The forum eventually opened its doors to white people, and came to be a crucial stop for people making connections.
When Heath Morrison was hired as CMS superintendent in 2012, the breakfast forum was his first public appearance.
Garrett, the United Way director, made his presentation this week. Stevenson urged the audience to support him: "Ask good questions and make contacts. That's what you're here for."
Jeremy Stephenson, a white Republican running for school board, says he, too, was told he needed to visit the breakfast forum. He's been back several times, he said, and has met people who share his views, as well as those who respectfully disagree.
"It's awesome," he said. "Everyone has been wonderfully welcoming to me."
Queen Go Go's promise
When Geraldine Brisbane Crooks visited the forum, she talked about the partnership Brisbane Academy has with South African schools. Every year, students, faculty and community members visit to deliver school supplies. They also sponsor South African students to attend the Charlotte private school.
Stevenson, then in her late 80s, said she wanted to go. In 2013 she made the voyage. Students dubbed her Queen Go Go ("go go" means "grandma," Crooks says).
Charlotte's Johnson C. Smith University looms large in the eyes of South Africans because one of Nelson Mandela's grandsons attended. Stevenson considers JCSU President Ron Carter one of her many adopted sons. When she mentioned his name, several of the older students clamored for a chance to study there.
Stevenson promised she'd help them do so, even if it was only for one semester.
As Stevenson worked her contacts in Charlotte to raise thousands of dollars, some of the students lost interest. But in August Portia Motsapi arrived and began classes at JCSU.
John Malindi is shooting to start in January. Organizers of Stevenson's 90th birthday party are asking those who attend to donate $90 each, in hopes of reaching the $12,000 needed for Malindi's expenses.
As Stevenson talked about turning 90 and "concluding some things," she struggled for words. Then she started singing, her own version of "I Don't Feel No Ways Tired."
"I am very tired," she sang, "but I've come this far from where I started from
Nobody told me that the road would be easy
I don't believe He brought me this far to leave me."
She stopped, wiping away tears.
"I get very emotional," she said. "I like to keep my promise. That's what I'm trying to do."
Ann Doss Helms: 704-358-5033, @anndosshelms
WANT TO HELP?
To donate to Sarah Stevenson's fund to bring South African student John Malindi to Johnson C. Smith University: www.sbssouthafricanstudentsfund.org
WANT TO ATTEND?
The Tuesday Morning Breakfast Forum is open to anyone and meets at 8:30 a.m. most Tuesdays at the Ivory Baker Recreation Center, 1920 Stroud Park Court. Details: www.tuesdayforumcharlotte.org.
SARAH STEVENSON
Born: Sarah Mingo was born Oct. 26, 1925, in Heath Springs, S.C.
Education: Does not have a college degree and describes herself as self-educated, but has taken classes at Belmont Abbey College, and Carver College (a predecessor of Central Piedmont Community College).
Career: Started out as a seamstress; worked for the Charlotte-Mecklenburg Youth Council, Charlotte Area Fund and the city of Charlotte Community Relations Committee.
Church: Co-founder and active member of Prince of Peace Lutheran Church.
Honors: Order of the Long Leaf Pine, Johnson C. Smith University Arch of Triumph award, Martin Luther King Jr. spirit award, MeckEd education champion, Woman of the Year, Liberty Bell, Sojourner Truth award.
Life at 90: Lives in the home off Beatties Ford Road that she and her husband bought in 1970. Attends most meetings of the Tuesday Morning Breakfast Forum, though she has handed off presiding to her "lieutenants."
Goals for the future: Create an endowed scholarship in the name of her late son Samuel Stevenson at Concordia College Alabama; organize scrapbooks for her descendants and get better at using her cellphone, tablet and computer. Maybe write a book. "That's going to be it. Unless the good Lord says I have something else here for you."