April 2, 2015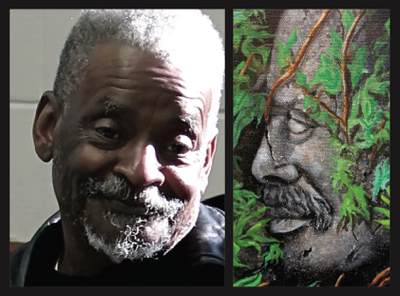 On this and linked pages are images of the work of Charlotte artist Tommie Robinson.
The canvases are from "The Environmental Series," works exhibited in March and April 2015 in connection with Robinson serving as the 2015 Africana Artist-in-Residence at UNC Charlotte. The accompanying photos were taken April 2, 2015 with permission of the artist while the works were on display at the Latibah Collard Green Museum, 720 Tuckaseegee Rd. The exhibit, curated by T'afo Feimster, may be viewed free during museum hours through April 15. [The Tuckaseegee location closed in June 2015.]
UNCC Africana Studies Department Chair Akin Ogundiran wrote in materials prepared for the exhibition that UNCC selected the "Art, Environment, and Race" theme "in order to explore, through the creative works of the artist, the issues of environmental sustainability in the face of unsustainable practices and policies; and the implications for social justice and bio/social diversity."
Feimster, the exhibition's curator, put it this way: Robinson's vision of environmental damage operates on two planes. One is literal: dead fish, burning landscapes. On the other plane, things are out of place – sometimes grotesquely: fish living in flowers and parking lots, shadows that are actually smoke, a human form with the head of a diseased fish. This is Robinson's world – or is it ours?
Robinson's studio is at 2400 Distribution St., Charlotte, NC 28203. His number is 9110-220-5787. He says he doesn't check e-mail very often.
The Environmental Series:    "Oil & Acrylic on Canvas"
Click on the thumbnails to view larger pictures and details.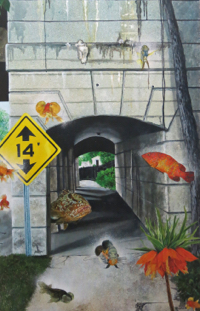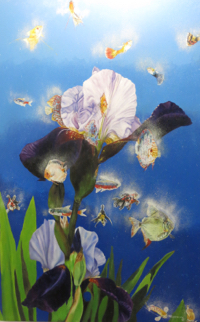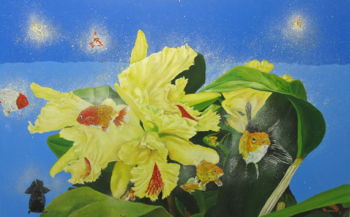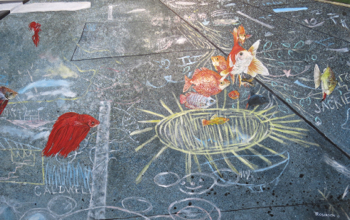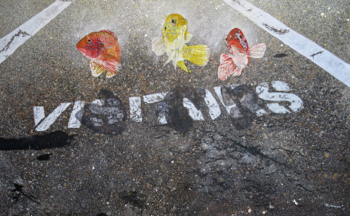 About the canvases below: Promotional materials for the exhibition made use of strategically placed text boxes to cover up nude female forms. Pictures used on this website take a different approach – focusing on details from those six canvases.