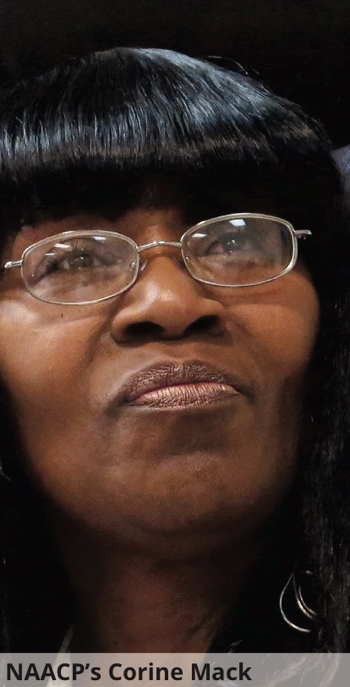 Feb. 3, 2015
Corine Mack said her mother was a fighter. By the end of a Forum visit, it was clear that Corine Mack is also.
Mack said she ran for the NAACP chapter presidency not because she wanted to be in Raleigh, but because she wanted to make change in Charlotte.
Her agenda was broad. And after a weekend story in the Charlotte Observer, she was at pains to emphasize that African-American issues are central to her, even as she thinks that the NAACP chapter ought to be speaking out for all people who are living with injustice.
Mack said she spent two days talking with an Observer reporter, but that the story focused on the reporter's responsibilities for covering immigration and gay rights. Glenn Burkins wrote about this and other portions of Mack's presentation in QCityMetro. The Observer story is here.
Video from Mack's short presentation, and lengthy Q&A that followed, is posted in four parts below.
Part 1
Presentation
Q: Your MLK Day program featured young people. What will the branch do to bridge the gap between young and old leaders?
Q: NAACP membership fell. What are you doing to attract people back?
Q: Are there any local education issues you are planning to target?
Q: How long have you been in Charlotte? What has been your involvement with the NAACP?
Q: I think you shouldn't combine race and gender issues. Do you have a problem with me having a problem with that?
Q: There used to be NAACP clubs in the schools that helped develop young leaders. Will you bring them back?
Q: What used to bring whites and blacks together were specific goals. Now we mostly talk in generalities. What are your specific goals?

Part 2
Q: What one thing does the NAACP need from volunteers?
Q. Many peple could be resources to people hanging on the streets, but there is a culture divide. How do we bridge that?
Q: Young people need help from the elders but they don't know how to talk to you.
Q: The Observer article focused on gay rights and Hispanic rights. What about African-Americans? Did the article misquote you?
Q: Why aren't you placing more emphasis on fund-raising and membership acquisition?
Q: Would you talk with CMS about extending to all staff a course like the police department's Dismantling Racism project?
Q: The NAACP is too conservative. We need self-help, economic development and cultural relevance.
Q: You mentioned poor reading, but most of the reading problem is from kids being truant. Can the NAACP help with that?

Part 3
Q: Do you htink community groups could collaborate on maybe five hyperlocal initiatives that would really make a difference?
Q: Will you make the NAACP stop placing their events at hotels that don't hire people with criminal records?
Q: Can you share with us a list of businesses that we should not support because of what those businesses are not doing for the people?
Q: We need you to be teaching NAACP history and our history to young people.
Q: Will you be fund-raising among our CIAA visitors? Look at what they're spending and you know we're not broke.
Q: In the 7 years you've been here, do you think the schools situation has gotten worse? Could you explain?
Part 4
Q: Have you met with the people who are launching anew reading program?
Q: Without dealing with African-Amercans' identity problem, all little programs are doomed to failure.
Q: Can you be successful when you have people in the community continuing to find that you're not answering the phone at the NAACP?
Q: When are the meetings? And is the leader of the youth initiative under 30 years of age?
Q: People depend on companies for income. And corporations want to control their entire lives. Does that figurte into the decline in NAACP membership?
Q: Will NAACP notify people in gentrifying neighborhoods about the zoning meetings and such that promote the loss of affordable housing?