Nov. 26, 2013
Read story at Observer; at QCityMetro
By The Charlotte Observer – November 27, 2013
By David Perlmutt | The Charlotte Observer
Former Mecklenburg County Manager Harry Jones said Tuesday he's still pondering a run for a seat on county commission – the board that fired him in May – but it may not be his decision.
It will likely be his wife Becky's.
"I haven't dismissed it yet," Jones said after speaking at the Tuesday Morning Breakfast Forum, the weekly group discussion about issues facing Charlotte's African Americans.
"I have people encouraging me and I'm still processing it. My family is still against it. But I do know my wife is the type of person who will look at it one day soon and could say, 'I think you're needed.' If she gets to that particular point, I'm in."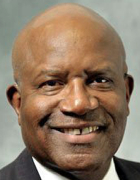 Jones was invited to the breakfast forum to talk about what he's been doing since his job as county manager ended in early May.
He talked about his pancreatic cancer that he was diagnosed with in December 2011 – and that he says is in remission. He said his most recent CT scan showed no cancer.
Jones arrived at the meeting walking on a cane, which he told the forum had nothing to do with his cancer, but a pinched nerve in his back.
He also talked about how the cancer forced him to look at his faith, and led him away from being a "faith liar" to become more devout.
He's also hit the road to speak about his cancer and the power of faith, and he's started Harry Jones Consulting, offering his experience as a government manager or to train fledgling managers and other leaders.
'I was freed'
Though he repeated he's "at peace" with the county commission terminating his contract, he did have harsh words for board Chair Pat Cotham, who spearheaded the termination.
Since the public firing, the county's been run by interim manager Bobbie Shields. Meanwhile, the board will consider a list of six candidates for a new manager.
Jones referred to a story in Tuesday's Observer about an effort to challenge Cotham as chairperson. The story said that Cotham counts Jones' removal as one of the examples of her "positive leadership."
"When I read in the paper this morning that it appears (Cotham) gets some joy out of the fact that she led the effort to fire me, I have some problems with that," Jones told the forum. "Whenever you suggest you get some enjoyment out of affecting someone else's life, then it raises serious concerns about whether or not you're fit to be a leader."
Jones said the board didn't fire him, it "freed" him.
"I was freed from a dysfunctionality that was masquerading as public service," he said. "I've run public organizations since I was 27 years old and I have had to terminate a number of employees. I never got any pleasure out of firing anybody."
Cotham said Tuesday the firing brought her no joy. "There was no high-fiving going on. It was not a joyful experience," she said. "I was not happy that state law demanded that it be done in such a public way. We legally terminated without cause. If people are upset, blame the state – not me."
'A different perspective'
Robin Bradford, chair of Mecklenburg's Democratic Party, said Tuesday that she believes Jones wants to run, "but his family and health are an issue for him."
She said she and Jones attend the same church and have talked about the prospect.
"Harry's been political his whole career and I think he still has a little bite for it," Bradford said. "It's still stressful (serving on the board) and it's stressful for no money, compared to what he was making on the other side."
She said Commissioner Jones would bring "a different perspective" to the board.
As county manager, she said, he built relationships in the business community "that he would bring to the table for the whole county."
"It would be interesting, the dynamics of serving with some commissioners who fired you," Bradford continued. "And if he got a majority of the vote, he could end up being the chair. There'd be a new county manager to spice up things. You'd have the makings of a best-seller, or pilot for a TV show."
Jones said he wouldn't run out of spite.
"A decision to run for an elected position should be made on whether you can bring value," he said. "I would not make my decision based upon anything that's happened to me. It'd be that I could provide good leadership and bring some knowledge to the intricate workings of county government."