March 23, 2013
Longtime television journalist and Forum participant Ken Koontz covered both presidential inaugurations of Barack Obama. From his reporting and footage of inaugural activities and the Democratic National Convention held in Charlotte in 2012, Koontz fashioned two DVDs of historic material.
At Forums since February 2013, Koontz has occasionally announced that the $10 DVDs are available for purchase. Below are a couple of excerpts from the disks.
To purchase copies of the DVDs, see Koontz at the Forum. Other outlets will be added as Koontz tells us about them.
1. "The Mountaintop"
Contents:
Introduction by Ken Koontz
57th Presidential Inauguration
Wohfiel & Lawrence
Love Theme: Barack and Michelle (see excerpt above)
Black Leadership DNC 2012
Nana's Soul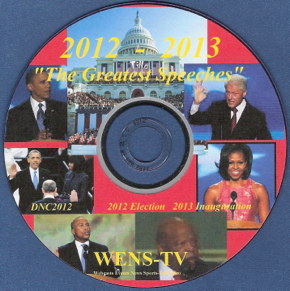 2. "Greatest Speeches"
Contents:
Introduction by Ken Koontz
57th Presidential Inauguration
57th Inauguration Speech
Former President Bill Clinton
DNC Nomination Acceptance Speech
First Lady Michelle Obama DNC 2012 Speech (see excerpt above)
Gov. Deval Patrick D-Mass.
Rep. John Lewis
2012 Election Victory Speech