Sept. 6, 2012
Dan Murrey sent out the following information late this afternoon:
"Thank you for your patience today as the final night of the convention shifts from Bank of America Stadium to the Time Warner Cable Arena due to severe weather forecasts.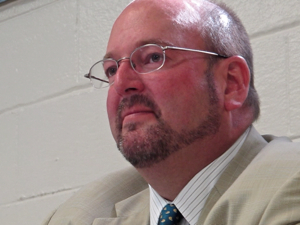 "You are one of our community partners who helped make this Convention possible, and the Host Committee and I are deeply grateful for your commitment to this effort and our community.
"This has truly been an exciting week in Charlotte! The overwhelming feedback from our guests is that Charlotte is a beautiful city and WE have really rolled out the Carolina Blue carpet. While we had hoped to invite you to the President's acceptance speech in person, we would like to offer the next best thing – a chance to come together as a community once again, and celebrate this historic moment for our city and our country.
"We would like to invite you to the Charlotte In 2012 Convention Host Committee's Acceptance Speech Viewing party. It will be a special time that we can experience together.
"You must have your community credential for access….
WHERE: Belk Theater at the Blumenthal Performing Arts Center (130 N. Tryon St.)
WHEN: Thursday, September 06, 2012 (Doors open at 4:00pm)
WHO: Charlotte In 2012 Community Partners
HOW: Present your original community credential issued by the host committee
"Finally if you are able, please also bring a donation for Hurricane Isaac victims. We will have Red Cross collecting on site.
"With sincere gratitude,
Dr. Dan Murrey, Executive Director
Charlotte in 2012 Convention Host Committee