Aug. 21, 2012
Charlotte-Mecklenburg Police Chief Rodney Monroe today addressed the Forum on security preparations for the Democratic National Convention.
Monroe was part of a presentation that also included three officials from the DNC Host Committee: Dr. Dan Murrey, executive director; Torre Jessup, deputy executive director; and Vi Lyles, director of community outreach.
Text from the Charlotte Observer's news story on Monroe's comments is below.
Also below are videos of Monroe's initial comments and then the answers that he gave to questions raised by Forum participants.
Introductory comments, part 1
Introductory comments, part 2
During his introductory remarks, Monroe's face was often away from the camera. He was facing easels showing the three aerial maps of downtown Charlotte showing parade routes and street closings for the following events:
March on Wall Street South, Sunday, Sept. 2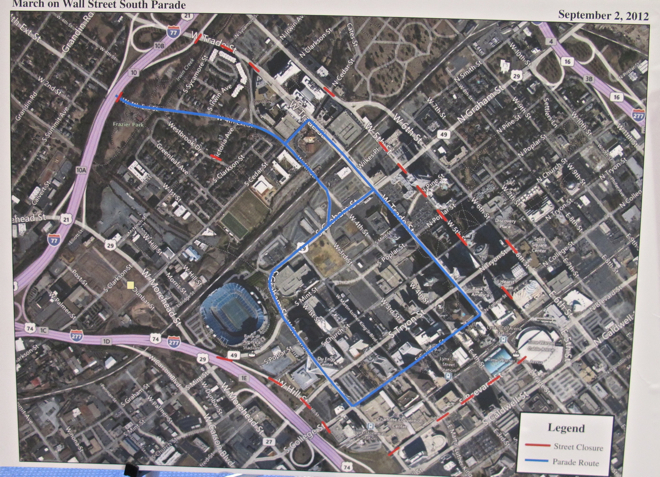 Carolina Fest on Tryon Street, Monday, Sept. 3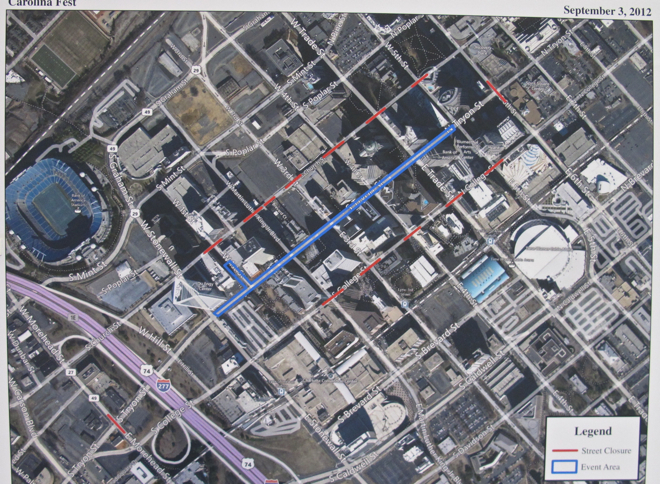 Labor Day Parade and generic parade route, Sept. 3-6
Q&A
Text file in event that original file is unavailable
————————————————————————————————–
http://www.charlotteobserver.com/2012/08/21/3469293/1000-officers-nearly-500-security.html
More than 1,000 out-of-state officers, nearly 500 security cameras on deck for DNC
Added resources will be in place as part of 'massive undertaking' to help Charlotte police manage DNC security
By April Bethea
The Charlotte Observer
CHARLOTTE, N.C. More than 1,000 out-of-state officers to help patrol the city. Almost 500 cameras focused on areas in and around uptown. Hundreds of officers on bicycles.
Those are some of the resources Charlotte-Mecklenburg Police Chief Rodney Monroe says will be available to help local law enforcement take on the "massive undertaking" of managing security during the Democratic National Convention Sept. 4-6.
Monroe discussed the security efforts during the weekly meeting of the Tuesday Morning Breakfast Forum.
The police chief said law enforcement officials have been preparing for the DNC since the day after Charlotte was announced as the host city in February 2011.
Earlier this month, federal and local authorities rolled out a 19-page plan detailing planned road closures, checkpoints and other security measures. In the coming days, Monroe said, additional road closures could be announced related to where President Barack Obama will stay during the DNC.
The convention is expected to draw thousands of protesters. They'll be among the estimated 35,000 politicians, delegates, media and others who'll be in Charlotte. Police plan to have officers stationed along demonstration routes, including a Sept. 2 march that could draw up to 15,000 protesters.
The Charlotte City Council approved an ordinance earlier this year granting police expanded powers during "extraordinary events" like the DNC. But authorities have stressed that officers won't be focused on the content of the protesters' speech, rather they will be trying to manage "criminal activity."
"We're going to allow everything to come to us," Monroe said. "We're not looking to be heavy-handed."
CMPD is receiving help from other law enforcement agencies, including about 1,100 officers from other North Carolina departments. Monroe said about 80 officers from Winston-Salem and Durham will help boost coverage in CMPD's 12 patrol divisions.
Monroe said the visiting officers are due to arrive in Charlotte shortly before the convention, and have undergone training over the past eight months.
The chief said close to 500 officers will help manage traffic during the DNC. He said authorities also have partnered with private entities in the community that, along with the department's own resources, will give them access to 500 cameras for surveillance.
Charlotte received a $50 million federal security grant to help with the DNC preparations. Monroe said some of the convention-related upgrades could be used for other crime fighting, including new Shot Spotter technology to help officers track the location of gunfire.
Some in the audience asked Monroe what the planned security restrictions will mean for residents living in Third Ward and other uptown areas.
Monroe said residents and their guests shouldn't have problems gaining entry to neighborhoods because none of the planned road closures target specific neighborhoods. He said people will have to go through "very light" checkpoints where they will be asked about who or where they are visiting.
The Tuesday Morning Breakfast Forum also drew officials from the Charlotte in 2012 host committee who discussed efforts to include a broad array of residents and businesses in the convention.
Officials also discussed volunteer efforts leading up to the convention, while encouraging people to take advantage of activities such as the CarolinaFest street festival on Labor Day and the community credential process to hear Obama deliver his nomination acceptance speech.
Dan Murrey, executive director of the host committee, also spoke briefly on how things are progressing with the committee's $37 million fundraising goal, saying "we're going to have plenty of money to put on a great convention…."
Bethea: 704-358-6013. On Twitter: @AprilBethea