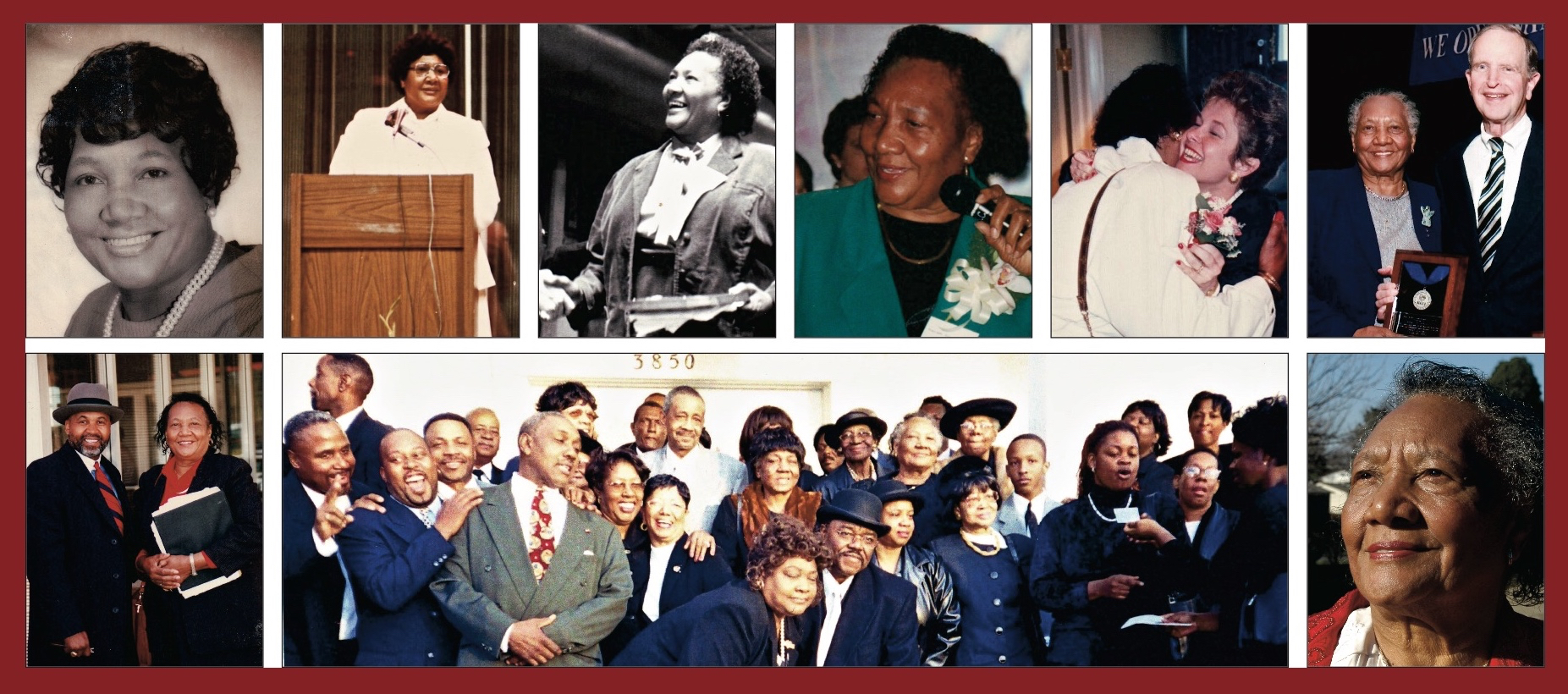 Page initiated Sept. 26, 2023
Sarah Belle Mingo Stevenson was born Oct. 26, 1925. She died Sept. 26, 2023.
A Charlotte Observer remembrance is here. Other media reports included those from WFAE, the Charlotte Post, WSOC-TV, WCNC-TV, WBTV, Queen City News and QCityMetro, More on Stevenson's life of service is here.
Obituaries have been published by Legacy.com and the Lancaster News (paywall),
FUNERAL

A funeral service was held at 1 p.m. on Oct. 5 at Friendship Missionary Baptist Church, 3400 Beatties Ford Rd. Internment followed at York Memorial Park, 5450 S. Tryon St.
Photo from McCray Funeral Home livestream
Remarks by Mayor Vi Lyles
Remarks by Forum facilitator Natheley McElrath
CELEBRATION OF SARAH STEVENSON'S LIFE
A celebration of the life of Sarah Stevenson was held at the Forum's Oct. 3 meeting. Videos of what each person said during the Forum have been added to the "Condolences and comments" section below, joiniing written comments sent in via e-mail.

♥ ♥ ♥
Condolences and comments
Additions to this collection may be sent by e-mail here.
A true heroine and advocate of Building a Better World.
– Rev. Dennis W. Foust, PhD
Oh, no. Thanks for letting us all know. Prayers for her family and the Tuesday Morning family.
– Jennifer De La Jara
Mayor Lyles' staff sent in a prepared text and a letter to the Stevenson family.
In my half-century as a close observer of public life in Charlotte, I never met a person I liked and respected more than Sarah Stevenson. Through good times and bad, she always kept her eyes on the prize.
– Ed Williams
'
For me, you were a mother of movements and connections. I celebrate your life, pray that your family and friends have the strength in this moment of loss, and hope for our reunion in heaven. You ran a magnificent race for God. The last time I saw you, your hand touched my face as we greeted each other. It reminds me of a mother's touch for future generations.
– Patrick Graham, Ph.D.
While it's undeniably heart-wrenching, she undeniably stood as a trailblazer. Although I never had the privilege of meeting her in person, I've been touched by the tales of her remarkable impact on the community. In a world marked by division, few things are as commendable as someone who can bridge the gaps, uniting people irrespective of their backgrounds, be it race, creed, or sexual orientation. Her legacy will undoubtedly endure. Prayers for her family and the Tuesday Morning family.
– Nas Issoufou
Sarah was an inspiration. A fighter for justice. A friend. She knew no strangers. She was honest. She loved people and they loved her back. Thank you Sarah – for the lessons you taught, the lives you changed, and the seeds of love you scattered throughout our region. You will be missed. Your legacy lives on.
– Joan Zimmerman
A life well lived, THANK YOU sista Stevenson for just being. So many lives touched by you. What a blessing you are to many, including myself. Rest now, you earned your wings home. Thank you, thank you, thank you.
– Sharon Geter
I had the privilege of serving on the Community Relations Committee communications team in the 1980s with Ms. Stevenson. What a welcoming, inspiring leader and generous mentor! Now we must carry on her values and the work she believed in!
– Margie Storch
Sarah was an inspiration to all who knew her. In Judaism there is an apt prayer: "May her name be for a blessing." And so May it be forever.
– Linda Ashendorf
Please know this phenomenal woman will truly be missed as her contributions are priceless. God's Grace to the family.
– Dr. Mary Gaffney
I was Mecklenburg's first black female assistant county manager, 1985-89. Sarah Stevenson, the first Black female member of the school board 1980-88, was like a mother to me. My family stayed in her home many times when we were visiting Charlotte in later years. Harvey Gantt, Clemson's first Black student and later Charlotte's first Black mayor, was the headliner. But Sarah shared that limelight, equally. What a role model, what a powerful political person, yet ever so gentle, patient, professional, and prudent and, above all, a loving, kind, generous soul. In sorrowful sweet remembrance.
– Sherry A. Suttles
She set an example for all in her insistence on respectful civil discourse. We need to inspire others to do the same as we honor her legacy.
– Madelyn Baer
Shortly after relocating to Charlotte in 2016,  I started attending.  It has been an honor to have been part of this forum as well as meeting this incredible woman, Sarah Belle Mingo Stevenson. My condolences to the family! Your spirit will live for ever! R.I.P. 🙏🏿
– Gary W. Marion
Sarah Stevenson was such a delight to interview. She not only had deep knowledge of our community, she made you feel like she was delighted to share it. Re-reading one of my Observer stories after her death, I remembered her singing to me; if only that recording had survived my changes of phones and jobs it would have made great radio! At a time when so many people are casting those they disagree with as enemies, Sarah Stevenson demonstrated that you can fight hard for what you believe in without demonizing others.
– Ann Doss Helms, WFAE education reporter
The anointing on Ms. Sarah Stevenson's life created a path towards justice for countless individuals, families and communities across this State. Her example and her love were blessings in my life. I met Ms. Sarah when I was 23 years old, and 26 years later, I can say that I am better because she was and because of her I can. Ms. Sarah's mentorship blessed me to be a blessing. Her guidance gave me strength, courage and perspective during my time of elected service and life. Ms. Sarah, you definitely earned your wings! Rest well, Queen, thank you for giving us your shoulders to stand on and your mantle to carry forward. We may weep tears of sadness at the news of your passing, but we will sing songs of rejoice because we know without a doubt that you made it over to Zion. May your family be wrapped in the love of our great Jehovah Jirah. Blessings and condolences to Elloree and Thomas and others at this difficult time of grief.
– Ericka Ellis-Stewart, CMS Board of Education 2011-2019, board chair 2012
What a jewel to the city of Charlotte! She was indeed a trailblazer, a strong leader, role model, community advocate, a mother, and a friend. Sarah would stand with you, and be the wind beneath your wings. What a positive difference she made in my life. I'm honored that our paths crossed!
– Juanita Miller
Ohh my God. My condolence to the family.
– Martha T. Pieterson, South Africa
A woman of strength and grace,
Sarah Stevenson, a name we'll always embrace.
A trailblazer, a fighter for justice,
Her life's work, an inspiration for us.
She broke barriers, shattered glass ceilings,
Her legacy, a testament to her feelings.
A co-founder of the Tuesday Morning Breakfast Forum,
Her gentle nature, a guiding light in the storm.
She stood up for what was right,
A beacon of hope, shining bright.
She fought for desegregation,
A true leader of her generation.
Her life of service, a gift to all,
Her spirit, a reminder to stand tall.
Sarah Stevenson, a phenomenal woman,
Her memory, forever etched in our hearts, a true gem.
– Dr. Thomas Moore "with the help of AI"
We wish to express our deepest condolences at the passing of Sarah Stevenson. Her light shone bright. Her leadership, mentorship and community building will be felt for years to come. Her legacy is truly monumental. May her memory be a blessing to those who knew and loved her.
– League of Women Voters of Charlotte Mecklenburg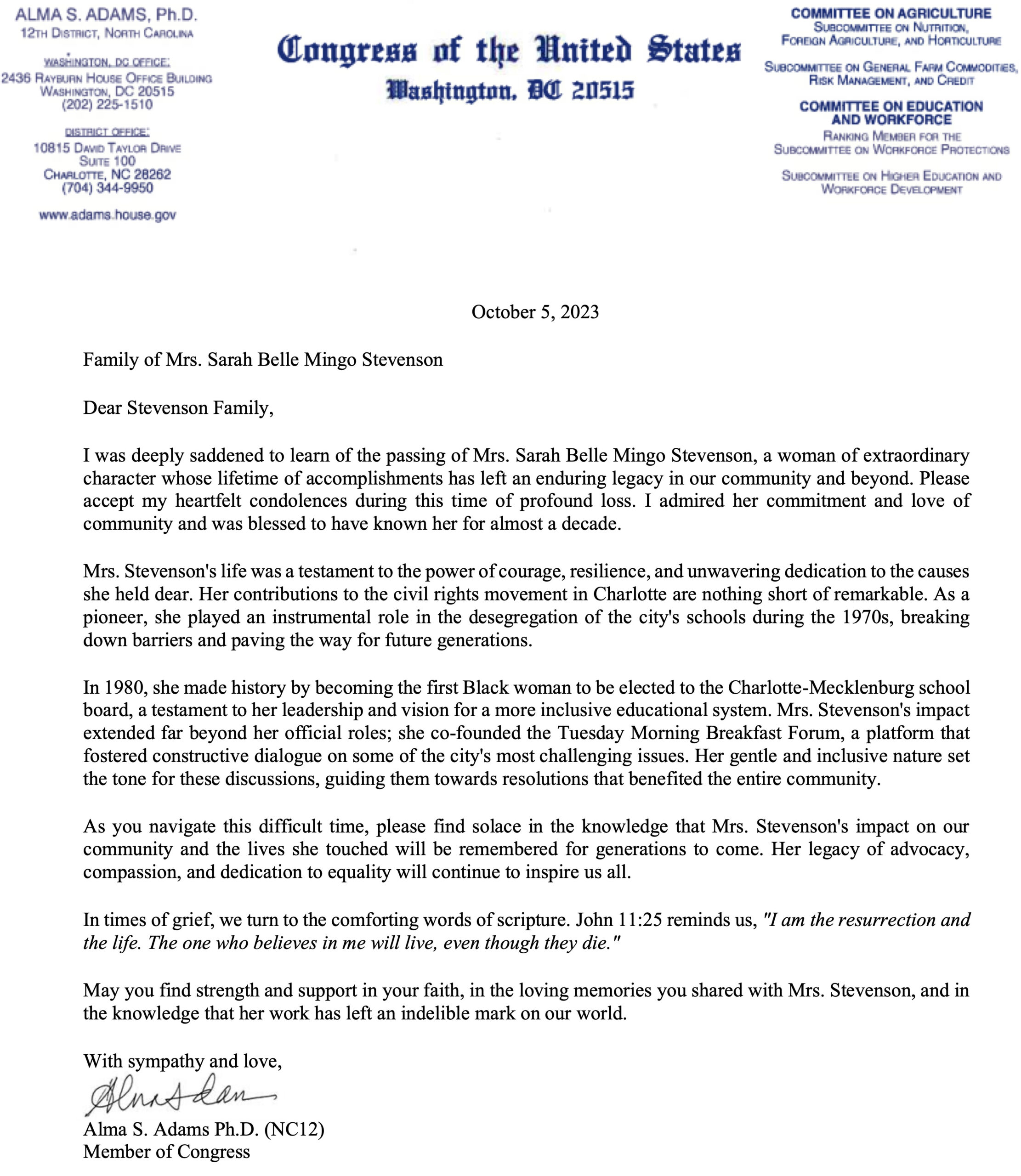 On the shoulders of a mighty leader I stand.  Your legacy will continue.
– Chautauqua Denean,  President of Black Women's Caucus of Charlotte-Mecklenburg
The members of The Charlotte Club of NANBPWC, Inc. were blessed to have to happy moments with our Club sister, Sarah Stevenson. We will always remember her joyous smile. She was an inspirational role model, "Mother" and very good friend to all. She accomplished a lot in her life and still had time for her Sisters of The Charlotte Club of NANBPWC, Inc.. Mrs. Stevenson served as our President twice and worked tirelessly on the Vocal Arts committee. We will always remember her excitement and love for our Vocal Arts program. It was truly a pleasure to have had a dedicated Club Sister from 1979 until death. She was a kind hearted, generous woman who will leave a big empty space in our lives.
– Lashelle Foster and members of the Charlotte club of
The National Association of Negro Business and Professional Women's Clubs, Inc.
Mother Sarah, a woman of strength, dignity, passion and grace! I'm so grateful to God for allowing me to glean, sit and sing in her presence; ministering and serving at the Sarah Stevenson Tuesday Forum and Prince of Peace Lutheran Church worship services and celebrations. Her dedication to education, families, and the community at large is priceless! Well done Mother Sarah love you, rest in God (2 Thessalonian 2: 16, 17).
– Yolonda P. Holmes, Ph.D.
I had a memorable visit with Sarah last month. We reminisced about her son Samuel singing acapella on my Black History Program years ago. She looked beautiful and responded with joy and sadness while seeing him and hearing him sing on the video. Now her life and love for others is being rewarded eternally. Pain is Temporary. Victory is Forever! Weeping may endure for a night, but Joy cometh in the morning. God's love and many Blessings to the family.
– Joan Abrams 🙏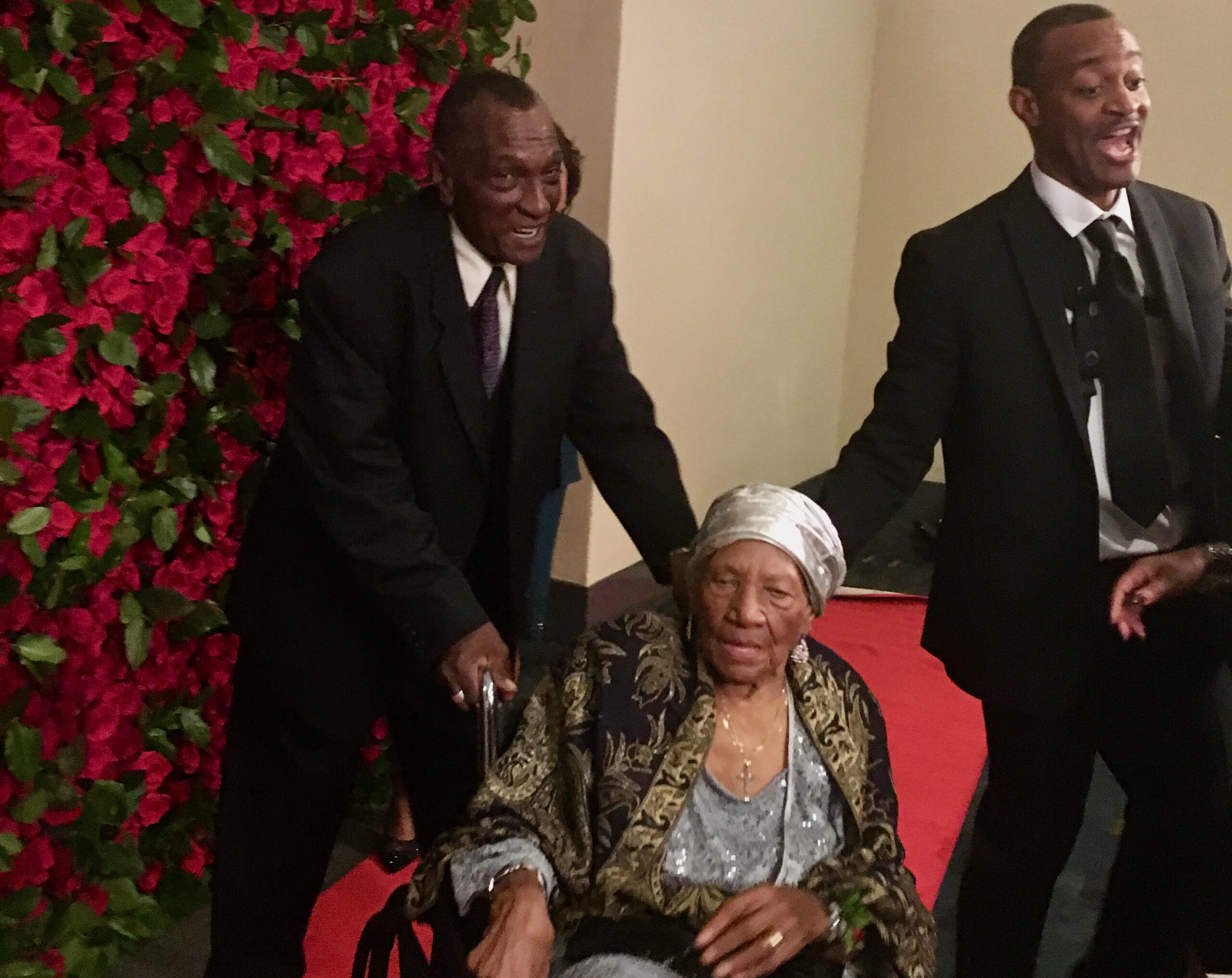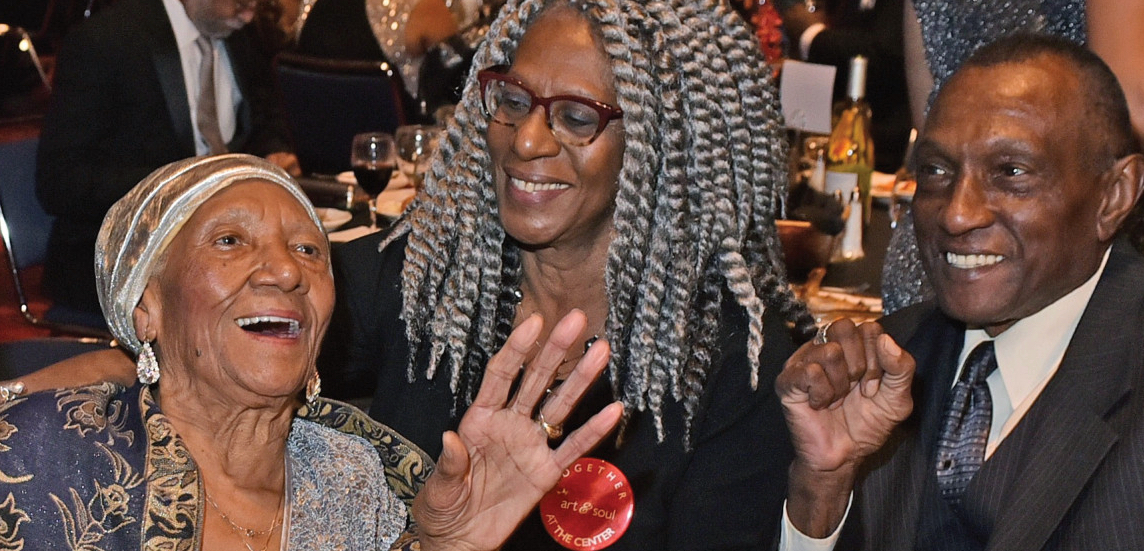 It is because of Sarah Stevenson's bravery and determination to fight for the underserved and underrepresented communities that we now have a voice on many platforms. At a time when African Americans were not allowed to hold certain positions or serve as leaders in our community or on the PTA, Sarah Stevenson took a bold stance and to help create the Charlotte Council of PTAs for African Americans. She was ensuring that all communities were going to be heard when it came to supporting our students, teachers, school staff and families. After a few years, Sarah played a vital role in merging the councils and was elected the first African American to serve as president of the Charlotte-Mecklenburg Council of PTAs. It is because of her wisdom, tenacity and strong spirit to speak up and speak out that years later I was able to serve as the first African American male president of what is now called the Mecklenburg PTA Council. We will be forever grateful to Ms. Sarah Stevenson.
– Harold C. Dixon
I remember when I first thought about running for the Mecklenburg County Commission in 2004, and my team told me, oh, you have to meet Sarah Stevenson and her Tuesday Morning Forum. She was already a living legend even at that time, and it was one of the first meetings I attended as a brand new candidate. I found a dedicated group of people who love this community, who are passionate about education, and passionate about equity and justice and all the ways those tie together. And this community passion was a tribute to and reflection of the community love and passion embodied in Ms. Stevenson herself. She presided over those weekly meetings with a firm hand, a heart for people, a focus on what matters, and a recognition that it takes all of us to bring positive change. Getting her endorsement was a treasured prize. I will always look up to her and her memory as an inspiration to work hard to bring positive change to this world. RIP my friend, your legacy lives on.
– Jennifer Roberts, former Mecklenburg County Commission Chair and Charlotte Mayor
What a tireless fighter for children, education and community. This is what a life of service looks like. She's an absolute Charlotte legend. Her name will be everywhere and her work will live on. As it should be. Rest in peace, faithful servant. You have more than earned your just reward.
– Beth Pickering
♥ ♥ ♥ ♥ ♥ ♥ ♥ ♥ ♥
Congresswoman Adams Honors the Life of Sarah Belle Mingo-Stevenson on the House Floor
WASHINGTON, D.C. (November 15, 2023) – Today, Congresswoman Alma Adams (NC-12) gave a one-minute speech on the House Floor honoring the life of Sarah Belle Mingo-Stevenson. Text of the speech is below:
"Madam Speaker, I rise today to honor a great leader from the Charlotte-Mecklenburg Community: Mother Sarah Mingo-Stevenson.
"After a lifetime devoted to public service in her community, to her church, and most importantly family, Sarah Stevenson left us at the grand age of 97 on September 26, 2023.
"A Charlotte civil rights pioneer, she played a huge role in the creation of an influential forum for political and social dialogue in the city. The Tuesday Morning Breakfast Forum continues to this day and is required as a stop for candidates running for office in Charlotte and statewide.
"As the first Black woman to serve on the Charlotte-Mecklenburg Board of Education from 1980-1988, she carried on her work of activism from the 70s where she efforted the desegregation of public schools in the district. Her courageous leadership, encouragement of small businesses, woman, and civil groups over the years has been part of her undying legacy. She will be sorely missed.
"I look forward to witnessing the many ways her legacy will continue to impact lives and make Charlotte and North Carolina a more just and fairer place. Sarah Stevenson earned the respect of men, women, and little children, and she made our world much better than she found it. Rest in peace Ms. Stevenson."
♥ ♥ ♥ ♥ ♥ ♥ ♥ ♥ ♥
She was the first-born child of a preacher. Yes, yes.
She grew up on a farm, with roots deep in rural 20th Century Carolinas. Yes, yes.
She fought to educate every child for decades after she had been denied the completion of hers. Yes, yes.
She insisted on civility and love because she learned at the knee of her loving mother. Yes, yes.
South African young people called their visitor Queen Go Go, because she just did, all the time. Yes, yes.
She devoted her life to family and to community and to church. Yes, yes.
She didn't sweat the details, except for what went into her morning cup of coffee. Yes, yes.
She turned the attention bestowed on her to a purpose, raising money for community projects. Yes, yes.
She taught hundreds the obligation of giving back, and the value and joy in doing so. Yes, yes.
She's gone now, but won't soon be forgotten. Yes, yes.
♥ ♥ ♥