Sept. 26, 2020
Dr. Gyasi Foluke, a longtime Forum participant, has died. He was 88. A note of his passing, here, says he died Sept. 25.
Neighbors reportedly called police after he had not been seen for some time in his Hyde Park neighborhood.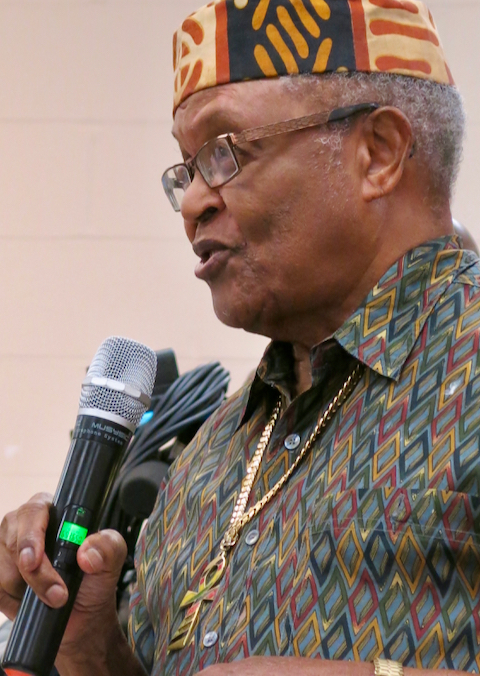 Born in the public housing projects of Columbia, S.C., Dr. Foluke abandoned what he termed his "slave name" of Collins as a young man. He was a 1958 magna cum laude graduate of Howard University, and received his MA in public administration from American University. He earned a nontraditional Doctor of Divinity degree from Neotarian College of Philosophy, Kansas City, MO, in 1980, and was an instructor in black studies at six universities and colleges over a period of many years.
He served as an intelligence analyst in the U.S. Air Force, and was Chief of Training of the USAF School of Social Actions. During his Air Force service he publicly opposed the Vietnam war, and used off-duty time to support the civil rights movement.
After leaving the Air Force, Dr. Foluke directed two of Urban League chapters and several other nonprofits.
Dr. Foluke was a student of African and African-American history, and had written many books on the subject.
He was an outspoken advocate of reparations to make amends for the labor and property stolen from Black people during slavery and, he would often argue, ever since. He spent more than 20 years as head of the Kushite Institute of Wholistic Development, through which he advocated for Afrocentric curriculum in public schools and the construction of a center to promote African-American culture in Charlotte. In 2014, in announcing that he would revitalize the institute, he said, "We as a people are not whole, as we should be. I'm working toward that goal."
In 2010, as African-Americans began debating whether Barack Obama was doing enough for the African-American community, Dr. Foluke told NewsOne, "We are 400 years behind. The universal approach has a fundamental flaw: You can never catch up. But it is clever politics. If you have a black agenda, you cannot get elected in this country. … I'm not against Obama. I voted for him, and I'll vote for him again. What choice do I have?"
More information on Dr. Foluke's life and death will be added as information is available. Send information here.
– Steve Johnston
– – –
More on this video is here.