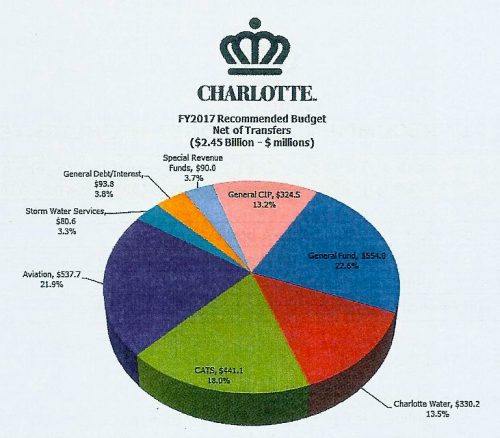 May 3, 2016
The City of Charlotte budget has an impact on hundreds of thousands of city residents. But for those who craft it and those who tinker with it and ultimately approve it, the budget is the most substantial policy document of the year.
This year's policy priority is adding safety officers: police, firefighters, and the positions behind the scenes that support their efforts.
And in the mind of one City Council member, the issues that CMS Supt. Jim Pughsley used to call "big rocks," the major issues that will one way or another shape the city's future – those issues have been put off for a year.
City Council District 4 member Greg Phipps asked staff to make the presentation. Council member Vi Lyles fielded many of the questions from the audience. Budget Director Kim Eagle made the presentation, with an assist from Capital Budget Manager Bill Parks.
The staff brought two documents for Forum participants. A two-page budget summary (the pie chart above is from the budget summary) and a four-page brochure on Charlotte Water.
In the video below, the presentation begins at about 4:50. The staff played a video, which is picked up in the video below, but can also be watched on YouTube here.
During the Q&A in the video above, Council members and staff were asked some questions that prompted staff to promise to send in answers. On Friday, May 6, Capital Budget Manager Bill Parks sent the Forum this note and the three pages that follow. The three pages are in a PDF file here.
"…Please find attached a copy of the City's responses to questions posed to City Council members and staff at the May 3rd Tuesday Morning Breakfast Forum.  These Q&A responses were distributed today to the Mayor and Council as part of the packet of materials for their May 11th Budget Adjustments Workshop, which will be held on Wednesday the 11th at 1:00 p.m. in Room 267 of the Charlotte-Mecklenburg Government Center.  Please let me know if you have any follow-up questions related to this material."