Sept. 20, 2015
The Charlotte Post on Thursday and then the Charlotte Observer on Sunday wrote about C.W. Williams Community Health Center. First, Herb White, then David Perlmutt.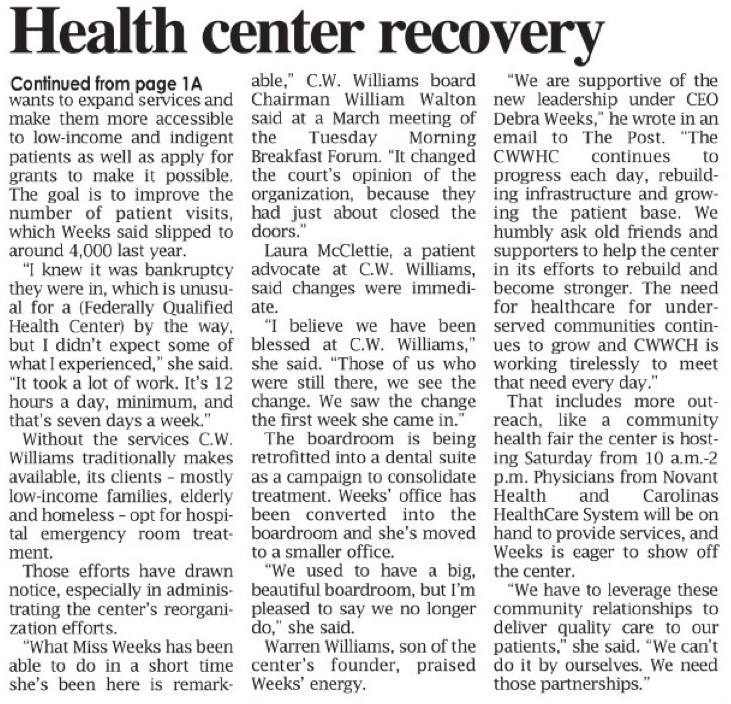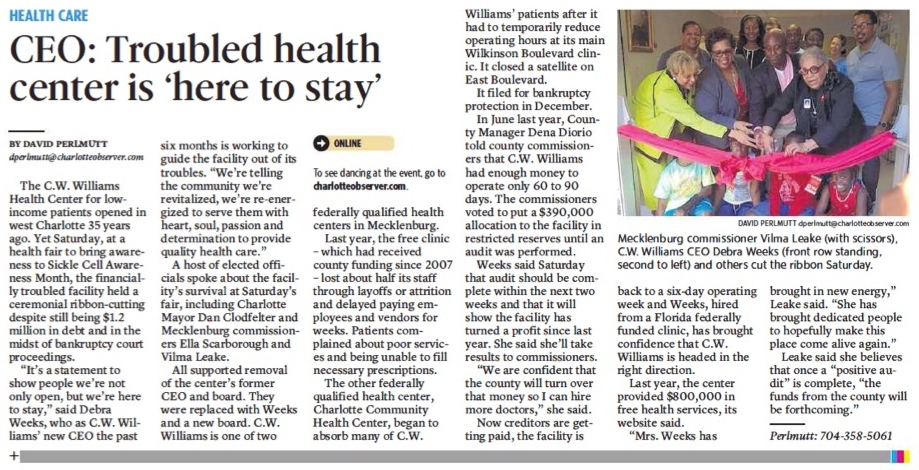 SEPTEMBER 19, 2015
New CEO: Troubled C.W. Williams Health Center is 'here to stay'
C.W. Williams still in debt and bankruptcy proceedings
But new CEO and board confident facility on comeback
CEO Weeks: Audit for facility could be complete in two weeks
BY DAVID PERLMUTT
The C.W. Williams Health Center for low-income patients opened in west Charlotte 35 years ago.
Yet Saturday, at a health fair to bring awareness to Sickle Cell Awareness Month, the financially troubled facility held a ceremonial ribbon-cutting despite still being $1.2 million in debt and in the midst of bankruptcy court proceedings.
"It's a statement to show people we're not only open, but we're here to stay," said Debra Weeks, who as C.W. Williams' new CEO the past six months is working to guide the facility out of its troubles. "We're telling the community we're revitalized, we're re-energized to serve them with heart, soul, passion and determination to provide quality health care in this community."
A host of elected officials spoke about the facility's survival at Saturday's fair, including Charlotte Mayor Dan Clodfelter and Mecklenburg commissioners Ella Scarborough and Vilma Leake.
All supported removal of the center's former CEO and board. They were replaced with Weeks and a new board. C.W. Williams is one of two federally qualified health centers in Mecklenburg.
Last year, the free clinic – which had received county funding since 2007 – lost about half its staff through layoffs or attrition and delayed paying employees and vendors for weeks. Patients complained about poor services and being unable to fill necessary prescriptions.
The other federally qualified health center, Charlotte Community Health Center, began to absorb many of C.W. Williams' patients after it had to temporarily reduce operating hours at its main Wilkinson Boulevard clinic. It closed a satellite on East Boulevard.
It filed for bankruptcy protection in December.
In June last year, County Manager Dena Diorio told county commissioners that C.W. Williams had enough money to operate only 60 to 90 days. The commissioners voted to put a $390,000 allocation to the facility in restricted reserves until an audit was performed.
Weeks said Saturday that audit should be complete within the next two weeks and that it will show the facility has turned a profit since last year. She said she'll take results to commissioners immediately.
"We are confident that the county will turn over that money so I can hire more doctors," she said.
Now creditors are getting paid, the facility is back to a six-day operating week and Weeks, hired from a Florida federally funded clinic, has brought confidence that C.W. Williams is headed in the right direction.
Last year, the center provided $800,000 in free health services, its website said.
"Mrs. Weeks has brought in new energy," Leake said. "She has brought dedicated people to hopefully make this place come alive again."
Leake said she believes that once a "positive audit" is complete, "the funds from the county will be forthcoming."
So does Assistant County Manager Mark Foster, who represents Mecklenburg on the new C.W. Williams board.
"Mecklenburg County is still very supportive of C.W. Williams. We're just making sure they get their financial house in order," Foster said. "They are working diligently through the bankruptcy process, but all indications are that they've turned the corner and they should come out on a positive note.
"It's a new day for C.W. Williams."