Sept. 1, 2015
N.C. Sen. Joel Ford Tuesday questioned why CMS appears to be under a hiring freeze when the legislature has provided the same money as last year, plus a fund to deal with growth.
In a follow-up story Thursday morning, the Observer's Ann Doss Helms wrote that Supt. Ann Clark said Ford had got it wrong.
Ford said his own child's principal told him CMS was not hiring. He told the Forum Tuesday morning that the school board and Supt. Ann Clark should be held accountable to explain why there is a hiring freeze. Here are his comments:
When the Observer's Helms inquired after receiving a forward of Ford's original tweet, here's what she found: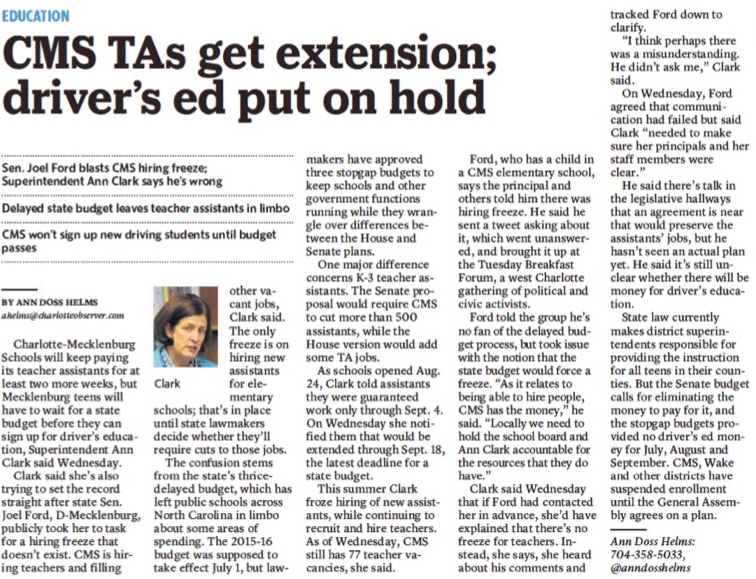 The text of the story is below:
BY ANN DOSS HELMS
"Charlotte-Mecklenburg Schools will keep paying its teacher assistants for at least two more weeks, but Mecklenburg teens will have to wait for a state budget before they can sign up for driver's education, Superintendent Ann Clark said Wednesday.
"Clark said she's also trying to set the record straight after state Sen. Joel Ford, D-Mecklenburg, publicly took her to task for a hiring freeze that doesn't exist. CMS is hiring teachers and filling other vacant jobs, Clark said. The only freeze is on hiring new assistants for elementary schools; that's in place until state lawmakers decide whether they'll require cuts to those jobs.
"The confusion stems from the state's thrice-delayed budget, which has left public schools across North Carolina in limbo about some areas of spending. The 2015-16 budget was supposed to take effect July 1, but lawmakers have approved three stopgap budgets to keep schools and other government functions running while they wrangle over differences between the House and Senate plans.
"One major difference concerns K-3 teacher assistants. The Senate proposal would require CMS to cut more than 500 assistants, while the House version would add some TA jobs.
"As schools opened Aug. 24, Clark told assistants they were guaranteed work only through Sept. 4. On Wednesday she notified them that would be extended through Sept. 18, the latest deadline for a state budget.
"This summer Clark froze hiring of new assistants, while continuing to recruit and hire teachers. As of Wednesday, CMS still has 77 teacher vacancies, she said.
"Ford, who has a child in a CMS elementary school, says the principal and others told him there was hiring freeze. He said he sent a tweet asking about it, which went unanswered, and brought it up at the Tuesday Breakfast Forum, a west Charlotte gathering of political and civic activists.
"Ford told the group he's no fan of the delayed budget process, but took issue with the notion that the state budget would force a freeze.
"'As it relates to being able to hire people, CMS has the money,' he said. 'Locally we need to hold the school board and Ann Clark accountable for the resources that they do have.'
"Clark said Wednesday that if Ford had contacted her in advance, she'd have explained that there's no freeze for teachers. Instead, she says, she heard about his comments and tracked Ford down to clarify.
"'I think perhaps there was a misunderstanding. He didn't ask me,' Clark said.
"On Wednesday, Ford agreed that communication had failed but said Clark "needed to make sure her principals and her staff members were clear."
"He said there's talk in the legislative hallways that an agreement is near that would preserve the assistants' jobs, but he hasn't seen an actual plan yet. He said it's still unclear whether there will be money for driver's education.
"State law currently makes district superintendents responsible for providing the instruction for all teens in their counties. But the Senate budget calls for eliminating the money to pay for it, and the stopgap budgets provided no driver's ed money for July, August and September. CMS, Wake and other districts have suspended enrollment until the General Assembly agrees on a plan."
– – –
Ford left three documents before leaving for Raleigh: background and a Frequently Asked Questions on Voter ID, prepared by the State Board of Elections; a legislative summary on the status of a number of bills; and his Sept. 1 legislative newsletter.