Jan. 20, 2015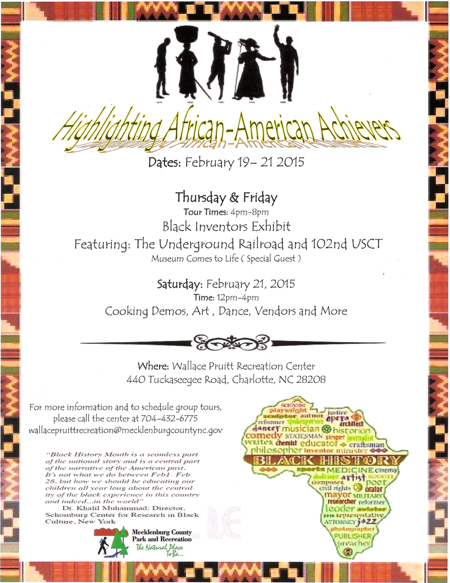 Blanche Penn announced that the 2015 edition of "Highlighting African-American Achievers" would be Feb. 19-21 at Wallace Pruitt Recreation Center.
The annual event on a shoestring budget attempts to give schoolchildren a glimpse of moments in African-American history, and the many everyday household items invented over time by African-Americans.
Penn said the 2015 show would move to Thursday and Friday later afternoons and Saturday afternoon at the rec center near Johnson C. Smith University.
More actors will be involved in the presentations, she said, to bring the displays "alive."
Among the show's fans are students at Bruns Avenue Academy, a CMS school that adjoins the Pruitt center.
"They still call me 'Miss B,'" for the role she played in the 2014 version.
The flier pictured above may be downloaded here.