Jan. 13, 2014
Johanna Anderson, executive director of the Belk Foundation, is still weeks away from a formal announcement of a communitywide effort to improve reading.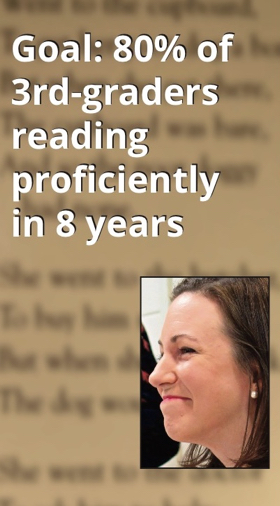 But she was at the Forum Tuesday to outline some of the scope of the planning that's already been done;  to reassure people that many key decisions have not yet been made; and to elicit responses and listen to concerns.
Because of the Forum's rules, Forum participants know to frame their concerns as questions. Some of the questions elicited basic details:
The project will run for eight years.
Interventions will begin in hospital maternity wards.
In a town with reading proficiency in the 40th-50th percentile, the goal is to have 80% of children reading proficiently.
Other questions helped define issues that Anderson acknowledged were factors in low reading proficiency but were not likely to be tackled by the community effort. Among them:
Excessive testing in early childhood education mandated by the Obama administration.
The communication breakdown between teachers and the parents who want to know more about how to help their children learn.
Literacy training for parents who need that to support their own children's education.
Explaining to parents how CMS is teaching reading to the children.
Single-parenting and other family structure issues as they affect children's reading.
Easing parents' time constraints so they can participate in their child's development.
Identifying the points of overlap among existing agencies trying to help children.
Championing the installation of captions on TV and movies aimed at children so children learn by seeing the words they're hearing.
In the second video, Anderson explained the four focus areas she expects to be part of the program:
Talk With Me Baby, a way to encourage language development, from birth.
Increasing access to quality early childhood education and Pre-K.
Supporting teachers with teacher development, and additional tutoring for children who need it.
Summer  learning through greater access to summer programs and books.
Each of the four focus areas will have an advisory group. The nominations process for people to serve on those groups will be announced next month.
At the end of the fourth video below, Mecklenburg County Commissioners Chairman Trevor Fuller predicts the goal will be achieved. And UNCC College of Education Dean Ellen McIntyre points out that the project has already raised awareness of basic pedagogical issues among the non-educators involved. And she remarked that on the way toward achieving a broad public goal, a lot of adults will help have real impact on individual children.
One of the questions mentioned a "First 2,000 Days" video from the N.C. Early Childhood Foundation. That video is available at the bottom of this page.
An undated B&W version of a Read Charlotte presentation binder in color is here. By the time it was published the end date for the project had moved from 8 years to 10 years.
The first four videos below include both Anderson's presentation and the extensive Q&A that followed.