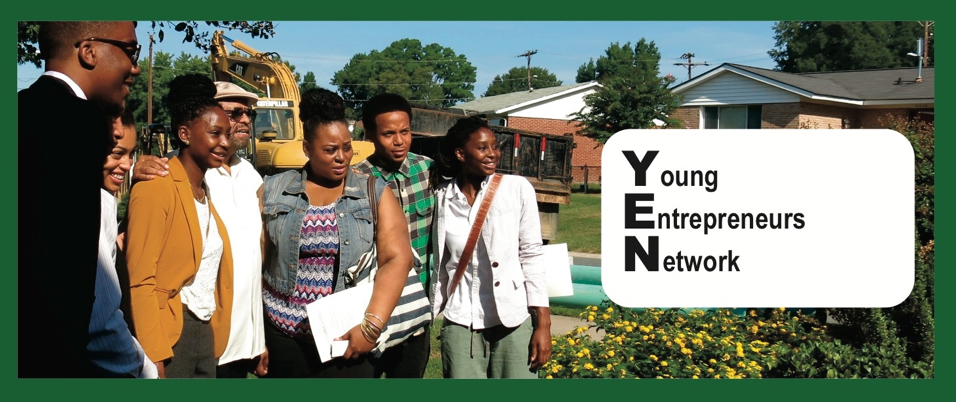 After their presentation at the Forum, some of the members of the Young Entrepreneurs Network posed for a photo with Nasif Majeed (in cap above), who in a long business career was at one time leader of the West Charlotte Business Incubator near the Johnson C. Smith University campus.
The incubating continues for clients of Maria Macon, who set up YEN and meets with the young people weekly on late Sunday afternoons for a 12-week course in business basics.
Participating Tuesday were, in left-to-right order in the picture above, were: Jefferson Edwards with Black Capitalist Group Insurance; Christopher McKinney with NuWorld Mobile Automotive; Amber Ellis with Juvia HairSpa; Jessica Wright with Double Take Consulting; Taqiya Barber with Hair Deucor, Inc.; Marqua Adams with No Short Cuts lawn care; and Jasmine Wright with Double Take Consulting.
Video from the session Tuesday is in four pieces below.
Contact info:
Marqua Adams 704-780-5339 owner of No Shortcuts, Inc. landscape and hardscape; Facebook
Taqiyah Barber 704-713-1870 Owner of Deucor Styling /Music Artist Founder of Creative Youth, Inc. nonprofit. Nonprofit.
Jefferson Edwards 704-390-5870 owner of the Black Capitalist Group, Inc./Financial Consultant
Amber Ellis 704-965-2627 Owner of Juvi HairSpa, Inc.
Christopher McKinney 704-733-8637 owner of Nu World Mobile Auto Care, Inc. founder of Nu World, Inc. nonprofit.Website.
Jessica Wright (yellow jacket in picture above) 803-370-8634 Co-owner of DoubleTake Image Consulting
Jasmine Wright (far right in picture above) 803-448-4236 Co-owner of DoubleTake Image Consulting