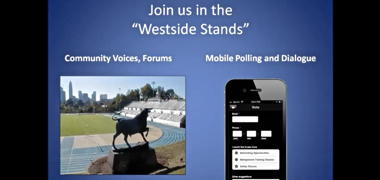 A team of people from Johnson C. Smith University made a presentation at the Forum this morning, then listened as audience members gave their feedback on the wording of a planned survey on the needs of the Northwest Corridor.
Dr. Byron Patterson and Dr. Laurie Porter made introductory comments. JCSU student Zwelabo Mandela showed a video that is reproduced below.
The survey creators are on a tight schedule. They want the survey results to be ready for the Northwest Corridor Indaba, or community discussion, that is scheduled for late July.
July 16 update: Dr. Patterson announced this morning that the Indaba would be held Saturday, Aug. 31 from 8 a.m. to noon in Biddle Hall on the JCSU campus.
The first video below contains Patterson's introductory comments. The second contains comments by Porter and Mandela.
Dr. Patterson later provided a link to the final YouTube version of Zwelabo Mandela's video.