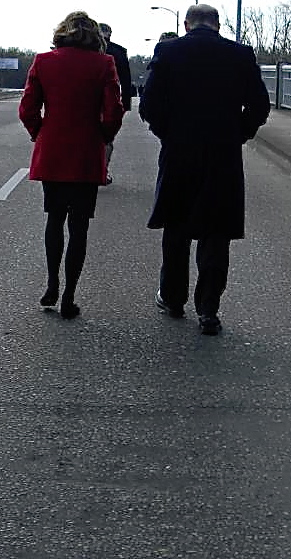 March 11, 2013
In a "Dear Friend," message dated March 8, Sen. Kay Hagan wrote about her experience on the 13th Congressional Civil Rights Pilgrimage to Alabama held March 1-3.
At right is a picture that Hagan's staff posted on Facebook of Hagan, left, and her husband Chip walking the Edmund Pettus Bridge during the stop in Selma.
Below is the text of Hagan's message, which was sent to the Forum:
"Last weekend I had the incredible privilege to attend and serve as a co-leader of the Faith and Politics Institute's 13th Congressional Civil Rights Pilgrimage in Alabama. I was part of a bipartisan delegation of Members of Congress, religious leaders and civil rights leaders including Congressman John Lewis, an original Freedom Rider.
"The pilgrimage was a three-day journey through important milestones in the civil rights movement. We began in Tuscaloosa, where we commemorated the 50th anniversary of the desegregation of the University of Alabama. From there we visited the 16th Street Baptist Church in Birmingham and toured the Rosa Parks Museum and Martin Luther King Jr. Parsonage in Montgomery.
"Perhaps the most moving moment of the trip occurred in Montgomery. Kevin Murphy, the current police chief of Montgomery, gave Congressman John Lewis a personal apology on behalf of the Montgomery Police Department for their failure to protect the Freedom Riders in 1961. As we all shed tears, Murphy actually took his badge off and gave it to Congressman Lewis. He shared how he now teaches his officers about the department's failure on that day, so that they better understand their responsibilities as officers of the law. This unscripted moment honoring American hero and Civil Rights icon John Lewis served as an emotional reminder to me of the oath I took to protect and serve the people of North Carolina.
"We ended the pilgrimage with a reenactment of the march across the Edmund Pettus Bridge that took place March 7, 1965 – "Bloody Sunday." As I reflected on the weekend during the reenactment, I could not help but think of the Civil Rights leaders we have had in North Carolina whose peaceful demonstrations were met with similar resistance. It is those struggles that I hold in my memory as I work to fight all forms of discrimination and make our state a better place for all North Carolinians through safer communities, improved schools, and better jobs….
I look forward to personally sharing my experiences with each of you next time I see you at home in North Carolina.
All the best,
Senator Kay R. Hagan