Feb. 5, 2013
LaTarzja Henry has been a central administrator with Charlotte-Mecklenburg Schools for more than a decade, mostly in communications positions.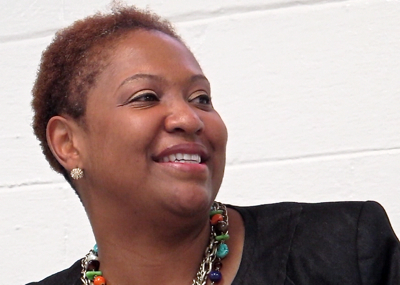 Henry was at the Forum this morning to explain her new role as an assistant superintendent for a new department of community partnerships and parent engagement.
Both the partnership piece and the parent engagement effort have been pursued in various formats for, well, since the district was created out of city and county districts in 1960.
But to hear Henry tell it, there had been no process in place in the past to hold anyone accountable for progress. Supt. Heath Morrison will hold her accountable, she told the Forum.
In the videos below, Henry offered a presentation, then answered questions. A few highlights:
● Henry has not yet found or created a template by which progress can be judged. She said she wants to go beyond merely checking things off – numbers of volunteers, partnerships created, etc. – to assess whether activities by the new department improve children's learning.
At one point during the Forum, former school board member Louise Woods referred to Mayor Anthony Foxx's state of the city speech the previous day. A video of the speech, as well as the prepared text, are here.