Tuesday Morning
Breakfast Forum
Charlotte, NC
www.tueforumclt.org
Home ● Where We Meet ● News ● Announcements ● Events ● About Us ● Contact Us ● Search ●
'Coach Q' and his mission to cut the dropout rate
Nov. 22, 2011
Stephán "Coach Q" Askew says he doesn't go to meetings much, where he says mostly people just talk. He characterizes himself as a man of action, and a man on a mission: To act to end the "epidemic of dropping out and going to jail" by serving the youth and families caught in the crisis.
"I see the issues that plague our community every day," the Fayetteville native told the Forum Tuesday. "I see the kids that drop out. I see the homelessness. And then when I go into the jail, these men look just like me, OK? As far as African-American males, we're 6% of the population but we're one-third of the population incarcerated. When I look at the dropouts it's the same ratio. That's an issue for me and I take it personal. That's why I'm here, today."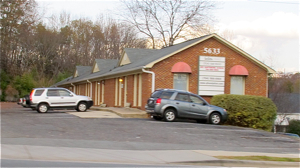 With a contract with the sheriff's office, other grants and donations and a web of for-profit and nonprofit entities, this former professional football player says he has a staff of about 50 engaged in dropout prevention, GED certification, free athletic opportunities, summer programs, mentoring and transitional housing. His headquarters on Monroe Road between Sharon Amity and Rama Roads, shown at right, may one day be succeeded by a headquarters in the former J.T. Willliams Middle School building, which Askew says has been leased by Charlotte-Mecklenburg Schools to the Q Foundation Inc.
"Our core business... is providing second opportunities for dropouts and offenders...."
"I'm a former professional athlete. I am a best-selling author. I am a speaker. But more than anything I'm an advocate for our community, OK, because there's this thing about, when we make it we don't come back.
"And that's an issue because these kids, and really these families, don't know how to get out of the issues they're faced with. They simply don't know. And we're expecting people to be successful who have never seen success.... I'm tired of seeing the dropout epidemic and I'm tired of seeing us hurt each other. The No. 1 killer of black men is black men."
The first video below includes Askew's initial comments at the Forum, including the words above. Below are excerpts from the Q&A session that followed. Below the videos are links to other material about Askew and Q Foundation Inc.
Employing ex-felons; vision for J.T. Williams building
Finding the money; avoiding duplication
Top issues facing youth; working within CMS schools
Employment; results; time to act
Expansions; rebuilding J.T. neighborhood; conclusion
More on Stephán "Coach Q" Askew, entrepreneur, success coach, philanthropist
His Tuesday handout in B&W in 4 pieces: AboutQ Bio Entrepreneur1 Entrepreneur2
The Q Foundation's website
GreatBlackSpeakers.com listing
Earlier news coverage:
Mecklenburg Times (10-8-10)
WSOC-TV (10-30-09)
WSOC-TV (11-14-07)
The Foundation's IRS 990 filings for 2009, 2008 and 2007