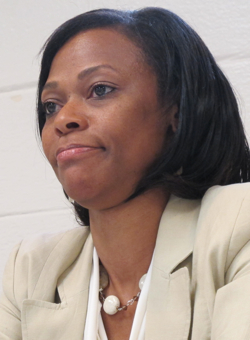 Taylor: 'We prepare women
to enter the political pipeline'
Aug. 30, 2011
Annette Taylor, executive director of the Raleigh-based N.C. Center for Women in Public Service, addressed the Forum today.
"We prepare women to enter the political pipeline," Taylor said.
Of the 14 women who graduated from a seven-day training program this summer, half are already running for office, she said.
A one-day "Women on Board" workshop travels the state.
To build a statewide presence for the group, Taylor said she would be setting up regional advisory councils. "My goal is to set up partnerships and alliances everywhere."
Taylor mentioned two Charlotte-based graduates of the Center: Erica Frazier, a vice president at Wells Fargo, and school board candidate Ericka Ellis-Stewart.
She said she was looking for ideas on how to set up a statewide mentoring program for women.
A black-and-white scan of her handout on the Center is here. The Center's website is here. Their Facebook page is here.
Form Object
Click above to listen to her presentation.

-------------------------------------------------------------------------------------------
The Forum welcomes all persons to its meetings beginning at 8:30 a.m. most Tuesdays
of the year at the West Charlotte Recreation Center, 2222 Kendall Drive, Charlotte, NC
down the hill from West Charlotte High School.