Raleigh nonprofit takes on Charlotte rehab tasks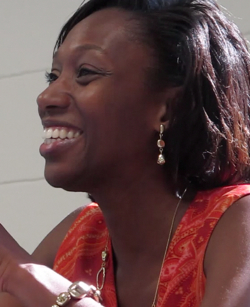 July 19, 2011
Brenda Hayden, right, is local area director for the Charlotte division of Builders of Hope. Hayden was at the Forum Tuesday to explain the Raleigh nonprofit's work rehabilitating housing in ways that are both "green" and produce an "affordable" unit for renters or homebuyers.
An example is above: the row of duplexes being renovated along LaSalle Avenue east of Beatties Ford Road. Other projects finished or underway are single-family homes in Lincoln Heights and apartments in Thomasboro. The nonprofit has been operating in Charlotte since late 2009, Hayden said.
Hayden shared three handouts. The PDFs available here are black-and-white scans of those color documents:
– "Going on Green," a one-page flyer on the features of a renovated structure that Builders of Hope counts as "green."
– "Introducing New Hope Apartments" a four-page booklet in scan one and two about its completed rehab project of two-story apartments in Thomasboro.
– "Rebuilding Homes," an eight-page brochure about the Raleigh nonprofit in four parts: one two three four.

-------------------------------------------------------------------------------------------
The Forum welcomes all persons to its meetings beginning at 8:30 a.m. most Tuesdays
of the year at the West Charlotte Recreation Center, 2222 Kendall Drive, Charlotte, NC
down the hill from West Charlotte High School.