Tuesday Morning
Breakfast Forum
Charlotte, NC
www.tueforumclt.org
Home ● Where We Meet ● News ● Announcements ● Events ● About Us ● Contact Us ● Search ●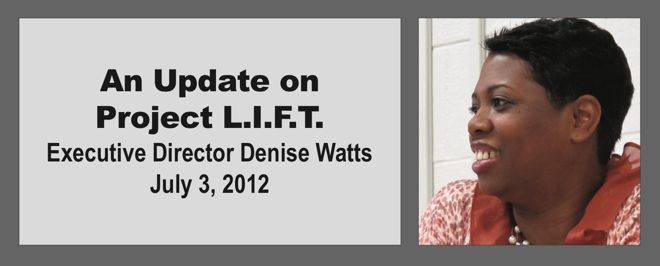 July 3, 2012
Below in six short videos is the entire content of Tuesday's update on Project L.I.F.T. by Denise Watts, who is overseeing the privately funded educational improvement project focused on West Charlotte High School and the elementaries and middle schools that feed students to it.
Watts' last update was Nov. 15.
The session came amid good and bad developments: The Project has attained its fund-raising goal of $55 million. The groups being paid out of that fund to assist children are already at work in summer schools, Freedom Schools and so forth.
But West Charlotte's principalship is vacant, creating an immediate, high-stakes hire for brand new Supt. Heath Morrison. And while the exact number has not been announced, it was clear from discussion Tuesday that, instead of rising, West Charlotte's graduation rate actually fell this past year.
Part 1
Part 2
Part 3
Part 4
Part 5
Part 6

-------------------------------------------------------------------------------------------
The Forum welcomes all persons to its meetings beginning at 8:30 a.m. most Tuesdays
of the year at the West Charlotte Recreation Center, 2401 Kendall Drive, Charlotte, NC
down the hill from West Charlotte High School.