Tuesday Morning
Breakfast Forum
Charlotte, NC
www.tueforumclt.org
Home ● Where We Meet ● News ● Announcements ● Events ● About Us ● Contact Us ● Search ●
Group advocates for single-payer health coverage
May 15, 2012
Malyn Pratt, right, presented the program Tuesday for Heath Care For All Charlotte, an advocacy group associated with Health Care For All North Carolina.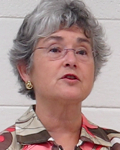 Both groups are interested in creating a backdrop of public awareness of the merits of single-payer health care plans in the United States, should the Supreme Court strike down the Affordable Care Act or should that act prove ineffective.
Pratt brought into the discussion several members of the Charlotte group, who were attending the Forum, and are identified in the videos below
Pratt handed out two fliers: a two-page flier about the group's proposal and frequently asked questions about single-payer plans; and a photocopy of an article written by Dr. Jessica Schorr Saxe for the Charlotte Observer headlined: "Next civil rights frontier? It surely has to be health care."
Part 1
Part 2
Part 3
Q&A

-------------------------------------------------------------------------------------------
The Forum welcomes all persons to its meetings beginning at 8:30 a.m. most Tuesdays
of the year at the West Charlotte Recreation Center, 2401 Kendall Drive, Charlotte, NC
down the hill from West Charlotte High School.