Foluke's written statement to CMS school board
Posted May 22, 2012
Longtime Forum participant Dr. Gyasi Foluke spoke May 8 to the Charlotte-Mecklenburg Board of Education as he delivered a series of documents for board members to read.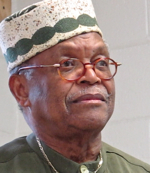 On May 22, Foluke provided to the Forum electronic versions of that material. Links to that material are at the bottom of this page.
In his presentation to the board, Foluke referred to recommendations in his latest book, "Truths My Teacher Never Told Me: An Analysis of History Textbooks and Public Mis-Education with Wholistic Solutions." The material he shared with the board May 8, and with the Forum May 22, does not include those recommendations. In his presentation to the board, Foluke said he would charge CMS $34.95 per copy of his book.
Foluke also offered to lead training sessions for CMS board members and staff. Details of that are in the video presentation below.
The video below is a segment of CMS streaming video from the May 8 board meeting that is posted on the CMS website. The clip shows Foluke speaking during the "Requests from the Public" section of the board meeting, then includes part of the next speaker's presentation.
During "Requests from the Public," speakers are limited to three minutes.
The video may require the viewer to download free Silverlight software or Windows Media Player.
Foluke's three files are large because they contain many pictures and drawings. Download times may be lengthy, depending on the speed of the reader's Internet connection. The files are posted here in Foluke's Microsoft Word, and also as PDF files, which in two cases will download more quickly. The size of each file is listed.
1. Statement Web page Word (33.3 mg) PDF (11.1 mg)
2. Overview of "Truths," and author bio Web page Word (1 mg) PDF (4.9 mg)
3. Quotations and commentary Web page Word (88.4 mg) PDF (64.9 mg)

-------------------------------------------------------------------------------------------
The Forum welcomes all persons to its meetings beginning at 8:30 a.m. most Tuesdays
of the year at the West Charlotte Recreation Center, 2401 Kendall Drive, Charlotte, NC
down the hill from West Charlotte High School.