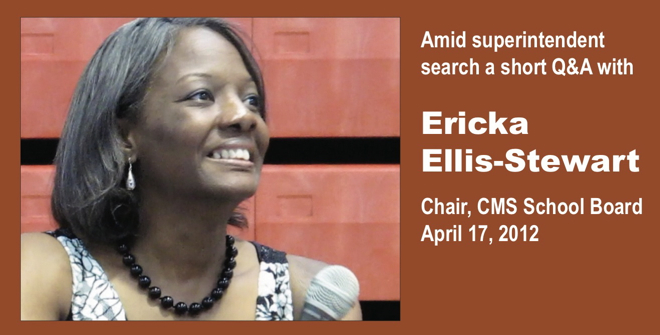 CMS board chair answers questions as superintendent vote looms
April 17, 2012
Journalists looking for breaking news won't find much to chew on in Tuesday morning's comments by CMS board chair Ericka Ellis-Stewart at the Tuesday Morning Breakfast. A video of her comments is below.
Forum convener Sarah Stevenson invited the four board members in the room – Ellis-Stewart, Joyce Waddell, Amelia Stinson-Wesley and Richard McElrath – to address the Forum, but the other three deferred to chair Ellis-Stewart.
While most of her comments were as chair, Ellis-Stewart playfully put papers on her head and then said she was removing her chairman's hat to answer one question. In that answer, she said that the next superintenent must be focused on correctly utilizing personnel.
"Until we can get that piece right, we will continue to have schools that are not schools of excellence. We have work to do, a lot of work to do.
"There are some great things we have done as a district, but we have work to do, and we have to roll up our sleeves.
"And whoever comes in has to have a commitment to making sure that we have the right principals in the right place, and the right teachers in front of students."

-------------------------------------------------------------------------------------------
The Forum welcomes all persons to its meetings beginning at 8:30 a.m. most Tuesdays
of the year at the West Charlotte Recreation Center, 2401 Kendall Drive, Charlotte, NC
down the hill from West Charlotte High School.