Tuesday Morning
Breakfast Forum
Charlotte, NC
www.tueforumclt.org
Home ● Where We Meet ● News ● Announcements ● Events ● About Us ● Contact Us ● Search ●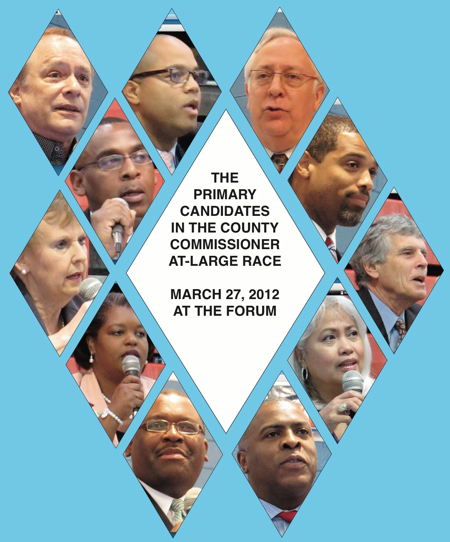 County commissioner candidates
in May 8 primary for at-large seats
March 27, 2012
Ten of the 12 Democrats and one of the five Republicans involved in May 8 primaries for at-large seats on the Mecklenburg Board of County Commissioners addressed the Forum today.
Videos are below of their 2-minute introductory comments. They are posted in the order in which they were given, so that the occasional candidate to a previous speaker will make sense to those who watch all the videos.
Introductory comments
Robert L. Hillman, Democrat
Jyoti Friedland, Democrat
Paul M. Brown, Sr., Democrat
Kim Michele Ratliff, Democrat

--------------------------------------------------------------------------
The Forum welcomes all persons to its meetings beginning at 8:30 a.m. most Tuesdays
of the year at the West Charlotte Recreation Center, 2401 Kendall Drive, Charlotte, NC
down the hill from West Charlotte High School.