Tuesday Morning
Breakfast Forum
Charlotte, NC
www.tueforumclt.org
Home ● Where We Meet ● News ● Announcements ● Events ● About Us ● Contact Us ● Search ●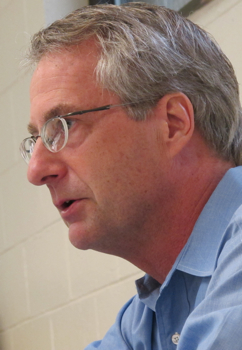 Rallying 'progressives'
Nonprofit's leader says focus on sustaining Social Security,
Medicare, Medicaid would create a voting majority for 2012
June 21, 2011
The executive director of a self-described "grassroots community organization" that rose out of ACORN's ashes focused Tuesday on national issues around which progressives could rally in 2012.
Pat McCoy addressed what a questioner asserted was a "rift" between progressives and the African-American community, advocating lower expectations at one point and at another saying that "people are making too much of this for right now."
Below, to be posted as they become available, are video clips, mostly involving McCoy's answers to questions. First off is a video of the bulk of his introductory remarks.
McCoy had a few copies of some handouts about proposed changes in Social Security, Medicare and Medicaid. A PDF file of some or all of those handouts is here. And a member of Tuesday's audience suggested posting a link to an op-ed piece in the New York Times by Thomas Geoghegan headlined: "Get Radical: Raise Social Security"
1. Excerpt from introductory comments. (9:20)
2. Comments in issues at stake in negotiations between the White House and Congress on raising the ceiling on the national debt. (2:27)
3. A comment on what kind of actions that the group might mount in Charlotte. (0:33)
4. McCoy comments on polling results that suggest public support for not making big changes in Social Security, Medicare and Medicaid. (3:04)
5. McCoy comments on how Action NC will use C4 money to take actions highlighting elected officials who disagree with the group's positions on Social Security, Medicare and Medicaid. (5:10)
6. A listener asserted that there is a "rift" between most African-Americans and political progressives. Two listeners came back to the question. This clip includes all three of McCoy's comments.
-------------------------------------------------------------------------------------------
The Forum welcomes all persons to its meetings beginning at 8:30 a.m. most Tuesdays
of the year at the West Charlotte Recreation Center, 2222 Kendall Drive, Charlotte, NC
down the hill from West Charlotte High School.