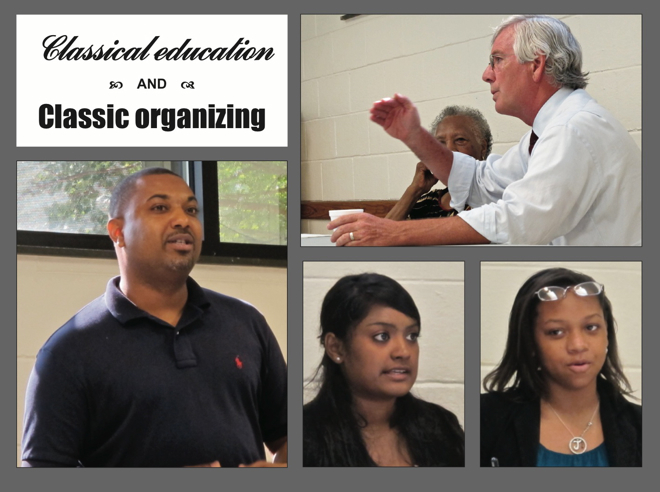 May 31, 2011
Tuesday's Forum speakers covered a range of topics.
The Rev. Marty McCarthy, top right, who visited with the Forum in November 2007 and January 2009, outlined the theory and practice of a number of private, nonsectarian schools that he helped launch or that are operating under the Regents Schools banner in Charlotte. Among the latest additions is a small unit operating at Thompson Child and Family Focus that educates children with Asperger's syndrome.
After McCarthy, organizer Robert Dawkins, lower left, introduced Democracy North Carolina interns Maiysa Mesbah, lower center, and Joyce Lutu. Together the three commented on bills under consideration in the N.C. General Assembly that they said would, in a handout's words, "make it harder for many groups with a strong turnout in 2008 to vote in 2012."

-------------------------------------------------------------------------------------------
The Forum welcomes all persons to its meetings beginning at 8:30 a.m. most Tuesdays
of the year at the West Charlotte Recreation Center, 2222 Kendall Drive, Charlotte, NC
down the hill from West Charlotte High School.