Variety of issues presented to the Forum
April 12, 2011
The Forum Tuesday delved into an number of issues, with people pulled out of the audience to discuss issues of the day or to fill in for missing speakers.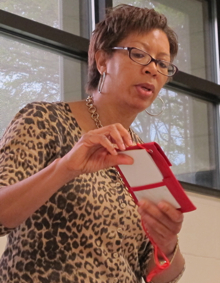 The invited speaker was Cheryl Emmanuel, community health administrator for the Mecklenburg County Health Department. Emmanuel was promoting the Faithful to the Call 5K/1K Walk Run on April 16, beginning at 8 a.m. at Johnson C. Smith University, and ending at the McCrorey YMCA, where a number of Health Kids Day events are planned.
Emmanuel said shuttles would be available from 6:30-7:30 a.m. at Friendship Baptist Church, 3400 Beatties Ford Road, carrying walkers and runners to the starting line at J.C. Smith.
"Children need to see us moving and supporting and helping each other," Emmanuel said.
The second speaker, Patricia Raible, has been an artist in residence at the McColl Center for Visual Art. In January, she applied for an Arts & Science Council grant, and is now a finalist for the grant. The grant would fund a series of collages and videos honoring the histories of the public schools that CMS will close. She said the school she went to was gone. "I have a yearbook, and some fond memories," she said.
The list of schools was not specified in the grant because they may change by fall, she said.
If funded, the collages might travel around to neighborhood churches, then be permanently installed in the school buildings, she said.
She said she didn't see the project as controversial, but as a community exercise in memory. Her husband Mike, smiling proudly but silent in the audience, was CMS's point person in identifying schools to close to cut the budget.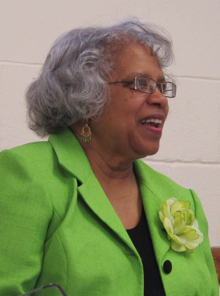 The third speaker was Kerry Miller, a volunteer with Jacob's Ladder, an east Charlotte nonprofit that prepares people with barriers to employment for their job interview and their first months on the job.
Miller said she often recommends that job applicants find a place to volunteer to sharpen their skills and obtain favorable references. "The downturn is also an excellent time for training and retraining," she said. "We're encouraging people to go back and re-invent themselves.
"We make them aware that the competition is really stiff."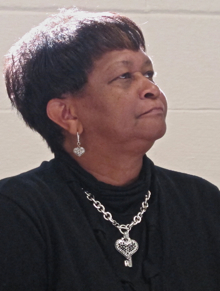 The final speaker was
Mary McCray
, president of the Charlotte-Mecklenburg Association of Educators. McCray's comments on the teacher pay-for-performance plan being explored by CMS are
here
.
-------------------------------------------------------------------------------------------
The Forum welcomes all persons to its meetings beginning at 8:30 a.m. most Tuesdays
of the year at the West Charlotte Recreation Center, 2222 Kendall Drive, Charlotte, NC
down the hill from West Charlotte High School.